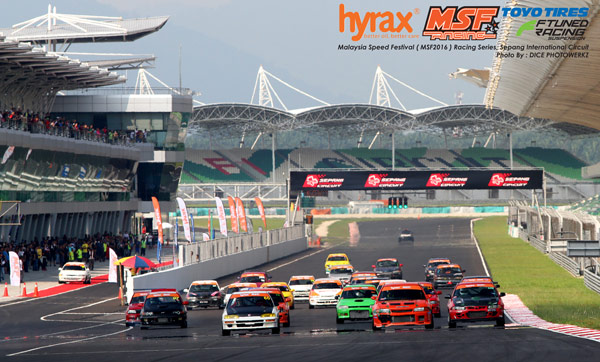 A quick note from my end, after the successful running of the first ever MSF Racing Series event last weekend 5 June 2016.
THANK YOU everyone for supporting the first ever MSF Racing event last Sunday. From drivers to teams to very importantly the spectators and also the sponsors, event crew, SIC, AAM, KKS, and a big huge thank you to our main team.
MSF has thankfully turned out to be a big success! We're looking forward to building it more, and hope to gain continued support from all parties.
Importantly, we also recognise that from Rnd 1 there are a few things to be improved upon, and we will be taking measures and action and implement changes to improve everyone's experience at MSF Racing.
To the teams and drivers, MSF has made a step up in terms of discipline and procedures from SNF times, but these are for the better. Very importantly, the back lane of the paddock was very narrow and we had no choice but to not allow lorries etc in. HOWEVER for the next round we will plan a time-slot and also procedure for your delivery vehicles to come in to drop off tyres etc to alleviate this problem. Tow trucks however due to space constraints, will never be allowed in and unloading of vehicles must continue to be conducted in the paddock parking area.
Lastly, my team and I apologise greatly for any short-comings or unhappiness. We'll get better as we go along, and appreciate your patience in dealing with us.
Motorsports for The People!
/adian