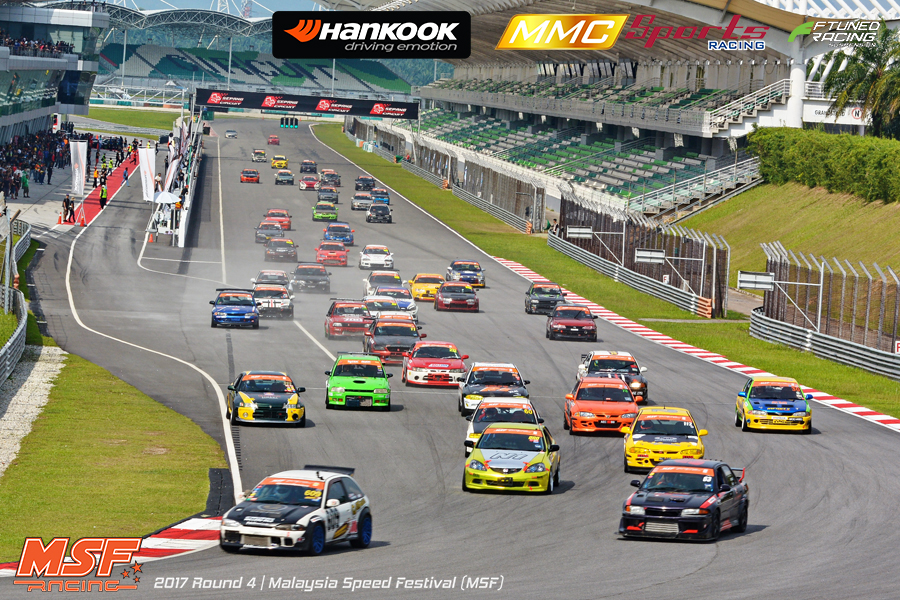 Round 4 of the Malaysia Speed Festival (MSF) featured only one race format which is the Enduro. With the race being 35 minutes long and requiring a driver change, it was a different challenge for some and amazingly has taken a toll on several main title contenders for various race categories. With the outcome of the Enduro race being such, this has shaken the championship and would see the title fight going on right to the end of the season.
Group 1
Super 1500 NA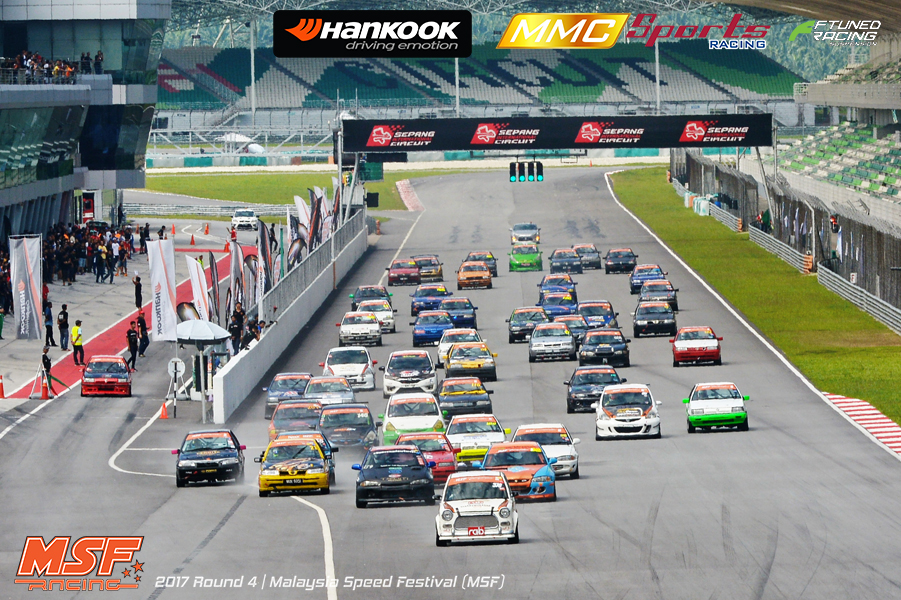 After qualifying on pole, team MTRD Sing Boy Racing, the runaway winner of 2 previous rounds did not have the best of starts in the Enduro race and was quickly upstaged by the quick moving cars of Mohamad Shahril/Shamir Aizan of team Smartroleum RAB Prodrag and the two Momentum Auto Garage cars's of William Ho-Rocky/Siow Moon Yew and Keu Sian Shi/Ahmad Firdaus going into turn 1.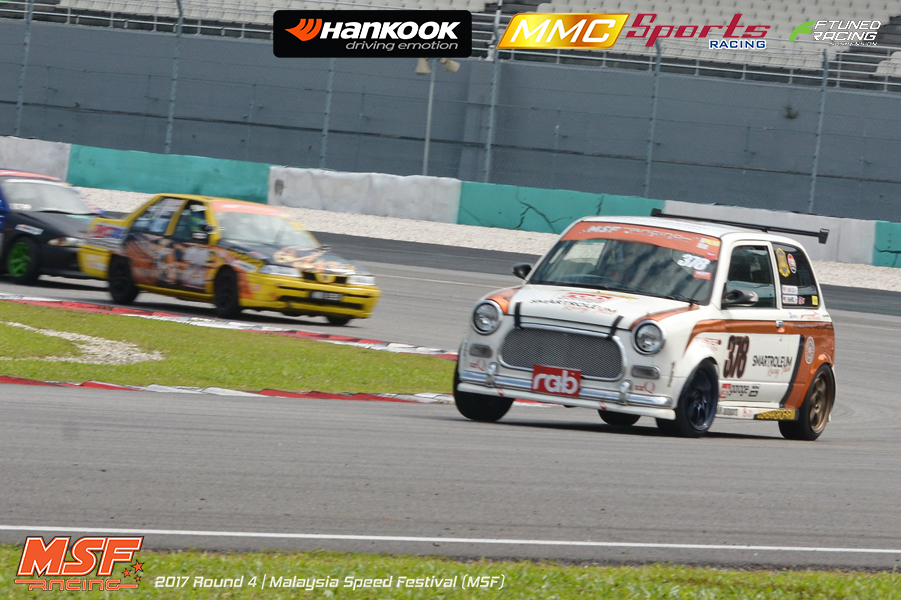 From here on the MTRD Sing Boy Racing's car driven by Renesh/Sing Boy began to dropped more places while his main rivals were inching away as they approached the pit window for the driver change. Once the pace was settled team Smartroleum RAB Prodrag was gradually distancing themselves from the second and third place cars of team Momentum Auto Garage, and for the first time this season the former displayed good pace and perhaps would have a go for top spot in the championship's category.
Once the pit window opened there was a flurry of action with most opting for earlier pit-stop for the driver change. For some this was vital as with the change, a quicker driver might be able to make up for lost ground which almost worked for team MTRD Sing Boy Racing, but without a doubt it went well for team Momentum Auto Garage who managed to leap frogged to first place after their pit stop.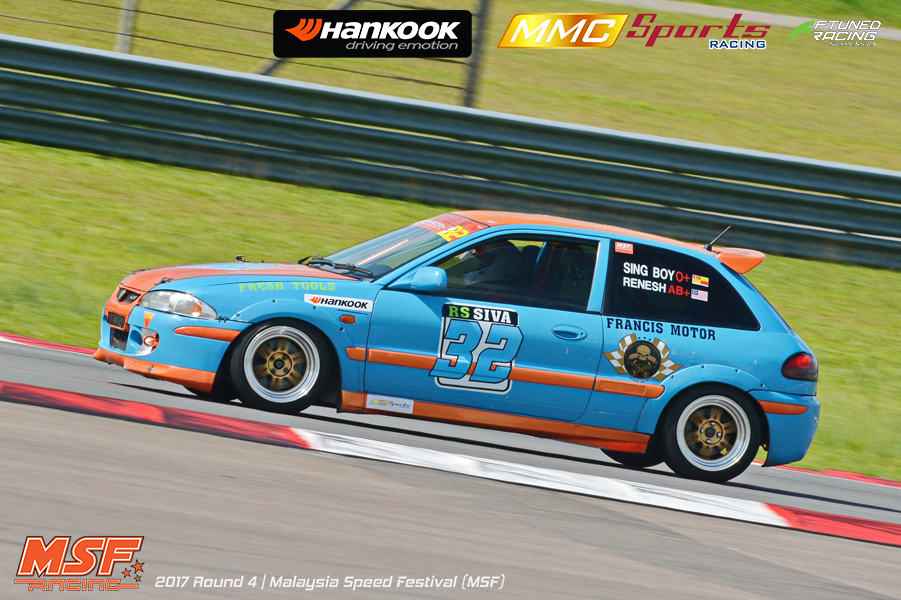 With their sister car dropping off before the pit-stop, eventual winner William Ho-Rocky/Siow Moon Yew had capitilised on mistakes made by Mohamad Shahril/Shamir Aizan during their pit-stop. By the time they crossed the line team Momentum Auto Garage had an advantage of 44.503 seconds over the Smartroleum RAB Prodrag car. Sing Boy managed to keep his title hopes alive by crossing the line in third after a stunning drive moving up the order. Tried as much as he could and even posting the fastest lap of the race, he just did not have enough laps to get close and challenge the leading duo.
Saga Cup Ron Jeremy (expert)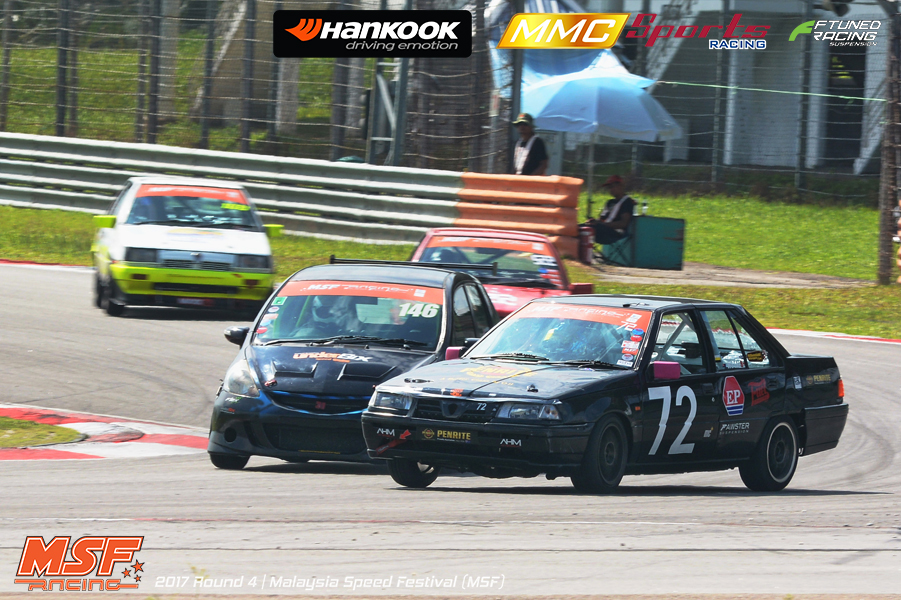 Showing some seriousness in fighting for the championship title the Saga Cup (expert) presented several dream teams. After his DNF in the previous round ST Wangan's Boy Wong had the services of Race Car Open championship leader Keifli Othman partnering him for the Enduro. His close rivals had the same idea too and the category's current points leader Jay Choong has acquired ex Petronas GT and Touring Car ace Fariqe Hairuman as his partner while Alif Hamdan had current TCR Asia points leader Lai Wee Seng to assist him for his championship hunt.
With one of Boy Wong's hardest rivals Tommy Lee unable to make it back in time from his Mongolian adventure, he would have one less rivals to think of, but as the race unfolds, it was to be a frustrating race for him which has dented his championship run.
In the race Boy Wong demonstrated his brilliant start once again and was towing the faster category cars. But it was no easy task as first he had to dispatch Tommy's car driven by the partnership of Damien Dielenberg and Alan Wong who impressively qualified ahead of him and the fast duo of team SMRT's Jay Choong/Fariqe Hairuman and JNA Racing's Alif Hamdan/Lai Wee Seng.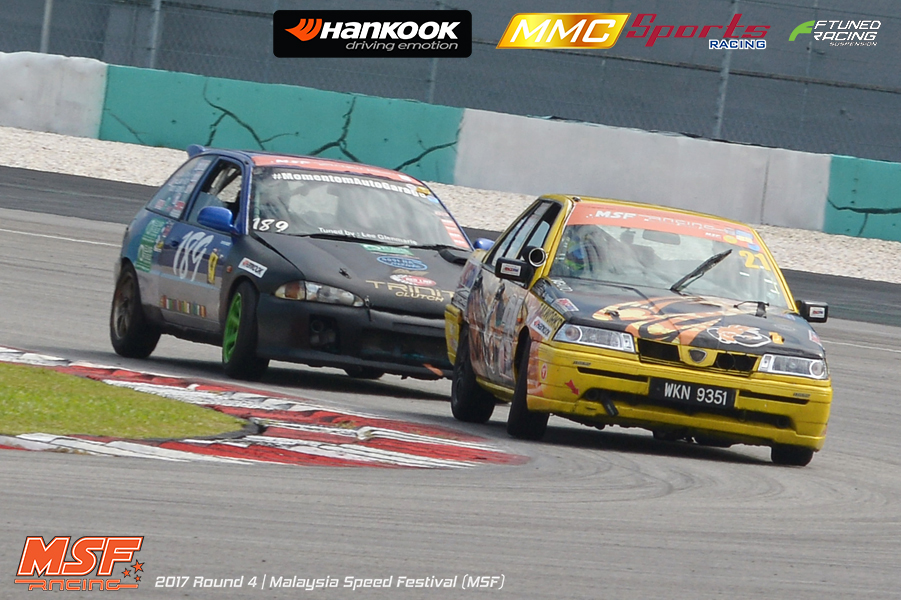 For 6 laps Boy Wong seemed to be in control running in first position and was never bothered by the chasing pack of SMRT and JNA Racing cars although they were in close proximity. Things stayed this way until he handed the car to Keifli, and that's when things started to go wrong! Keifli's race would only get him as far as turn 9 when a gear-shift linkage came lose. With Keifli unable to shift gears this ended what could have been a win for the duo.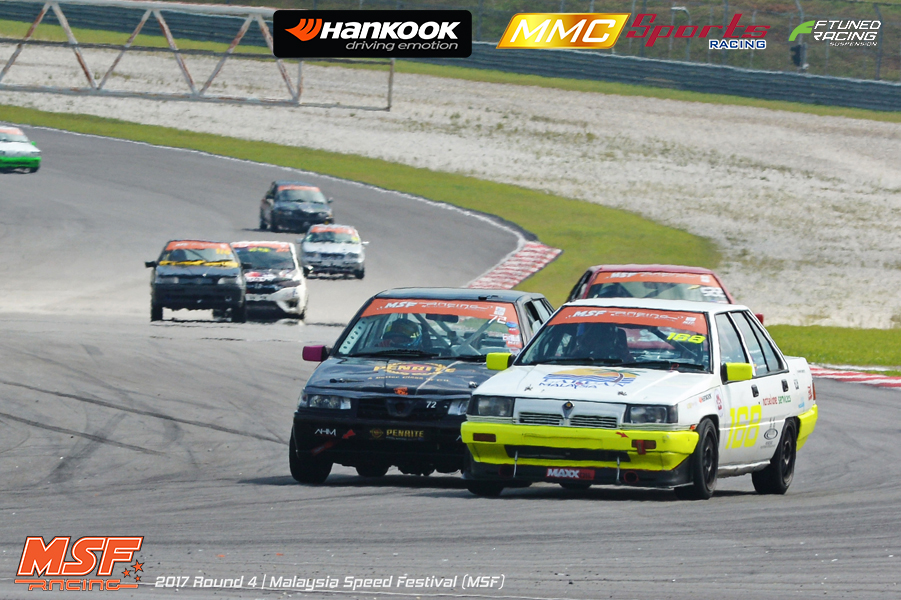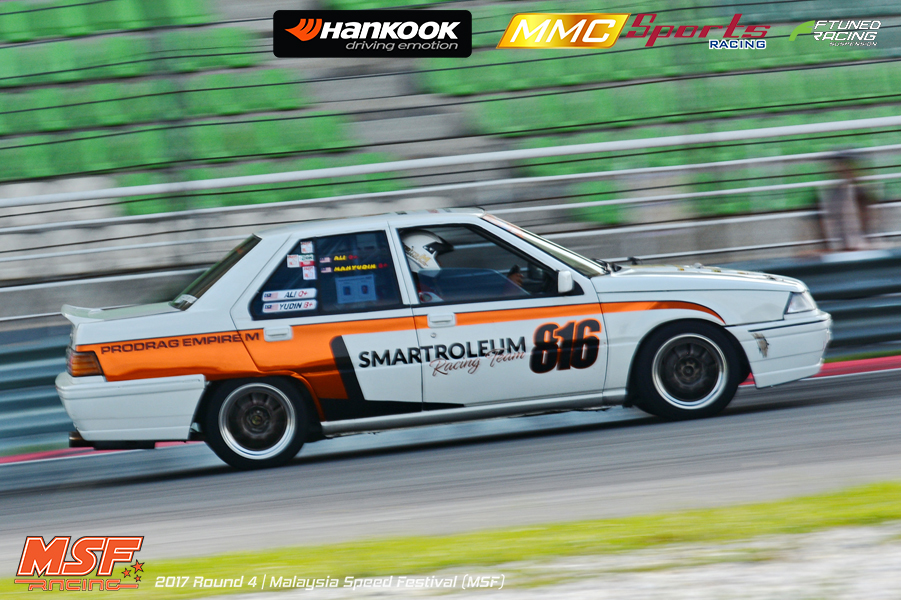 With the demise of ST Wangan's car things started to heat up between team JNA Racing who's now ahead of team SMRT. With the knowledge that the lead car has retired, the pair were trading fast laps towards the closing stages but there would be no change in the finishing order with Alif Hamdan/Lai Wee Seng crossing the line first 3.258 seconds ahead of Jay Choong/Fariqe Hairuman. After a bruising and troubled Round 3 debut as a new team, Mahyudin Kelion/Ahmad Fauzi Abdul Latib from team Smartroleum – Prodrag EmpireM took the final steps of the podium, finishing third in the Saga Cup Ron Jeremy category.
Saga Cup Rocco (novice)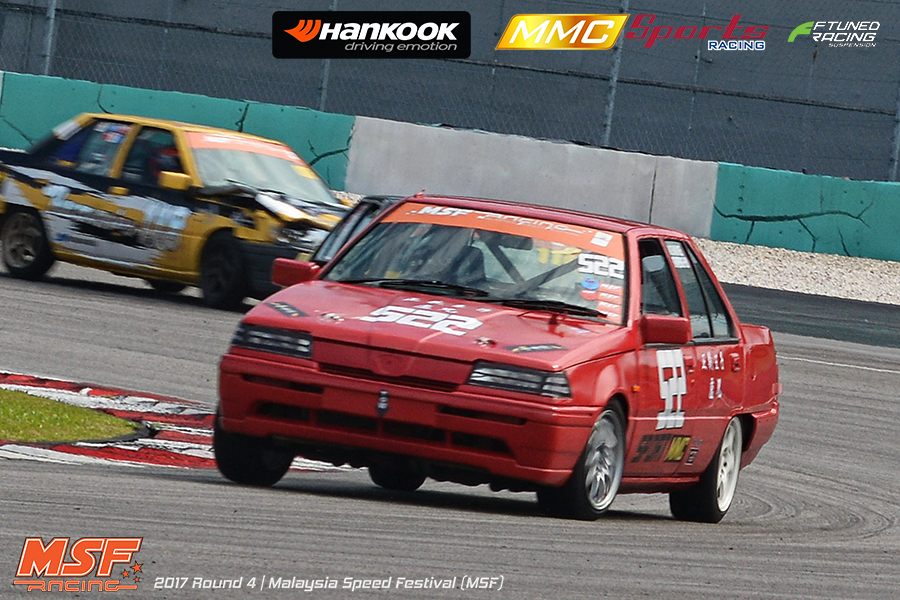 Seng Motorsport's Tan Chaw Wei displayed another fine performance when he and teammate Ser Meng Hui won the category by a massive 31.784 seconds ahead of second place driver pairing of team SMRT's Syed Mohd Rizal/Faisal Asri. Finishing in third were Loco Racing's duo of Ahmad Faizry/James Veerapen.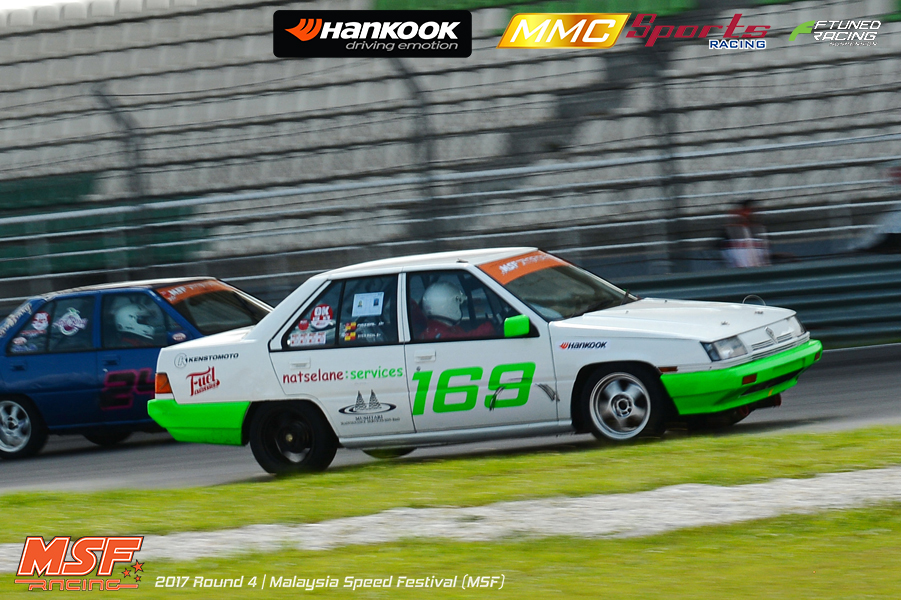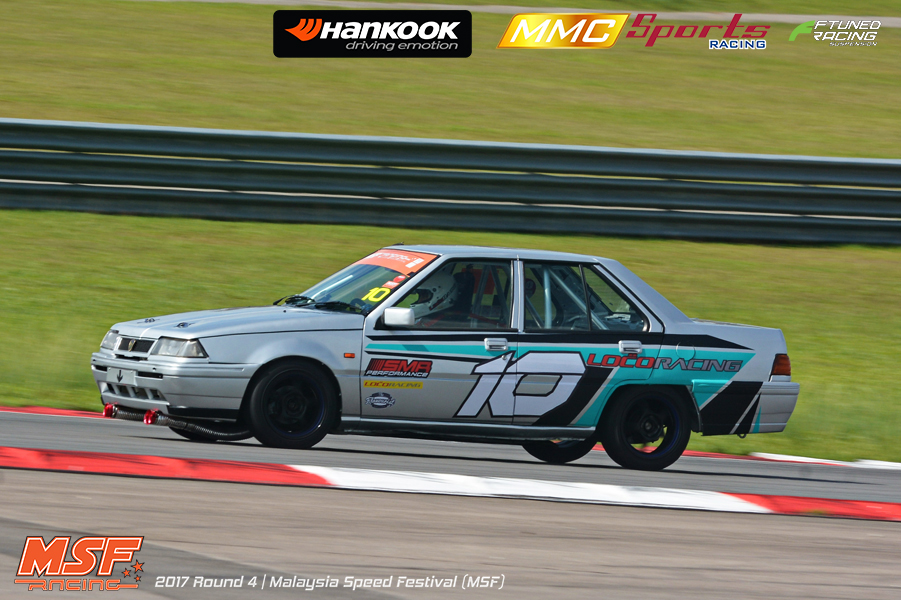 Tan Chaw Wei's rise in the championship has been impressive and as can be seen in the previous round, is often dicing with drivers in the expert category. After some bad starts in the 2 opening rounds of the season, he has improved tremendously from Round 3 and is now the toughest challenger for early favourites Syed Rizal and Ahmad Faizry for the title fight. With the Enduro result, the Seng Motorsport driver has catapult to the lead of the championship standings jumping from third.
Jazz Cup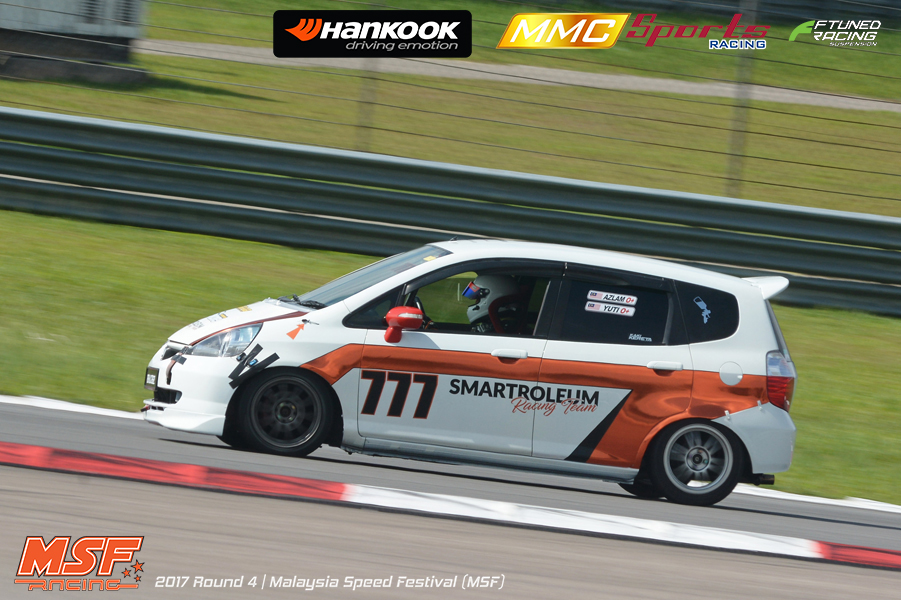 It was a good day for the Smartroleum liveried cars competing in various categories of the Enduro round. A victim of the carnage in Round 3, team Smartroleum – Prodrag Kstore drivers Nazrul Hakim Abd Majid and Shazul Hisham took victory in the Jazz Cup category. It was a convincing win for the team as they have ended the successful run of team DK Motorsports Mohd Noorhafidzi Abdul Latiff/Hendra Eryawan who are the points leader in the championship.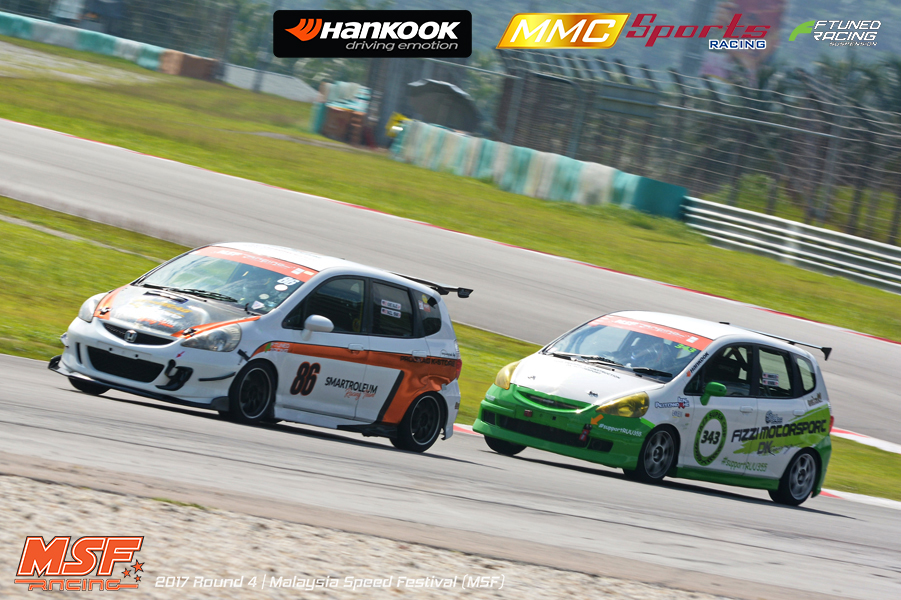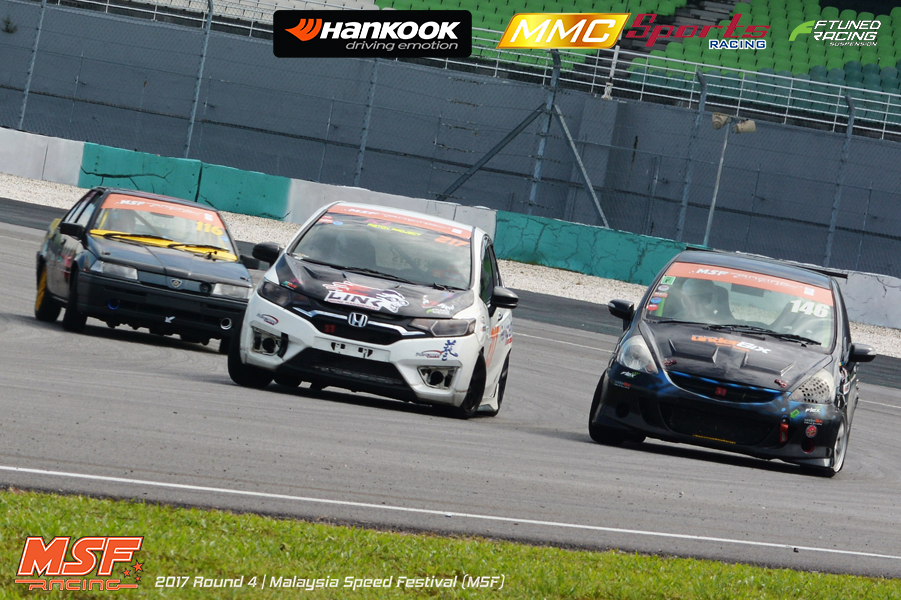 Earlier in the race the DK Motorsports drivers repeated their brilliant start move which we've seen in previous round. While they managed to keep the lead in the opening laps, they were never in the safe zone with the growing threat coming from Nazrul Hakim Abd Majid and Shazul Hisham. And with the Smartroleum – Prodrag Kstore car having a faster pace it was only a matter of time before they made a move that stick to finish ahead of team DK Motorsports. There was joy for team FTuned Racing-Piston Project drivers Muhammad Zaki/Muhamad Roni when they finished the race in third place after having a horrid time in the previous race.
Group 2
Super Street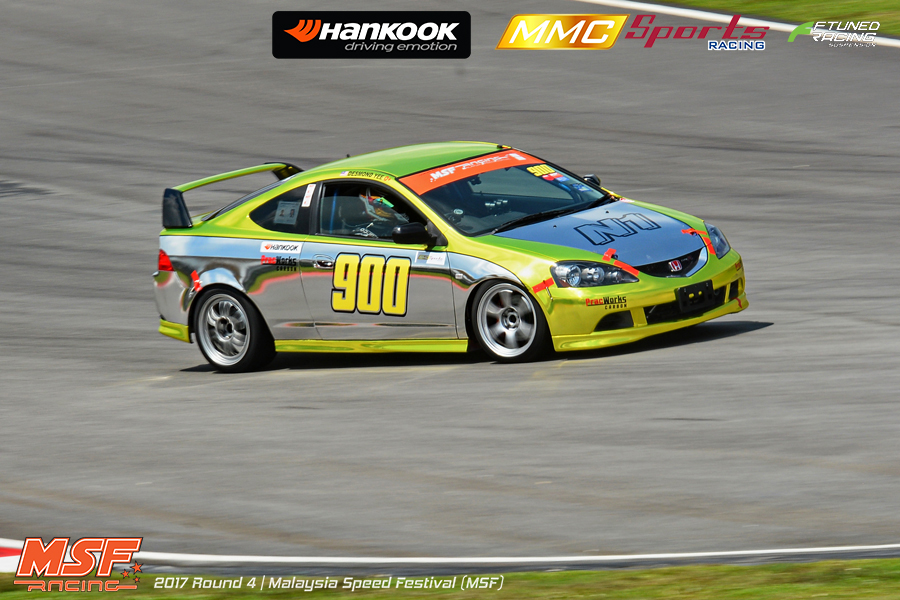 In a surprise turn of events N1 Racing's Desmond Yee and teammate Mitchell Cheah won the Enduro race after a long battle with team Millennium Motorsport Asia's Davy Wong/Asrul Azam. JDM Racing's duo Tan Ginn An/Winston Tan finished in a remarkable third after battling hard with the much faster cars in their class.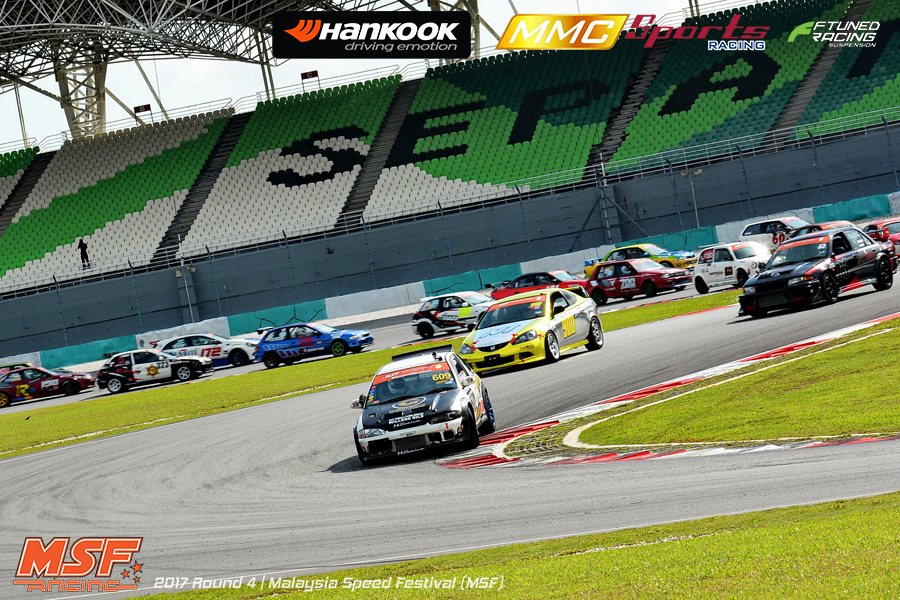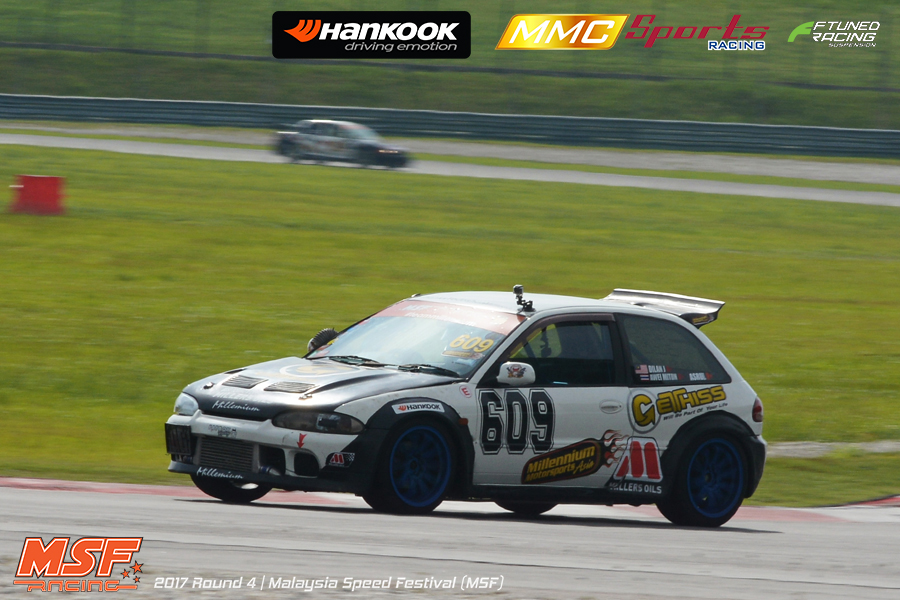 Once the lights went out it was team Millennium Motorsport Asia who jumped into the lead and was followed by the N1 Racing's car and Revmax Lubricants – JJ Racing's Johanz Jassa/Jaza Jassa. The expected fight between championship leader team AHM Penrite Racing Team's Alif Hamdan/Adian Yein and FTuned Racing Team's Raja Imran simply didn't happened during the Enduro round as they seemed to be struggling for pace even from the start. The AHM Penrite Racing A45 AMG would retire just after one lap with a misfire while the FTuned Racing's Satria EVO 3 was not showing it's previous performance and the cause was later identified by a lose wastegate mount, but their drivers carried on to finish the race in a lonely sixth place.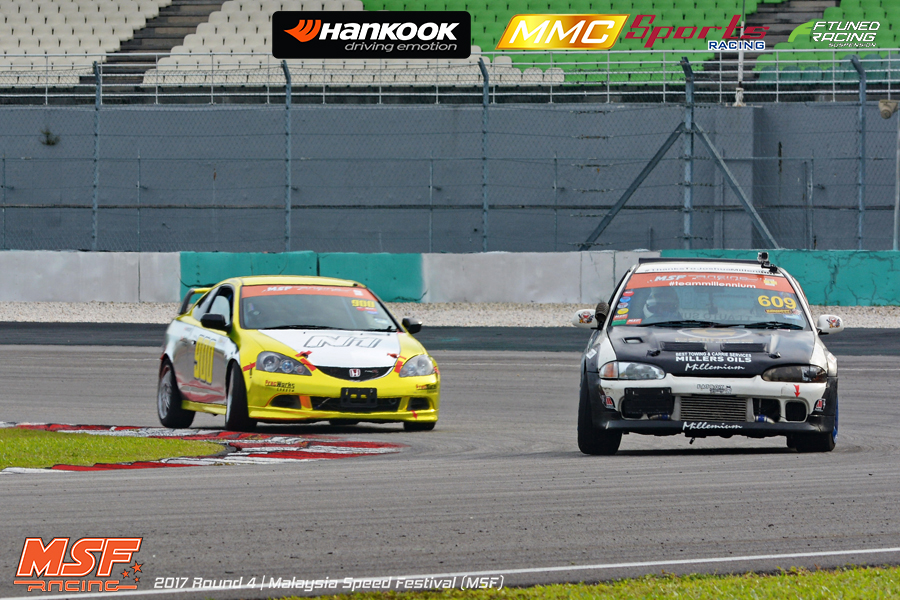 But there was still action taking place upfront and after applying much pressure on the Millennium Motorsport Asia's car for several laps, team N1 Racing finally got the lead. But their lead was brief as the race was red flagged on lap 6 when team DWR's Honda Civic EG crash against the barrier and landed on it's roof after exiting turn 14. With the car laying in the middle of the circuit the race was stopped.
After a lengthy stoppage racing was resumed with most of the competitors picking up where they left while some made the mandatory pit stop almost immediately on the next lap. The pit stop proved to be crucial as depending on strategy it would either move positions up or down for some of the competitors, and this was reflected from the final result of the race.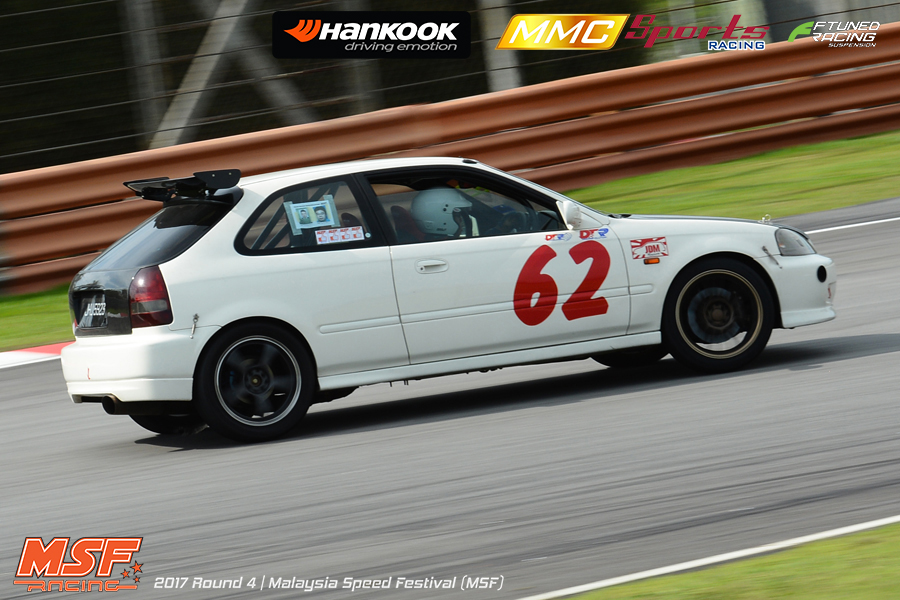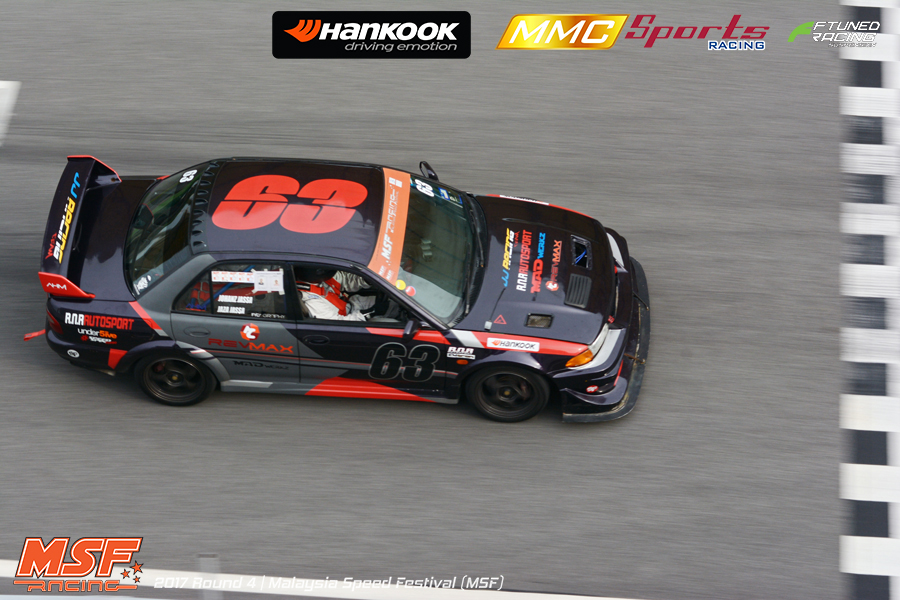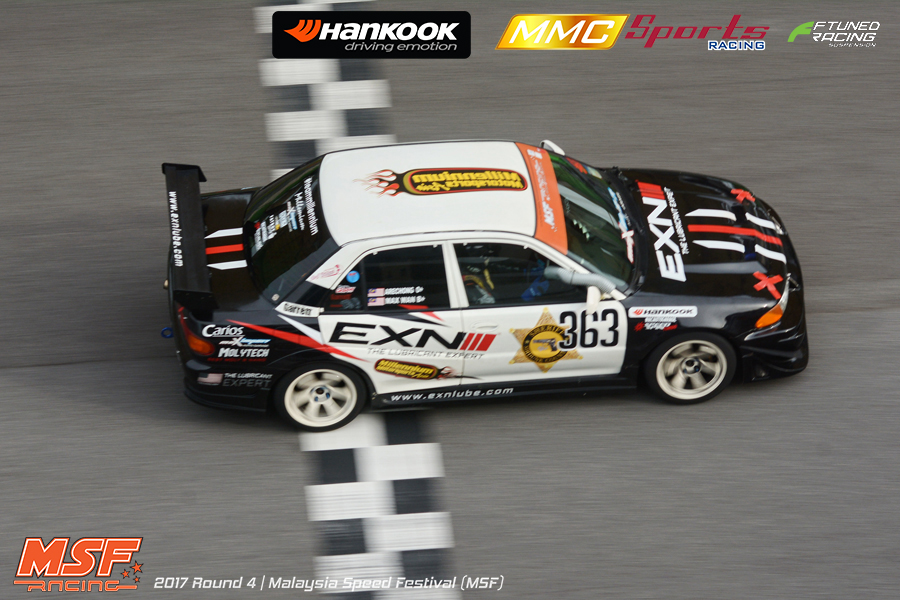 While there would be no changes in the finishing order with Desmond Yee and Mitchell Cheah keeping their first position, they were followed by Davy Wong/Asrul Azam in second albeit 8.999 seconds adrift. There was a gap of one lap between them and third place men Tan Ginn An/Winston Tan which reflects the importance of a brilliant strategy in the Enduro race.
Street Tuned Limited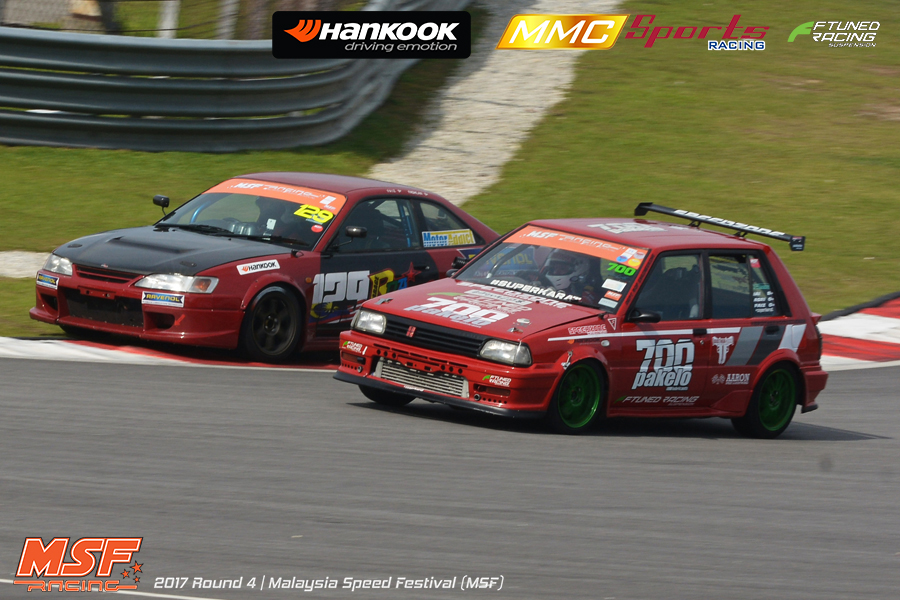 Speaking of strategy and a stroke of luck, team Superkarat 700 Pakelo's Ahmad Ezani and Ahmad Faiz took their class win for the first time this season. The pair, driving their Toyota Starlet EP70 4EFTE were clearly outpaced during the opening laps by early leaders team DRT/AAR FTuned's Azref Abdul Rani/Mohd Shalifuzam and team Smartroleum – Rab Prodrag's Mohamad Shahril/Shamir Aizan, but it was their strategic call to pit early once the pit window opened along with other revelation that sealed their victory in this category.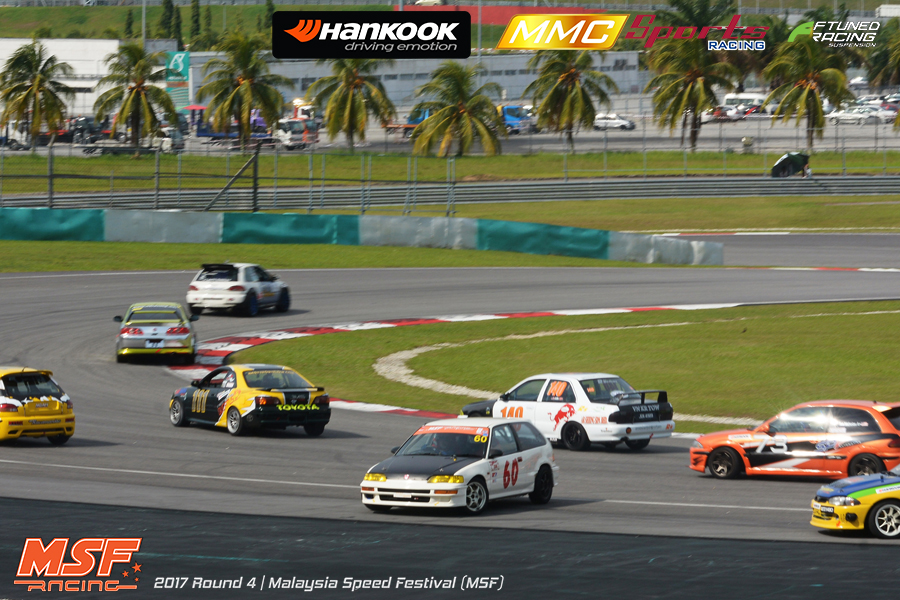 At the beginning of the race, pole position men JDM Racing's Gan Kim Koa/Philip Tang made a great start and was moving away from his class rivals in the busy pack. Going into turn 1 they were tapped by team UITM Racing JMS Tuner who was running in a different category and the impact caused them to run into Lau Seng Keat who is also from another category. The incident caused unnecessary delays for both title contenders and while Lau Seng Keat recovered quickly, JDM Racing's car spun and this affectively put them at the back of the pack in their Street Tuned Limited category.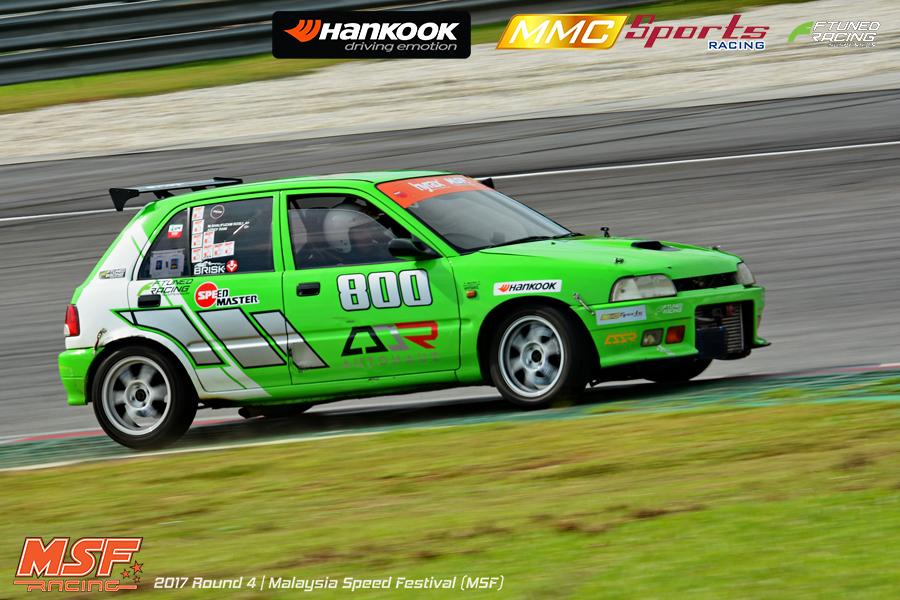 The incident allowed team DRT/AAR FTuned's Azref Abdul Rani/Mohd Shalifuzam to assume the lead followed by team Smartroleum – Rab Prodrag and team Superkarat 700 Pakelo respectively.
The crucial point came when they made their mandatory pit stop on lap 5 just before the race was red flagged due to turn 14 incident. Interestingly only team Smartroleum – Rab Prodrag and the Superkarat 700 Pakelo team made this decision to which unknown to them at this point, would give them a massive advantage when racing is resumed.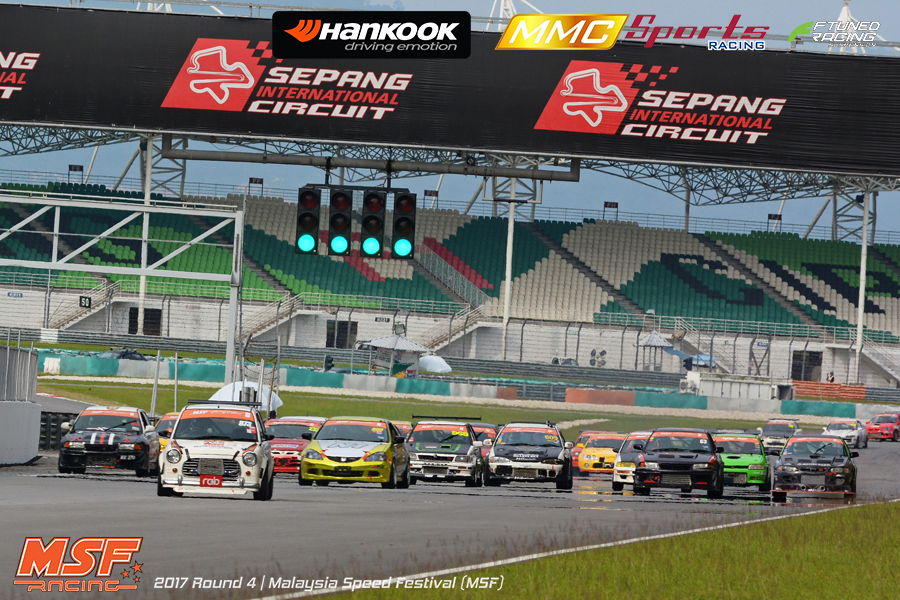 Once the track was given the all-clear team Smartroleum – Rab Prodrag and Superkarat 700 Pakelo had an incredible lead of one lap on the next tour over third place team JDM Racing and the rest of the field after their frenetic mandatory pit stops.
While Shahril and Shamir had a large gap over Ahmad Ezani and Ahmad Faiz's car when they took they chequered flag, unfortunately they were slapped with a total of 40 seconds penalty for various infringements and their on-track finishing order were reversed thus awarding the win to the Superkarat 700 Pakelo's duo. JDM Racing's Gan Kim Koa/Philip Tang made the final steps of the podium finishing a lap behind after recovering from their opening lap altercation and their effort was enough to score valuable points to keep their title lead in the championship.
Street 1600 Limited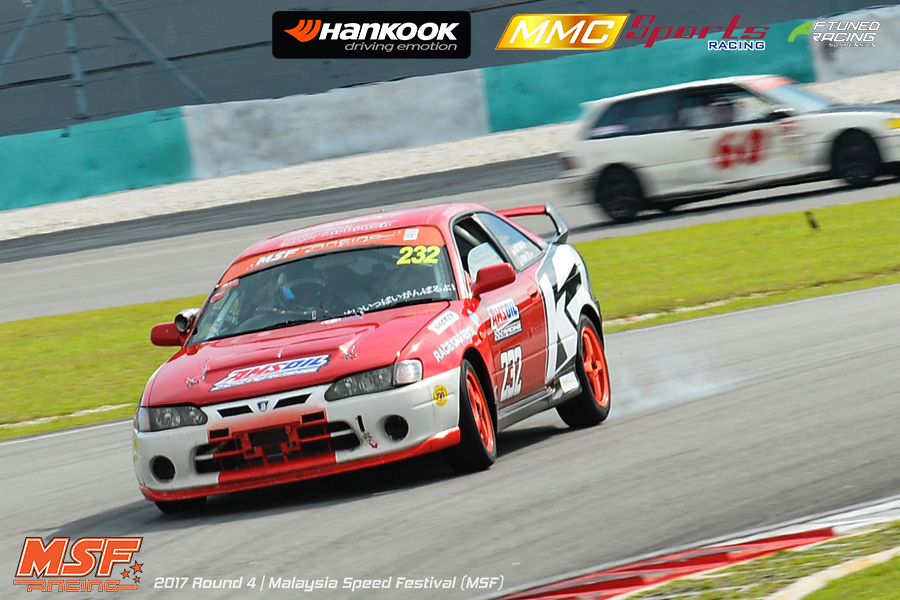 Kegani Racing's Kenny Lee has maintained his championship lead with a victory in the Enduro race. Starting in a busy and massive grid, Kenny and his teammate for the Enduro, Roy Tang was upstaged by closest rival team UITM Racing JMS Tuner drivers Hazrin Mad Kaidi/Sutan Mustaffa going into turn 1.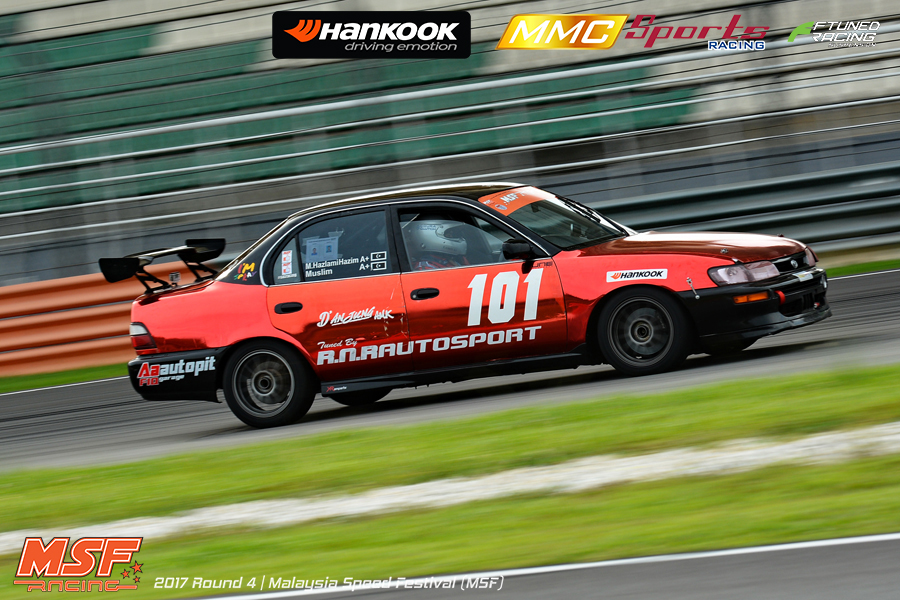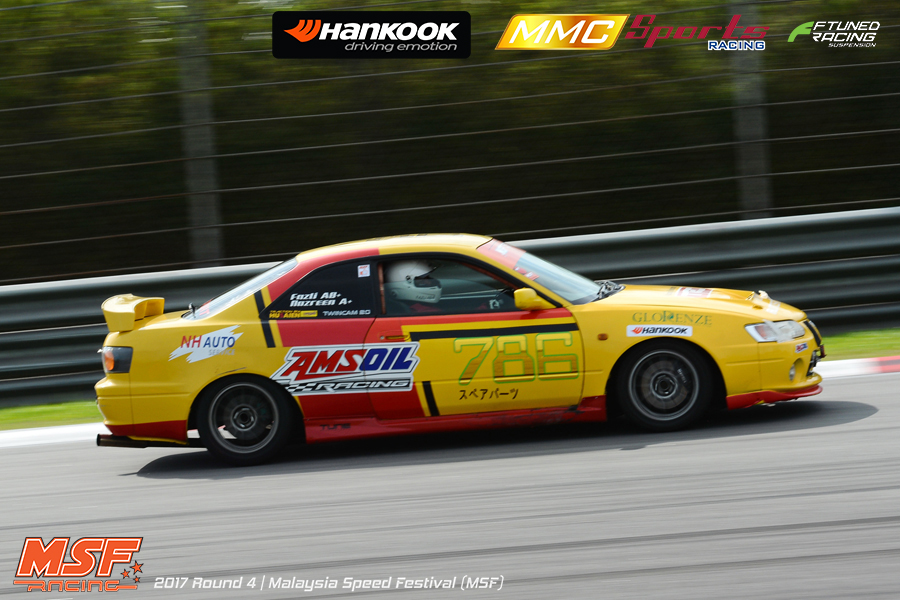 In a race that presented many consequences due to understanding of the rules plus a strategy it was team Kegani Racing who had a perfect plan. As the UITM Racing JMS Tuner car dropped down the order and finally with a retirement, it was Kenny's team who rose to the occasion and got the win which moves them further in the championship lead. Also running with a plan was team WAKOS Garage R.N.R Autosport's Muhd Hazlami/Muslim Mustafa finishing the race 12.211 seconds behind followed by third place team 786 Autopart NH Auto driven by Mohd Fazli Jamiluddin and Mohamad Nazreen.
Proton 1800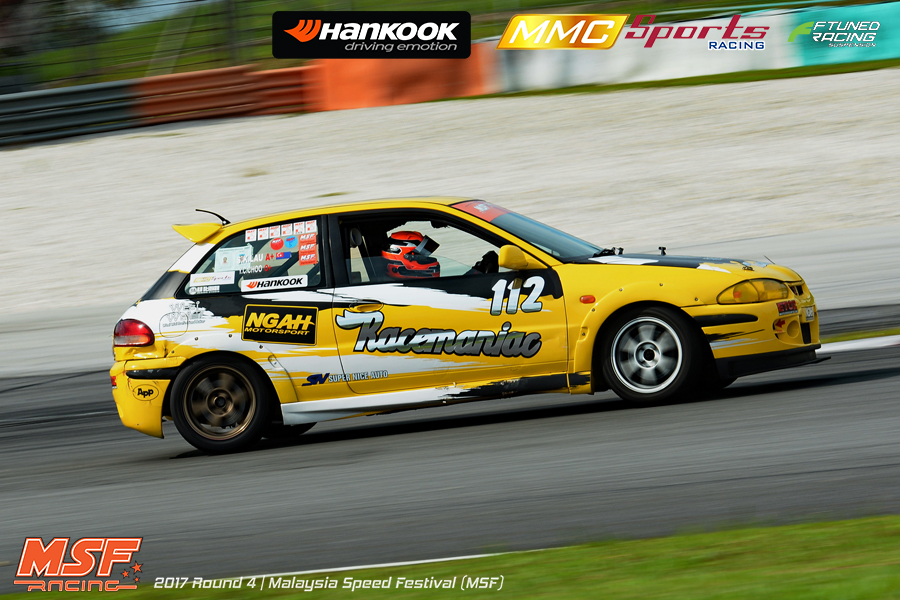 After his early retirement in Round 3, Ngah Motorsport's Lau Seng Keat with teammate Choo Yong Choon needed to win the Enduro to secure top position in the championship. With his rivals getting close to him in the championship hunt, a good start would be vital as he has always done in the mix grid to ensure success.
Starting on pole for his class the Ngah Motorsports driver got into turn 1 just ahead of his close rivals but was almost immediately collected by JDM Racing's car which received a nudge from UITM Racing JMS Tuner car, and both are running in different categories. Although they would recover quickly, team Ngah Motorsports lost 2 places with the lead now taken over by Damian Dielenberg who's partnering K. Perajun for the Enduro race, trailed by SPV Automotive's drivers pairing of Nicholas Aw Kai Foong/SP Took.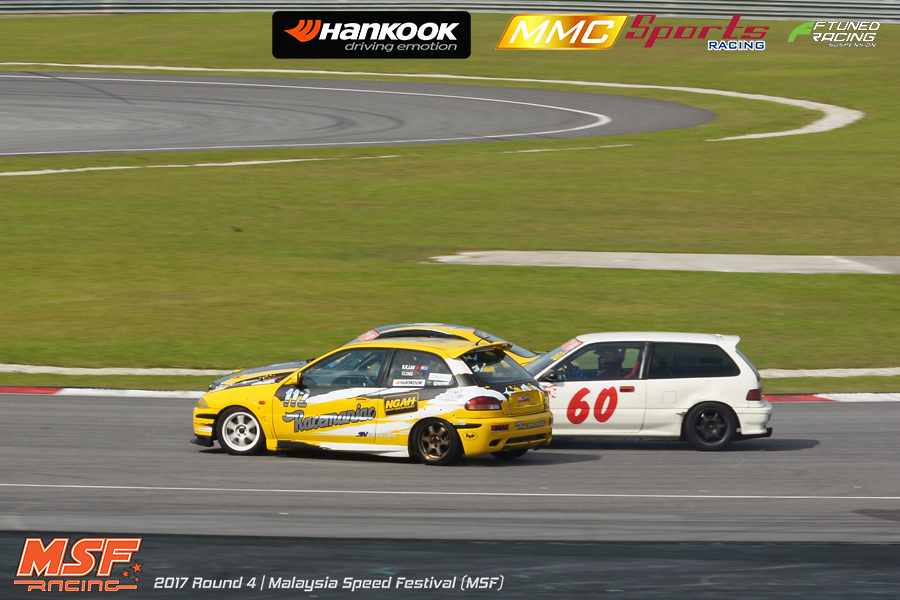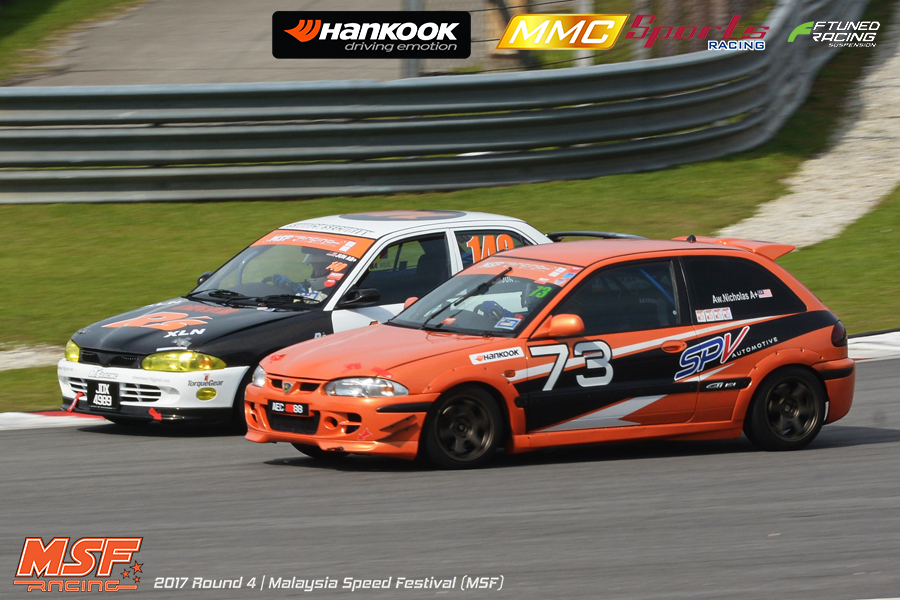 The chase was on with the trio always in close contention and with the swapping of places between Damian's and the SPV Automotive's car while team Ngah Motorsports was holding a watching brief right from behind. It was building up to be a good battle between the three until Damian had to retire with engine issue on lap 3, but the battle between team SPV Automotive and Ngah Motorsport would still be interesting enough until the race was neutralize over the next 2 laps due to turn 14 incident.
Aside from bringing out the red-flag, the incident caused confusion and upsets among the competitors which would have a bearing on the actual final result of the race. Once the race was restarted there's a caveat as to how the final race finishing order would be and not based on the actual on-track finishing order.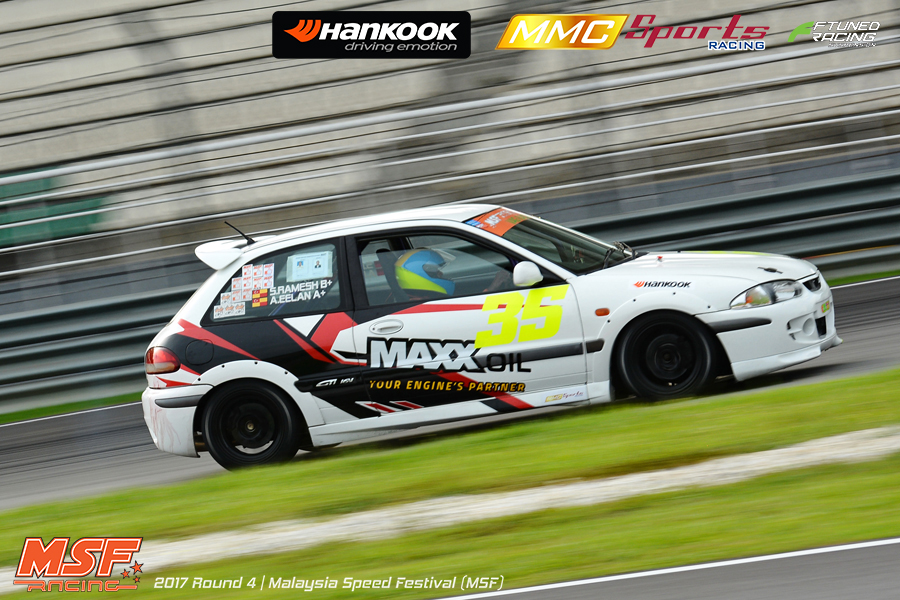 In the Enduro race, Lau Seng Keat is the official winner and with this result he retains his firm grip on the championship lead. Team SPV Automotive was declared second after incurring some penalties, and finishing a lap behind is team VAG Racing driven by Eelan and Ramesh.
Group 3 – Race Car Open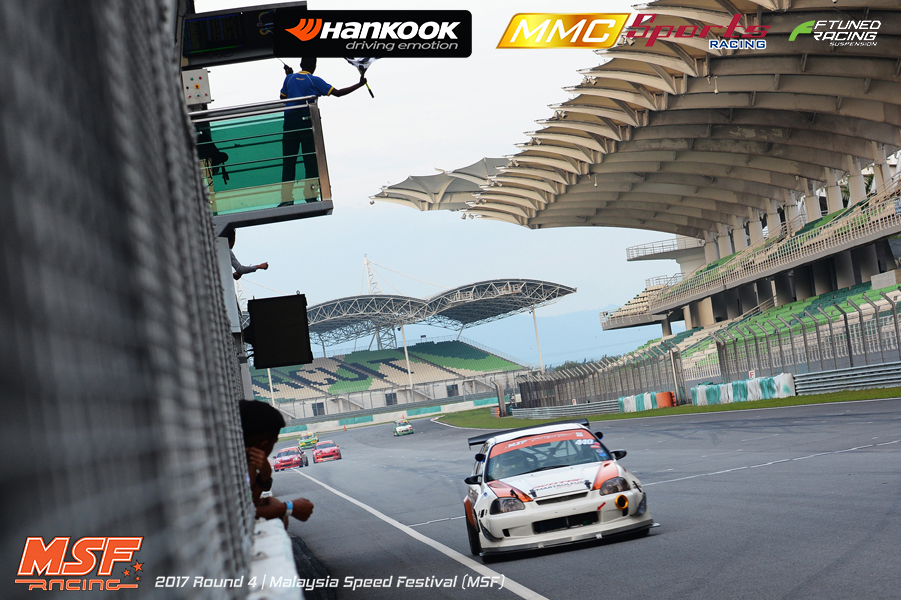 The Enduro race for Race Car Open category couldn't be topped in terms of suspense. Featuring a line-up of Malaysian motorsports superstars with the likes of TCR Asia points leader Lai Wee Seng, ex-works Petronas GT 3 and touring car ace Fariqe Hairuman and former R3 works driver James Veerapen aiding their teammates, the stage is set for an eventful race which would later unfold to cause disappointments and frustrations for some of the title contenders.
With a clean sweep of victories in the first 3 rounds team Mayhem-Fast Autoworks Maxxoil driver Keifli Othman has Boy Wong as his teammate which theoretically should be a walk in the park for the duo.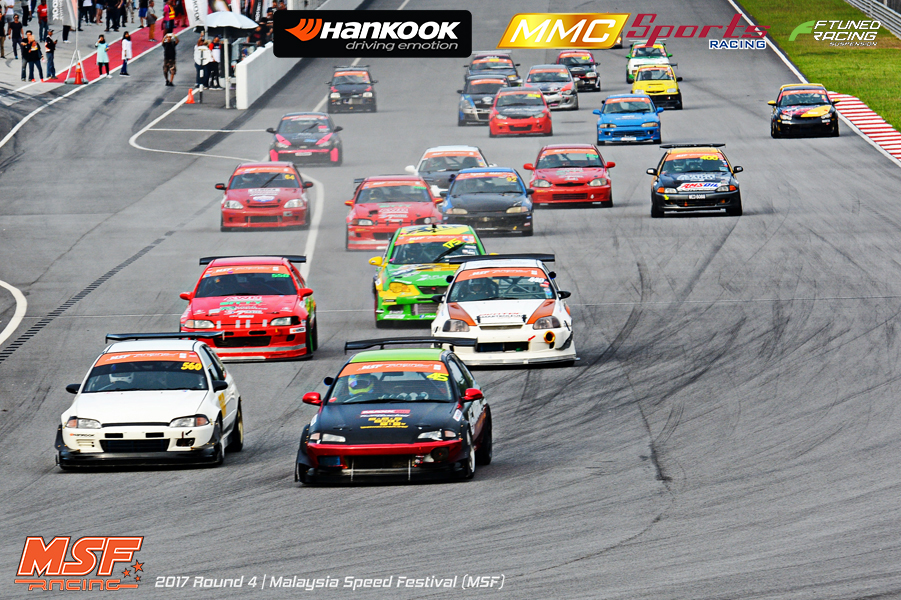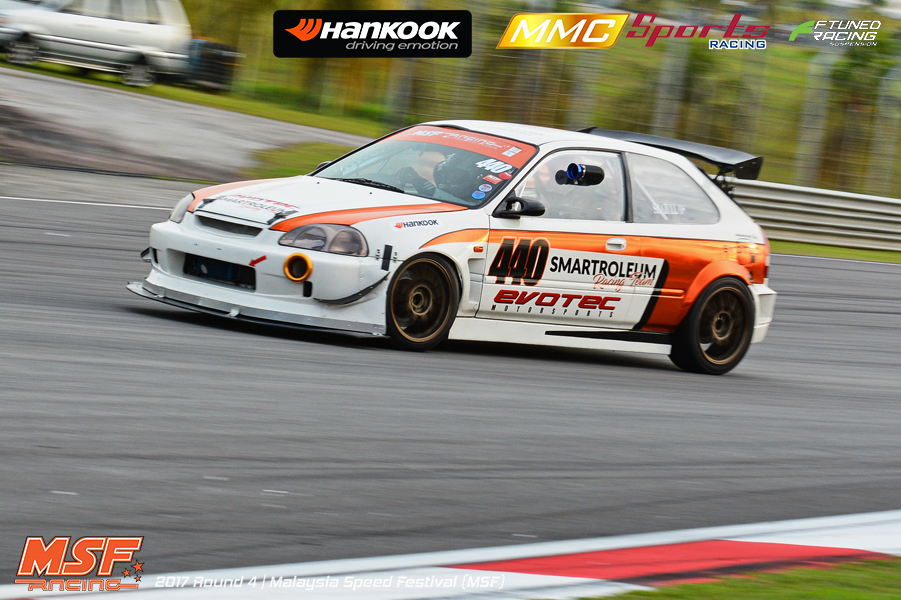 Starting from pole Boy Wong took the first stint and was out-drag by #560 car of Pee Sau Peng/Lai Wee Seng going into turn 1. The fight was on between the pair but Boy Wong was not going to play any bridesmaid role in the race and as the pair approached turn 9 he made his move by out braking first stint driver Pee Sau Peng. The pair almost swapped places again going to turn 15 but Boy Wong was in a defensive mode and once he maintained his first position coming out of the last turn there was no stopping the Mayhem-Fast Autoworks Maxxoil driver as he began to control the race.
As can be seen before, the Honda Civic K24 of Mayhem-Fast Autoworks Maxxoil has proven to be reliable in every round but in the Enduro race something broke and amazingly it was not the engine but a drive shaft failure that ended the team's race on lap 4. With this retirement the #560 car of Pee Sau Peng has now taken the lead, temporarily.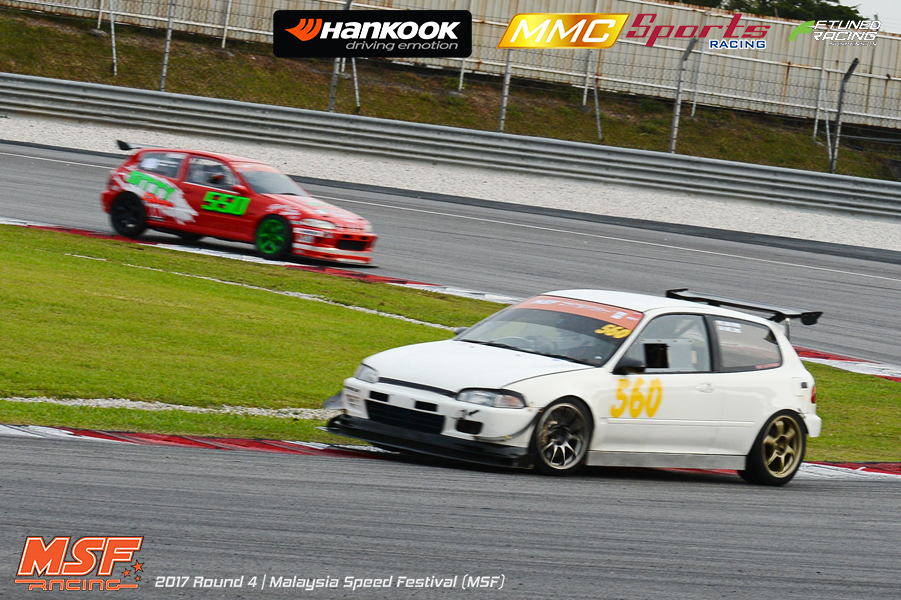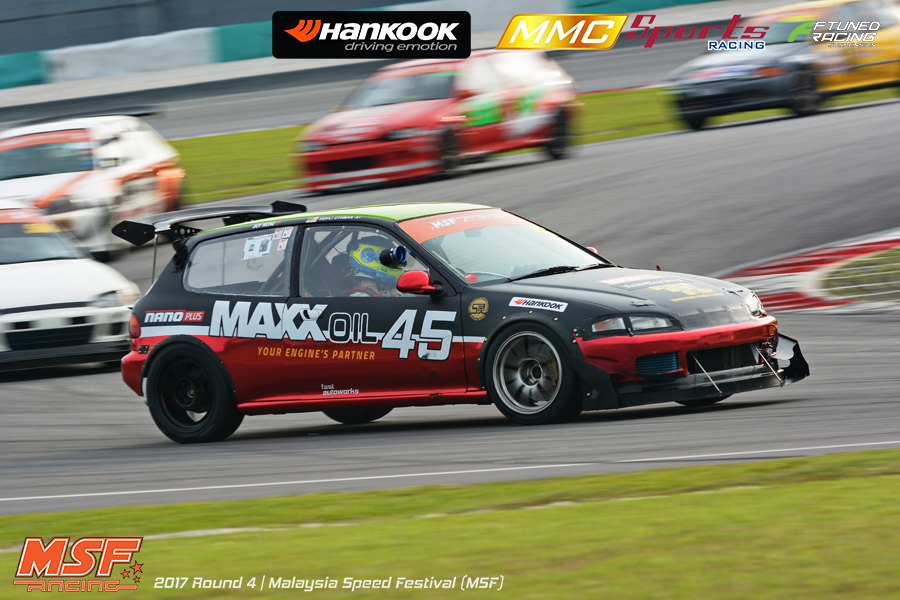 Behind Pee Sau Peng the battle was hot too and the pursuers were within striking distance. The #550 of team Sitty-DNT Racing's Mark Darwin was ahead of Shazull Hisham of team Smartroleum Evotec and Fariqe Hairuman in the sister #500 Sitty-DNT Honda Civic, with the trio having the 4Flex Racing Team's Mohd Onny Ramlee/Syahin Danial joining the group.
The positions would remained until the pit window opened which later reveals some weaknesses of the cars in a long race. Sure enough, right after the mandatory driver change, some of the lead cars were losing pace and even retirement. The #560 car now driven by Lai Wee Seng was forced into retirement while leading with a drive shaft failure which then promoted Team Sitty-DNT Racing's Mark Darwin's car into first place with James Veerapen now behind the wheel. But with some car issue and pit infringement they too would lose the lead position.
But there's still hope for team Sitty-DNT Racing as their second car #500 was still in contention and is ahead of the seemingly consistent running car of team Smartroleum Evotec's Honda Civic EK. But just as they were coming towards the closing stages of the race, the #500 car lost pace during Akid Azlee's drive, the ramifications of transmission issue which they had early, subjecting him to just cruise all the way to line with hopes of collecting some valuable points.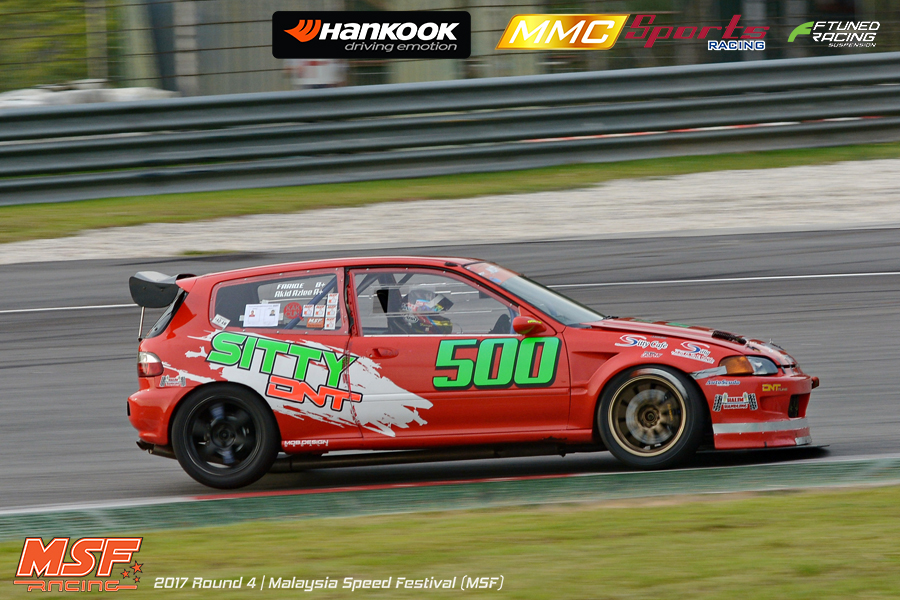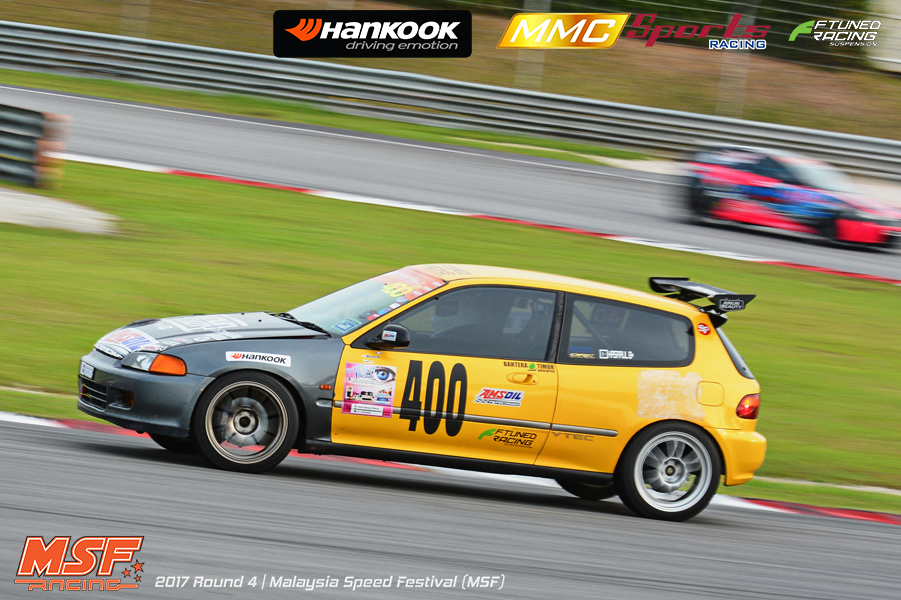 With the demise of all the lead cars it was advantage for team Smartroleum Evotec with the team's second driver Ahmad Fauzi bringing the car home in first place. It was joy for the whole team and especially for Shazull Hisham who had suffered several setbacks in this season's MSF Championship. Their results today reflects their work-in-progress seems to be going well with the team having similar success in other categories too, and they would be a force to be reckon with in the coming rounds.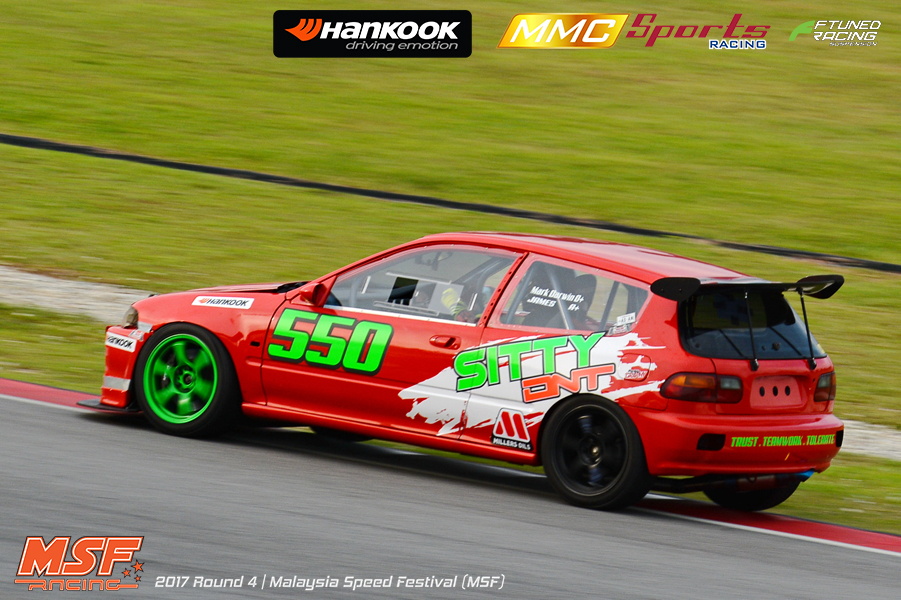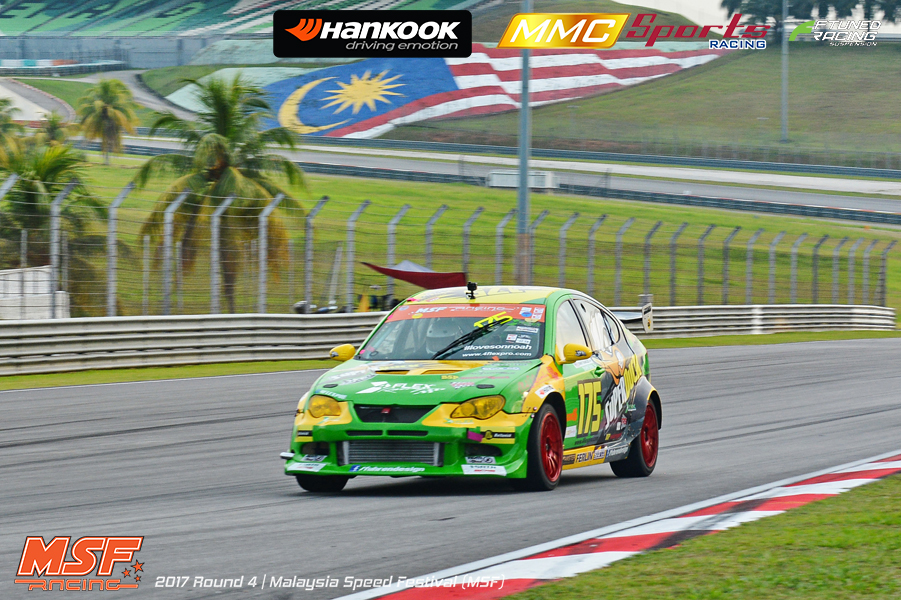 It was not all bad for team Sitty-DNT Racing as the #500 car driven by Farique and Akid Azlee managed to finished second thus salvaging some valuable points considering that they had transmission issues, while their #550 car clawed their way from the back to complete the race in forth. Stepping on the final steps of the podim in third place are the driving duo of Mohd Hasrul Hisham/Azahari Jaafar from team Element115 with the achievement being their best result in the championship series.
Race Car 1800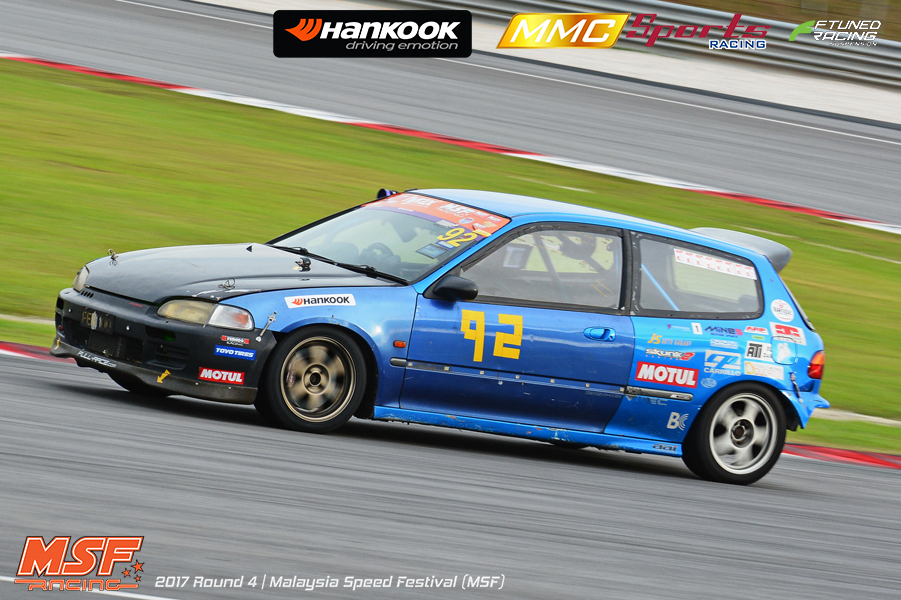 Winston Tan and Philip Tang of JDM Racing just couldn't be stopped as they continued their winning streak by winning the MSF Enduro race. The battle in the Race Car 1800 category started almost immediately for the JDM Racing duo once the lights went off, moving up the order after qualifying behind their main rivals.
The brilliant start was key as they grabbed the lead heading to turn 1. For the first few laps the JDM Racing duo were involved in a battle with the fast train of cars from team Works Engineering's Chai Kok Hoe-Ee Yoong Cherng, Fast Autowork's Nanthan Kumar/Ramesh and team Sitty-DNT Racing Team's Akid Azlee/Kesavamoorthy.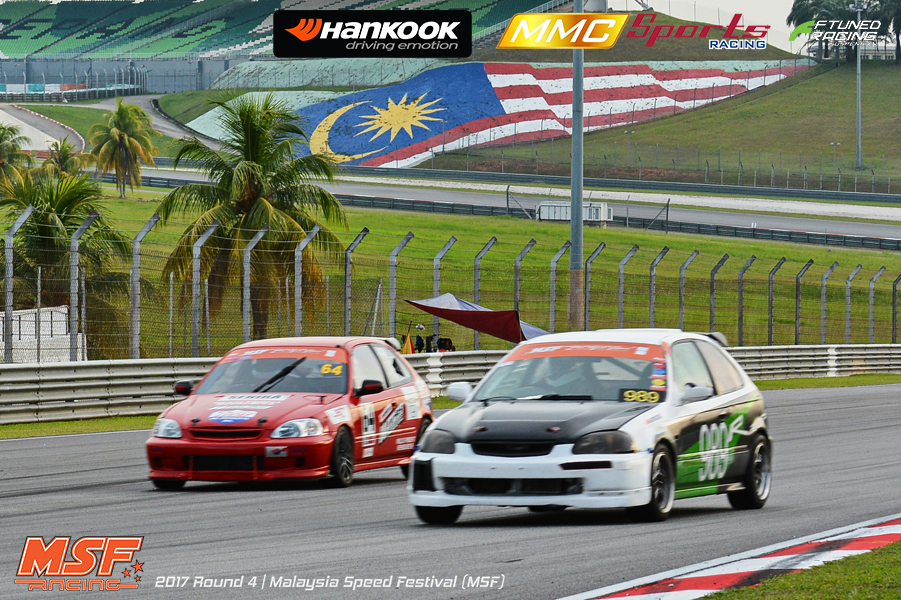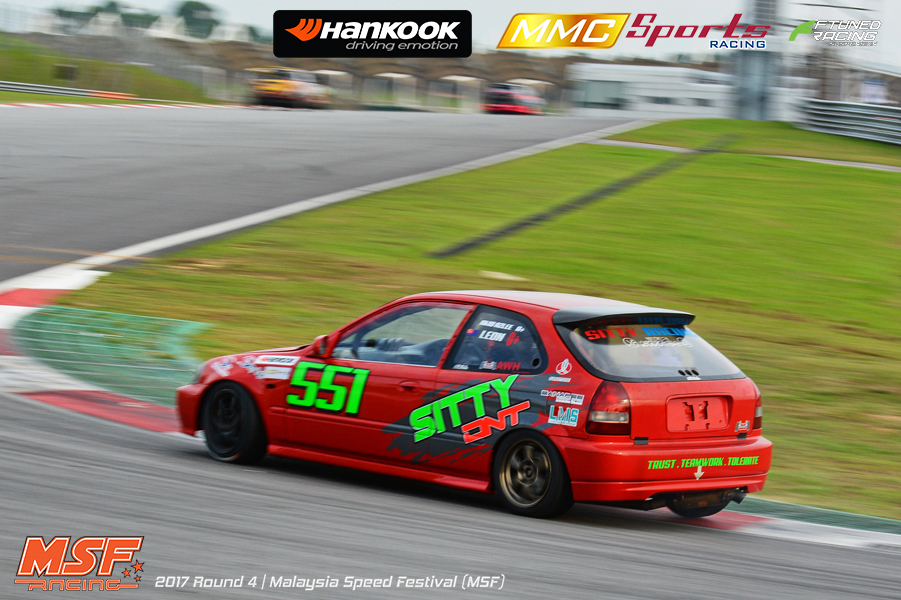 Controlling the pace the lead car successfully defended their position until the pit window opened. With some of the lead cars opting for different strategy this is were some would gain an advantage and some would lose out once the exit the pit.
For Winston Tan and Philip Tang, obviously things went well for them as they crossed the line in first, 11.498 seconds ahead of Fast Autowork's Nanthan Kumar/Ramesh and team Sitty-DNT Racing Team's Akid Azlee/Kesavamoorthy.
The win today reaffirms JDM Racing's title lead as their main championship rivals failed to score vital points during the Enduro race.
Race Car 1600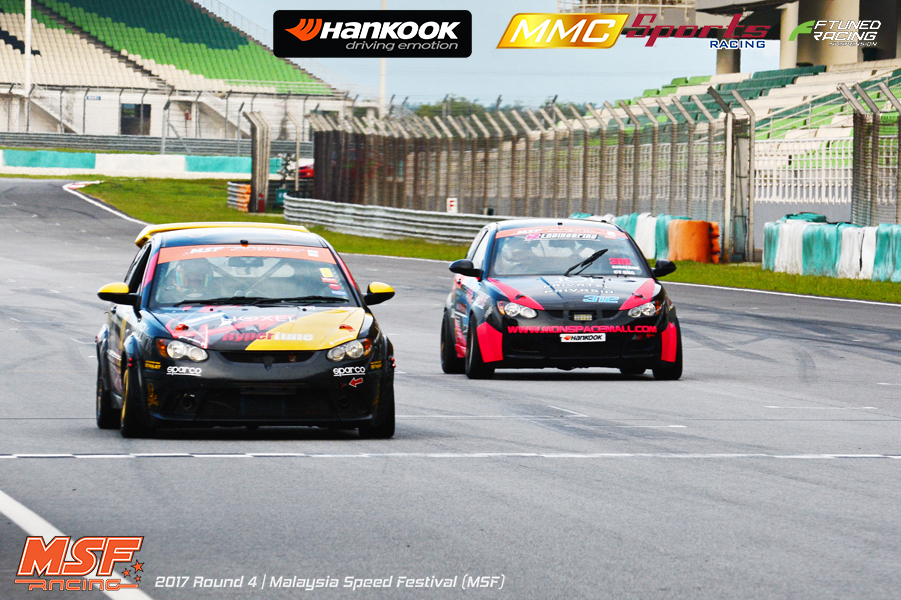 After his dominant win in Round 3, N1 Racing's Desmond Yee once again repeated his feat by claiming the class win in the Enduro with teammate Mitchell Cheah. As it happened in the previous round, the N1 Racing driver had to resist the pressure from championship leader team Dream Chaser who this time around displayed remarkble speed in the Enduro.
During the opening laps it was clear that team Dream Chaser was on a mission when CY Ong lead the race during his stint. The N1 Racing driver wasn't able to respond and was never in the right position to make any move.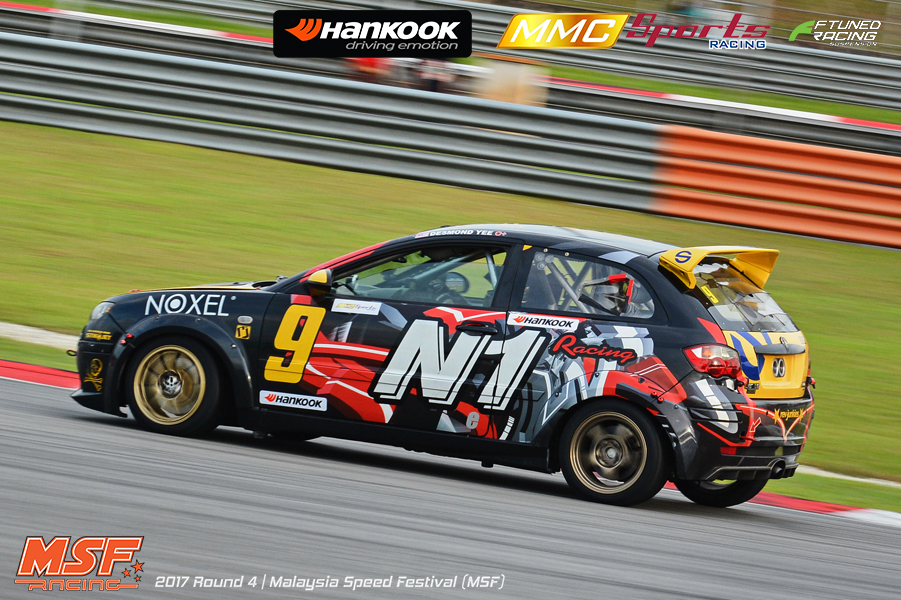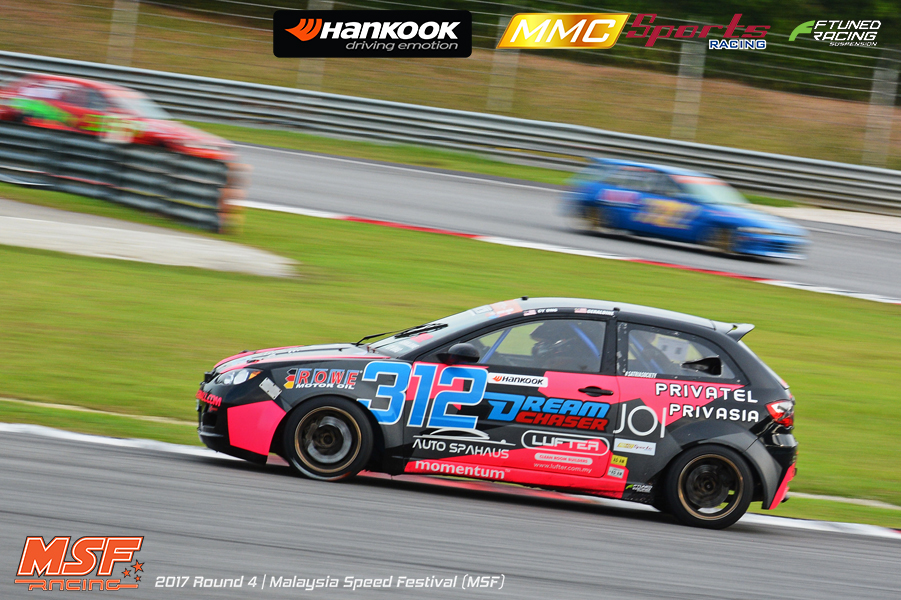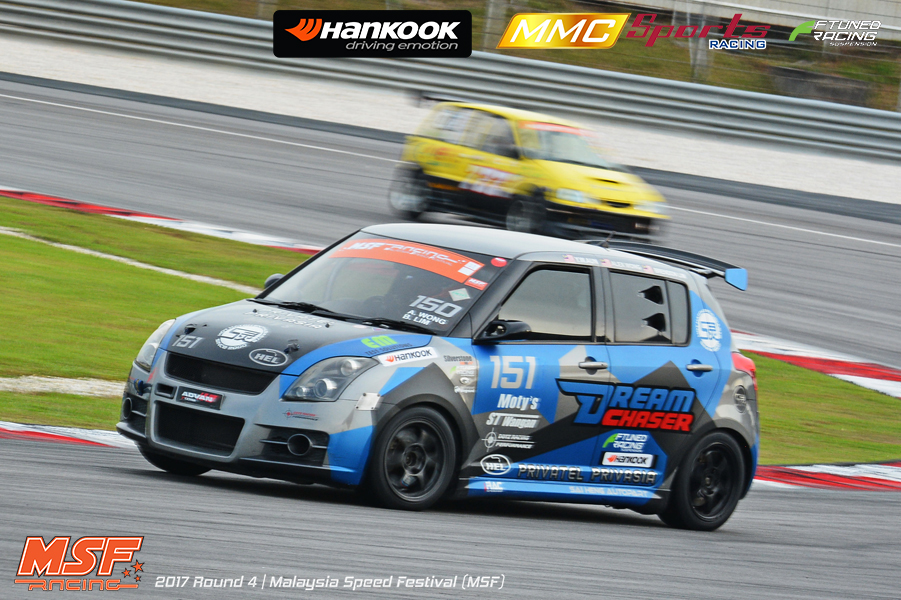 It was only after the driver change that positions between Dream Chaser and N1 Racing would change with the role reversed. Although team Dream Chaser's drivers CY Ong and Geraldine Read came home second they maintained their championship lead as their main series rivals fail to score big points to make any impression on them. Finishing third was team Dream Chaser's second car with drivers Brendon Lim Boon Yew-Aun Yew Wei taking their first steps on the podium in the MSF championship.
Special Kei
With their race ending even before they arrive at turn 1 in the previous race, Mohd Hafez/Gan Kiat Huat has put all that frustrating thoughts behind when they brought their new race car to victory in the Enduro race. The victory was an emotional one as they scrambled to put their new car on the grid operating with limited time and resources, which was already a victory for team Guns-FTuned Racing.
Although running on a limited resources they were not short on knowledge and experience. Taking leaf from their previous car, Guns-FTuned Racing mirrored their new build based on that car and it worked. During the race they were in control leading throughout the duration of the race and was never under threat from their rivals.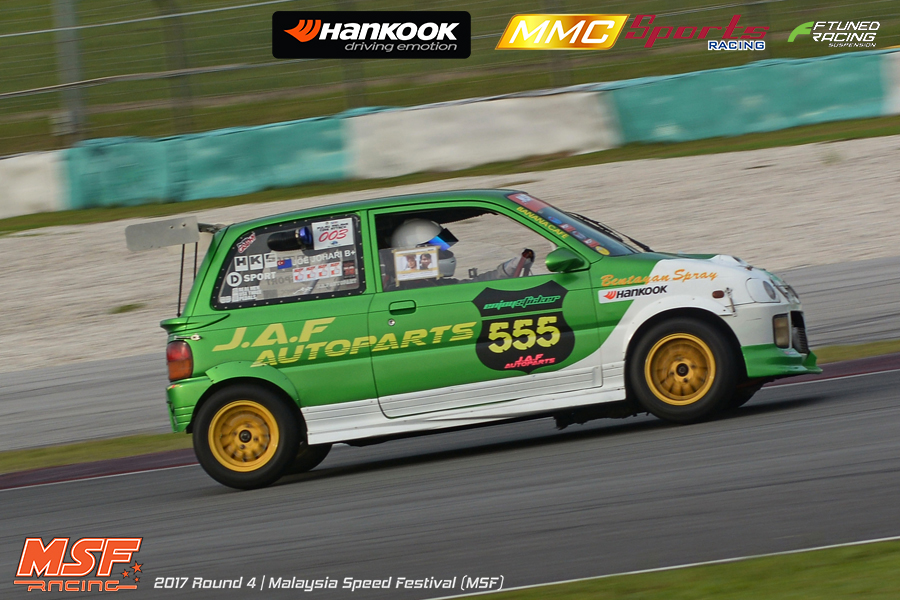 As they crossed the line team Guns-FTuned Racing had a 23.199 seconds advantage ahead of second place team Zam Auto Garage's drivers Ezamin and Mohd Henzee followed by team JFA Autoparts in third.
After the MSF Enduro race, the battle for the championship title intensifies. With most of the main title contenders not scoring this has paved the way for their rivals to close the points gap and would have great consequences should this happen again in the remaining rounds.
As the season takes a long break before Round 5, teams would take the time to regroup and for sure it's going to be a redemption for some. Round 5 of the MSF Championship is scheduled on 15 October 2017.
To keep in touch with all the latest news and updates, follow MSF's social media channels by clicking on the link https://www.facebook.com/msfracingseries/