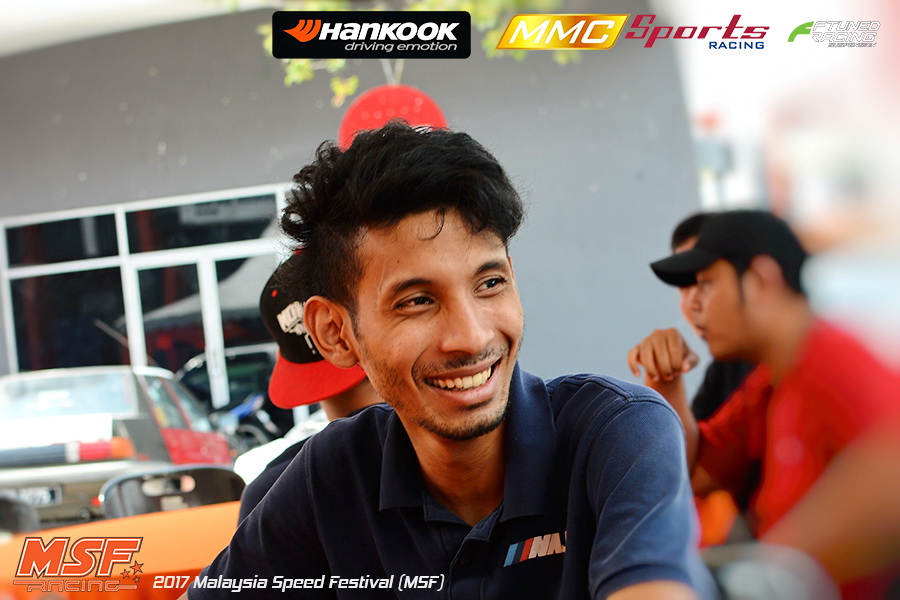 Up and coming racing driver Raja Imran has been causing quite a stir in the Malaysia Speed Festival (MSF) ever since he made his debut in the series in 2016. The MSF which is the nation's most popular saloon car championship competition has been his regular haunt to learn the ropes of motor racing and incredibly, this is the only place where he actually began racing.
Despite being 'new' to the sport Raja Imran has been sensational when you consider that he only has less than 2 years experience in motor racing! And not only that, the Super Street category which he competes in features some of the country's top drivers, and his accomplishment this season has place him second in the category's overall championship standings.
With a background in Mechanical & Automotive Engineering, Raja Imran had some tools to begin his motor racing ambition and he also have his trusted Proton Satria which was converted to run with the Mitsubishi EVO 3 engine to use for competition. But he was also aware that the task would be monumental and sure enough would involve a considerable financial drain for him, but all these did not deter his desire to go motor racing.
During his university days he did dabbled with a sort of auto racing but was confined to driving the experimental single-seater karts. Here the university students were to design and build a small single-seater kart incorporating with new ideas and technologies and it gave some insights for Raja Imran about automotive which then spark some interest in motorsports.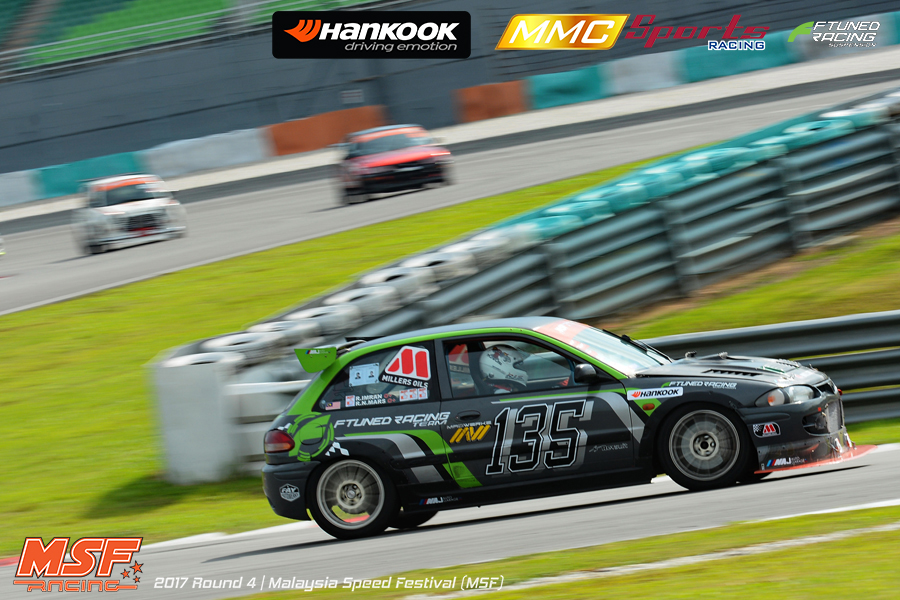 "Building and testing those karts were interesting and it made me curious about how little changes to a certain parts affects the overall performance, and I guess that's how my interest in motorsports began," said Raja Imran.
In 2016 Raja Imran made the decision to go racing and after reviewing several options, he decided that the MSF was the right choice especially for a newcomer like him. Initially he had to encounter various obstacles and aside from his financial constraints he had to source for reliable components for his car to make it race-worthy. It was a chance meeting with Wan Ahmad Farouk of F Tuned Racing fame which sealed his motor racing ambition.
"It all began when I took the car for the first time to do a check-up on the suspension at F Tuned. When I bought the Proton Satria, amazingly the previous owner had installed the F Tuned suspension and even Farouk was unaware of it as apparently, the previous owner only purchased the suspension and had it installed himself," explained Raja Imran.
"As I indicated to Farouk that I intend to compete in the MSF, he was very enthusiastic about it which lead to a commercial deal almost immediately, and I'm grateful to him as with this, I have a package to go racing," added Raja Imran.
Since the 2016 MSF Raja Imran has been with F Tuned Racing Team. Driving the Satria EVO 3 front-wheel-drive in the Super Street category his lap times has improved drastically clocking his fastest time of 2:43 in 2016 and coming down to 2:33 in 2017. These are impressive progress and it's even more impressive that he accomplished it while using the official MSF tyres the HANKOOK Ventus V12 Evo and running on the regular F Tuned Race-Comp Spec ever since, with no re-valve at all!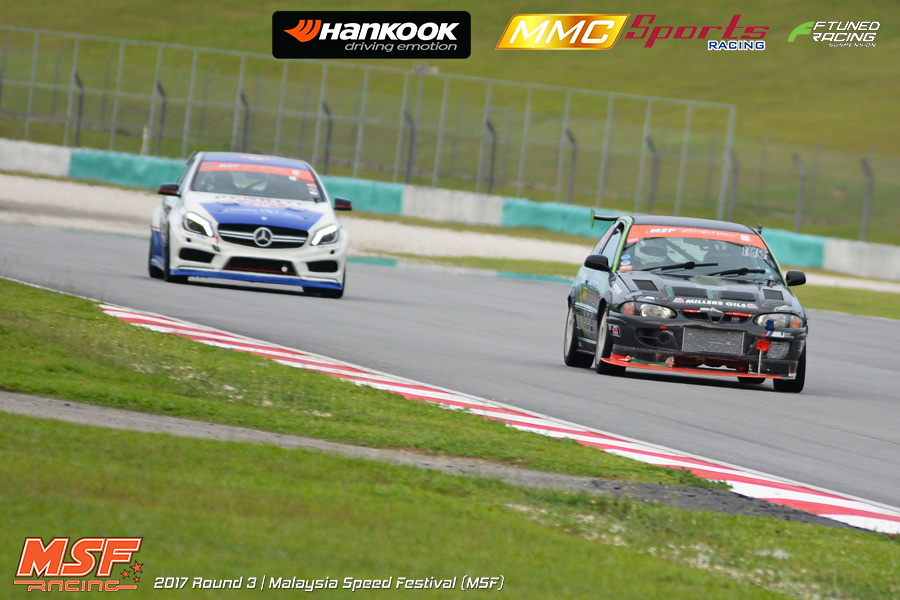 "I have to take my hats-off to F Tuned for making the car driveable on track, especially when you consider that it's a front-wheel-drive car. It's a beast of a car and traction at the front has always been an issue but I'm glad that we managed to find that sweet spot in the set-up and perhaps through time we can make further progress in taming a powerful front-wheel-drive car," said Raja Imran.
Currently Raja Imran is in second place in the overall championship standings of the Super Street category with 715 points behind leader Alif Hamdan with 875 points. In his previous race which was the MSF Enduro, Raja Imran was unlucky as he missed out on a podium finish due to his car developing some engine issues. For the next 2 remaining rounds he plans to make amends and to keep on scoring points which would give him some leverage to close in on his sole lead title contender.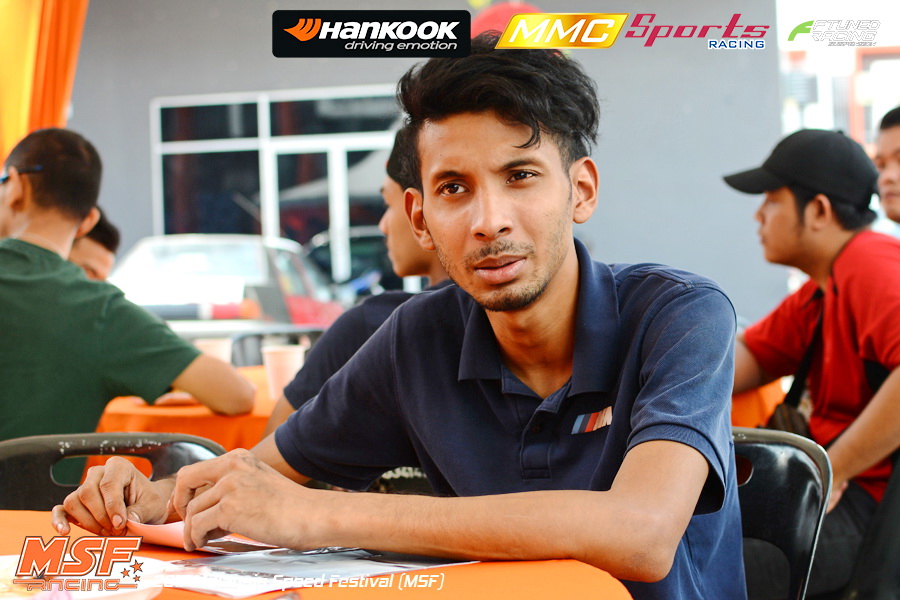 "I'm very committed. As difficult as it could be, I will try to get as high up the championship ladder as I can. I'm in constant communication with the people involved and trying to find ways to improve before each race and with the backing of the team, there's been constant improvements at each race and hopefully we can show more consistency to pick up a few podiums finish. My goal for this year is to garner as much experience as I can, improve at each race, learn the circuit as much as I can and we'll see where it goes from here on," conclude Raja Imran.