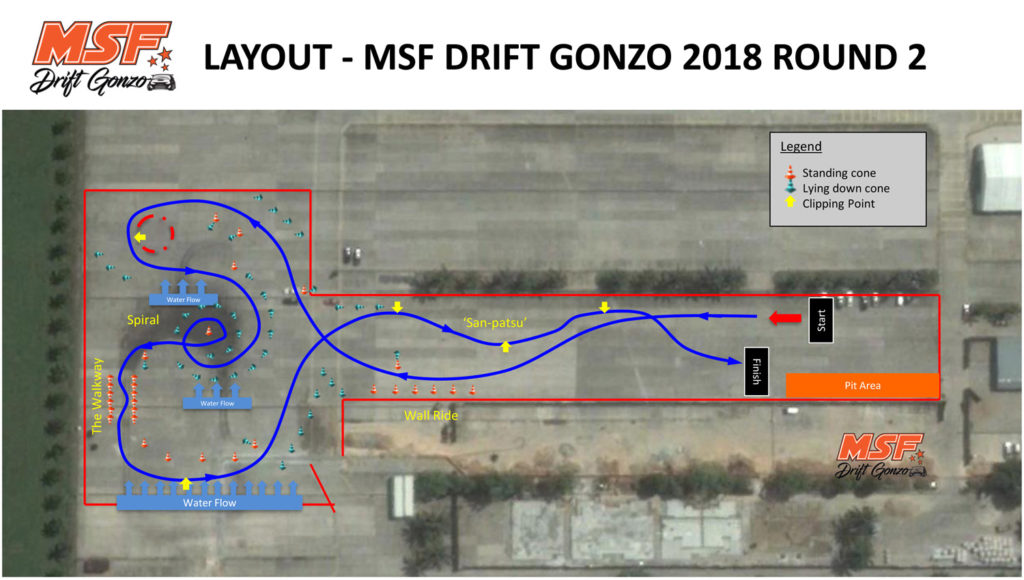 This Round 1 2018's Drift Gonzo layout features new challenges mixed in with a handful of the previous obstacles from the Preview Round last December. Let's go through them:
1. The Wall Ride
Still high=speed and expected to be 3rd gear for most cars (4th for the top guys!) with an entry over 100 km/h. The Wall Ride measures how long the drifter can 'pull' his entry drift: every next cone that he can drift longer, and the points climb.
1 cone: 500 points
2 cones: 1,000 points
3 cones: 2,000 points
4 cones: 4,000 points
5 cones: 8,00 points
2. Front clipping point
Drifters need to be sure to clip the front clipping point hangers, with the scores being:
Outer point: 2,000 points
Inner point: 4,000 points
3. The Spiral
Drift through the Spiral, a narrow and tightening donut turn. Penalty for dropping a cone or a cone pushed outside of it's box is 1,000 points deducted (this is standard throughout the course)
4. The Walkway
5,000 bonus points for transitioning drift in The Walkway; if no transition no points.
5. Rear Clipping Point
Drifters are to tag the clipping point hanger. Bonus of 4,000 points for touching the clipping point.
6. San-patsu
Triple Rear Clipping Point! Left – Right – Left rear clipping points in a series to be tagged! Bonus of 4,000 points for each point.
7. Course time
A baseline time will be set, and 1000 points will be awarded for every second below the baseline time. Time is also a decider if two or more competitors share the same points score.
Most importantly for Drift Gonzo 2018, the Top-4 will then have a Knockout Touge-style race to determine who is the GONZO KING (bonus trophy!).
Here's how it works:
– Top-4 from each category match up in a "bonus" for a Gonzo King trophy (only 1 per category). To go in pairs like Touge racing, 2 runs each pair, and winners head to a show down Final, and the eventual winner wins the bonus trophy
– How to know who won?
We will use cones to set-up a 'finishing zone' for the Chaser, and if the Chaser is within the zone, he wins. If he's not within the zone, he loses. If any one understeers, he automatically loses too.
Simple rules, but will create a climax for the event!
Registration is open now at only RM 230.00 per entry.
There are also Tent Spots available for rent with fan and power points, 4 spots per one 20′ x 20′ tent.