The 22-week long Apprenticeship course began last Wednesday, 20th June whereby 76 out of 80 registered students attended to learn more about the current biggest motorsports event in the country, Malaysia Speed Festival (MSF). The value-added course will open up more job opportunities for students in the industry, leveraging them to further their careers to other national or international-level racing series' all over the world. More often than not, motorsports are portrayed as a driver's game- where they are often shown as the heroes of the industry. Very rarely are the back-end side of the sport is shown, hiding job opportunities available for these students such as Race Control Officials, Race Scrutineers, Timekeepers, Gridding Marshals, Team Manager, Engine Tuner, among many other things. With good attendance, students arrived on time for the class and so begins the first theory lesson conducted by MSF Principal, Adian Yein.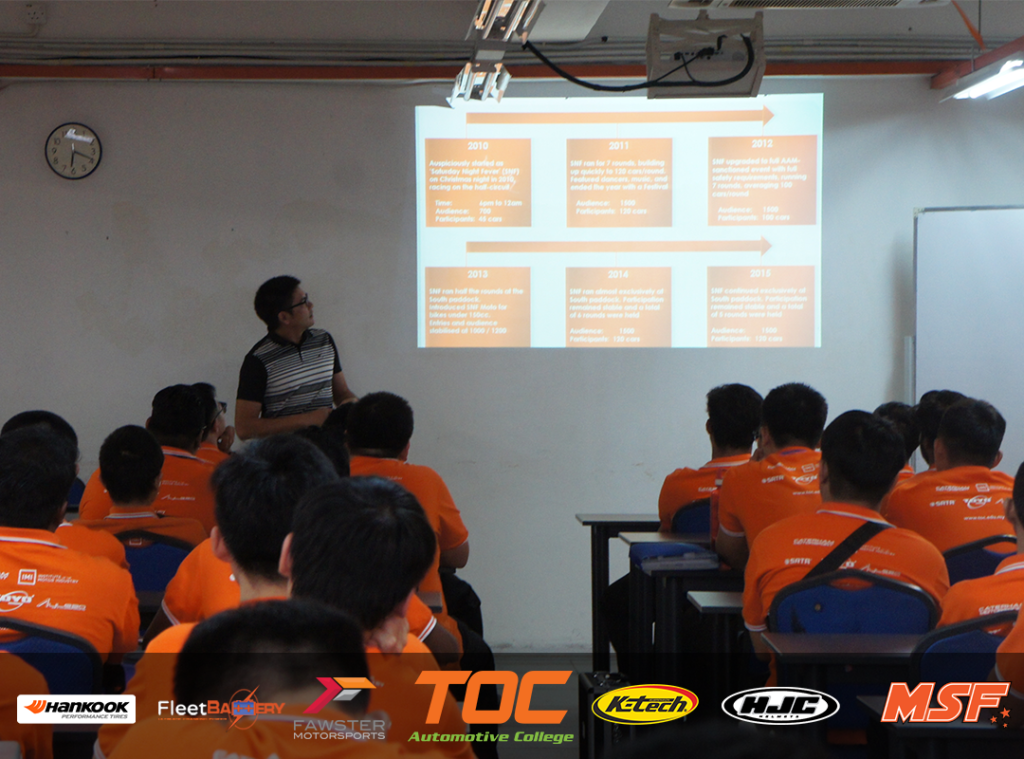 Week 1 – Introduction to MSF
To understand more on MSF, a little history lesson was commenced. Adian explained how SNF evolved to what is now MSF and how the night race series turned to day. Throughout the whole duration of the lecture, safety was emphasized on every subtopics; showing how safety is to be kept as top priority in any motorsports event, and not just MSF.
Once everyone understood the origins of the event, the class moved on to Regulations- in which there are two types.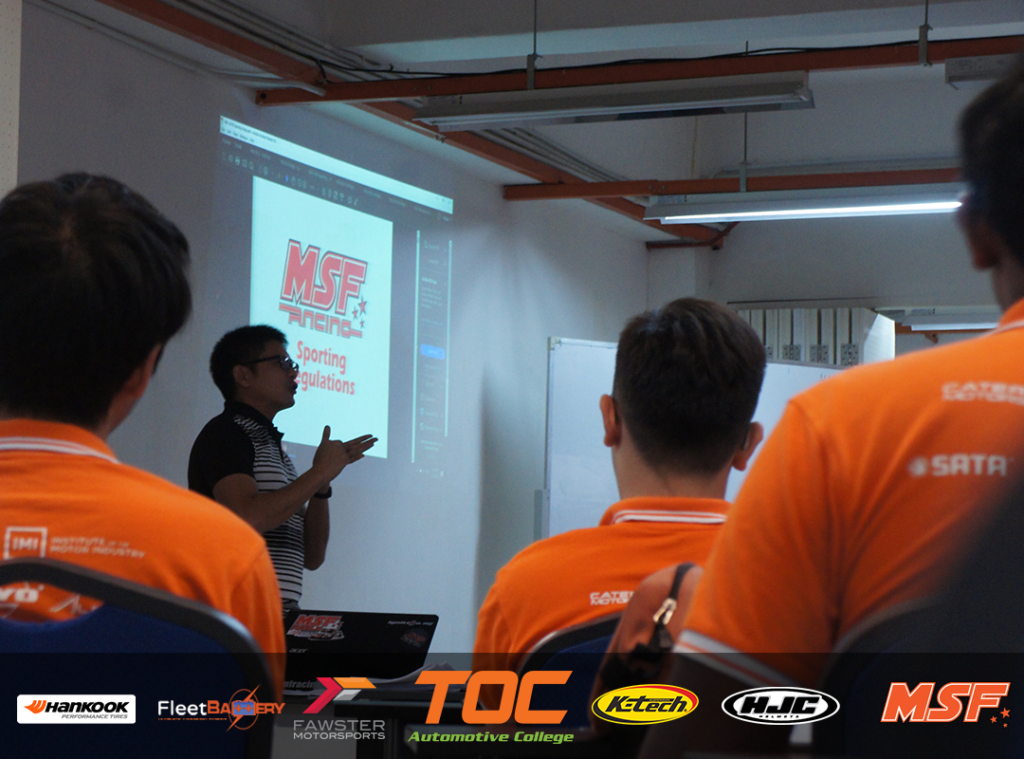 Sporting Regulations refer to the rules of overtaking, starting procedures, racing formats, or anything else involving driver behavior and many more.
Technical Regulations, however, refers to the technicality of the series; such as engine capacity, the do's and don'ts of modifications, aerodynamics requirements, etc. These two regulations can actually be found on MSF's website (msfracing.com) under Racer's Info.
Once everybody understood the general rules that cover the series, students then learned about the different categories in MSF- from Saga Cup to Super 1000 Superbike series. This is so that students know what to expect when they finally get their hands-on experience in working with MSF each round. Working in MSF will expose students to real-world motorsports event work, giving them an idea on what to expect in their career choices.
By the end of the 22-week course, students will understand not just the organizing side of the sport event, but the technicality of each racing teams as well. These includes Chassis and Suspension Dynamics, Body Lightening and Strengthening, Gearbox & Gear Ratios, Tyre & Fuel Strategy, so on and so forth. Each of these will cover both car and bike racing where guest speakers in their respective specialties can further explain in more details.
There is something for everyone in the motorsports field and it does not necessarily have to be the driver. Managing these events is as important as the drivers who give audiences the show they want to see. With the start of this program, MSF and TOC hopes to open up career opportunities and giving the industry a boost, making the sport grow and enjoyable for everyone involved- from the organizers, to the audience.