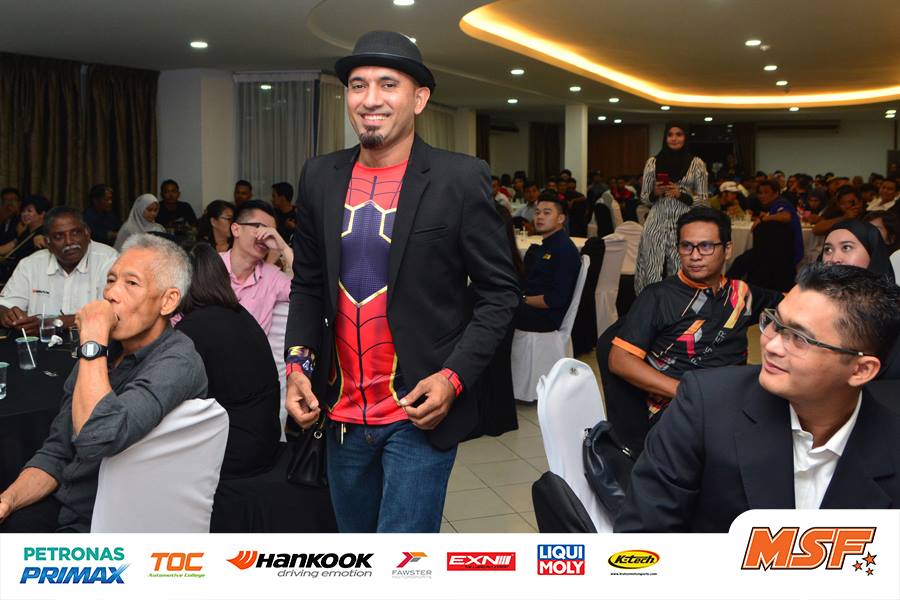 THE THRILL.
The Superbikes series is a completely different game from its four wheeled cousin, SuperTurismo. Some say, for the Super1000 guys, it only takes a couple of full breaths getting from Turn 15 to Turn 1. Of course the super lightweight nature of bikes largely plays a role in how thrilling and adrenaline-pumping it can be for both the spectators and the riders. With that being said, it is definitely not a sport for those that drink tea on evenings, no. It is a sport for those that drink high octane fuel, and exhales exhaust smoke- because the truth is, it's got to be your life. It is your life.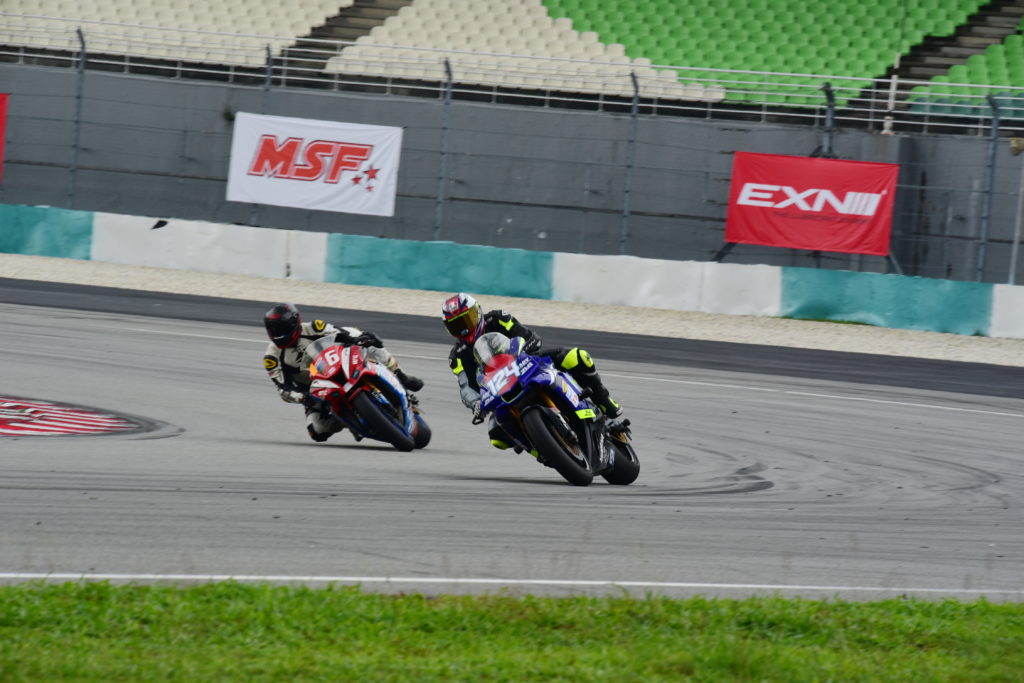 THE CONVERSATION.
Moving on from metaphors- having half the amount of wheels also means that cornering speeds do not reach as high as cars do. Facts are facts, but that doesn't stop Super1000 Class A's Ahmad Khan from putting on a good show. We experienced Khan fall and recover, riding through heavy rain, and dogfighting with his rival Azwan Malek. A little chat with the champion reveals his thought processes about life in general, and his champion standing:
Where are you from, what do you work as, and are you married? Got children?
I'm Ahmad Khan, from Rawang, Selangor. I'm now a full-time mechanic at #66SpeedBike and yes I'm married with 3 kids.
Tell us how you got into racing.
Honestly, I don't know if being a Rempit is considered as a starting point. Since my childhood I have been working with motorbikes (mainly my dad's RXZ and his Honda EX5). Since then motorbike has been my life.. Back in 2013, I bought my Kawasaki ZX10R and had a fun time at the track, but left riding as I was out of country for some time.. In 2016, after being absent for almost 3 months due to my work requirement, I decided to join MSC 2016 despite no track day sessions for almost a year. Luck was on my side, I won the race and secured 2nd and 3rd position for 2 races.
Did you ever street raced?
I was a Rempit once during my teenage years, and it was fun and dangerous. But after witnessing a lot lives lost, especially friends, I decided not to involve with street racing anymore.
Did you always like Bikes? What kind of Bikes?
I have always loved riding a Bike. However the excitement of riding the Zx10R has no match. The bike has a huge amount of power and handles really well.
What did it feel like winning your first ever race? Was it at MSF?
In 2018 I was really serious in participating and winning the MSBK championship, but as I didn't have a platform to test my bike, I have decided to join MSF round 1 to measure my bike and my own capability. It turned out to be my winning field. I was pushed to Group A as my timing was below 2:19 which was my 1st achievement. And I finished 3rd place among the fastest Malaysian riders. I can't describe the feeling of being the best among the best riders of Malaysia.
What did it feel like winning your first MSF Championship?
It was really intense, as initially MSF was my training field, now it turns out to be my winning field. In MSF it's all about strategy, plan, timing, which taught me a lot in order to be a better rider. I was really happy to join MSF and i would like to thank MSF family in organizing such event.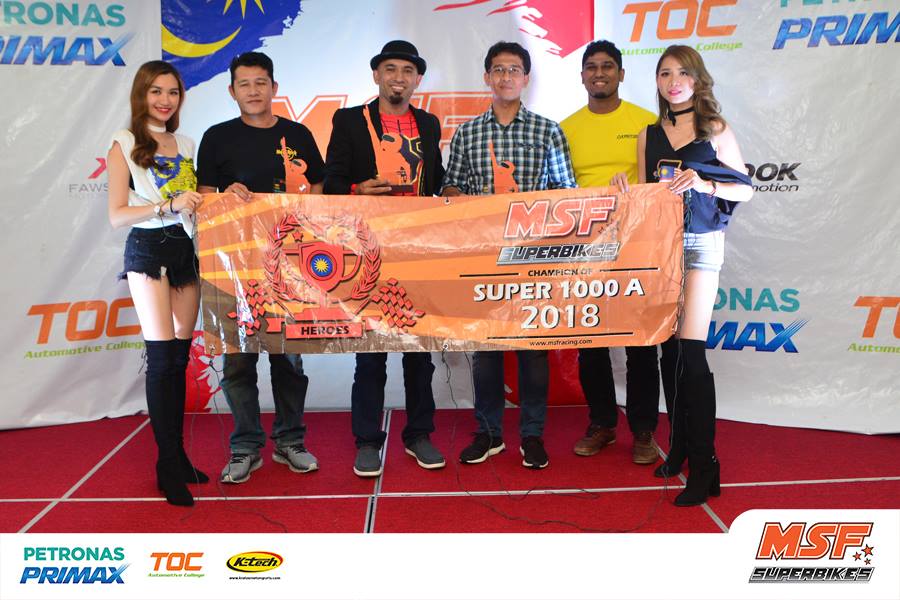 Was there more stress to win a second Championship?
Winning MSBK Superstock B category was not as intense as MSF. This is because in MSBK you are categorised based on your race experience and license. But MSF it's a different ball game. You're based on your timing. Which place you among fastest riders. A small mistake, a miss calculation, a wrong judgement can result to losing your winning spot. Personally, to win here means much more.
What do you have to say to others who want to be champion racing rider like you?
Join MSF, it is much affordable, its is a day race event. Which in result will not cost much. It's also fun. You will be surprised and probably will say "why haven't you started early?". Join now and show your capability.
What 'kata perang' do you have to say to your competitors for 2019?
Beat me if you can, if not just eat my rubber… Hehehhe…
THE CONCLUSION.
This is not a drill. Adrenaline levels are high, the dogfights are intense. And we are on for another season. Save the dates today and we will catch you on race day!!!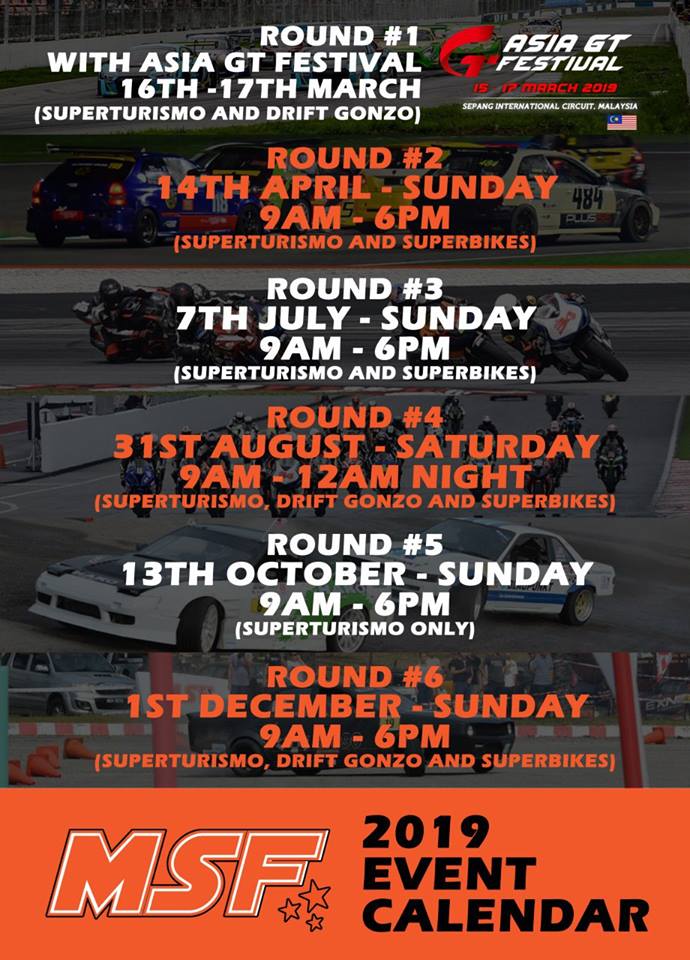 Oh, we have food trucks.