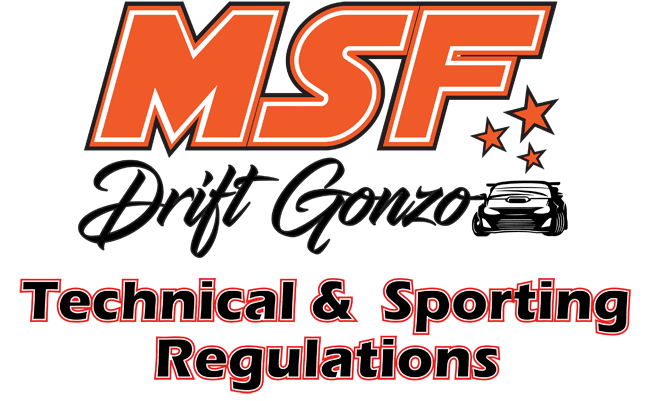 TECHNICAL REGULATIONS – PUBLISHED 15 Jan 2019
(The regulations may be subject to change, which will be published via Additional Supplementary Regulations – ASR)
1. GENERAL
1.1. Eligible cars
Any 4-wheeled production based car, kit cars or limited production sports car. Strictly limited to vehicles running Rear Wheel Drive drive-train only. Approval for entry is at the discretion of the Promoters.
2. CATEGORIES OF VEHICLES
2.1. Defining what is a 'Super 1600' category vehicle, a 'Street Limited' category vehicle and 'Pro Comp' category vehicle:
2.1.1. Super 1600 cars:
• Vehicles that run naturally-aspirated engines with capacities up to 1600cc. Does not include rotary engines.
• A maximum of 15-inch wheels permitted – tyre width is open.
o Vehicles in this category will run under a single category, regardless of whether they are 'Street Limited' or 'Pro Comp' in preparation and specification.
2.1.2. Street Limited cars:
• The interior of the vehicle includes the minimum items which would define it visually to a casual observer as a car which may be driven on the street with daily amenities, such as:
o Air-conditioning / interior climate control switches and blower;
o OEM full length dashboard with all listed panels including steering column cover and indicator stalks, switches, and centre console with gear shift cover;
o OEM Front door trim panels on both driver's and passenger's side;
o OEM glass all around
o complete list of interior items refer to MSF RACING TECHNICAL REGULATIONS paragraph 4 'Interior'.
• Bolted-in safety cages are permitted; to be basic in configuration and may NOT be welded to strengthen the shell.
• The following items may be removed and/or replaced with non-OEM material/items for safety and/or to accommodate safety equipment:
– A, B, and C pillar trim may be replaced with non-OEM material
– interior trim from the rear of B-pillar and Front seats may be replaced with non-OEM items and/or material
– headlining
– carpet
• Suspension hard points may not be altered. Subframes may be modified as required within acceptable reasons. If the subframe is modified beyond what would be acceptable for Street usage, will not be accepted.
• Organiser's decision to accept or decline a car's categorisation shall be final.
2.1.3. Pro Comp competition-prepared cars:
• Drift vehicles that are prepared for competition, defined by being equipped with a welded-in rollcage and non-glass windows.
• Equipped with a welded or bolted-in roll cage which compiles to MSF specifications (refer to MSF RACING TECHNICAL REGULATIONS paragraph 5.2.6 'Minimum specifications for MSF Racing legal rollcages'; and is welded to the body and chassis. The rollcage may be constructed to increase bodyshell rigidity with additional strengthening points to the pillars and suspension pick-up points.
• May be stripped of any interior equipment such as carpets, door trims, centre consoles, etc. Dashboard/instrument panel is not required. Replacement door panels permitted. Window glass may be replaced with acrylic Perspex plastic or similar.
3. TIRES
3.1. All categories – with no exceptions – are only permitted to use DOT-approved non-semi-slick tyres.
Semi-slick and full-slick tyres not permitted. List of tyres that are not permitted is below. If the tyre is not in this list and is not a full-slick tyre, then is allowed.
Please do not ask if Nankang NS2R or Federal RSR are allowed, because as they are not in the list, therefore they are allowed.
Below is the list of tyres defined as semi-slick tyres in MSF:
| | |
| --- | --- |
| Manufacturer | Tyre |
| Yokohama/Advan | A048R, AO50R |
| Bridgestone | RE540S, RE55, RE-11S |
| Dunlop | Formula R (D83J, D93J, D01J, DZ02G, DZ03G) |
| Federal | FZ201 |
| Kumho | Ecsta V700, V70A |
| Michelin | Pilot Sport Cup, TB15 |
| Pirelli | P Zero C, P Zero Corsa |
| Silverstone | FTZ Sport Tyre RR, S575, S585 |
| Toyo | Proxes RA-1, Proxes R888 & R888R, Trampio R881 |
| Hankook | Ventus Z221 |
| Nitto | NT01 |
4. MODIFICATIONS
4.1. Modifications made to the vehicle cannot compromise the safety or structural integrity of the vehicle.
4.2. Street limited
• Original OEM fuel tank is required
• Fundamentals of the engine installation must not change. Original engine mounting points on the subframe must remain, even if the engine has been changed.
• OEM suspension types, mounting points and location must be used. Aftermarket coilover types may be used, adjustable top mounts to allow for camber adjustments is allowed.
5. GENERAL SAFETY
5.1. Headlights and tail lights are recommended to be taped up.
5.2. No fluid leaks of any kind.
5.3. No loose items within engine bay.
5.4. Poorly engineered and poorly attached bars inside the cabin are not allowed.
5.5. Cabriolet or soft-top convertible roof type vehicles may run without the roof top ONLY if it is equipped with a safety cage.
6. COMPETITION NUMBER & VEHICLE PRESENTATION
6.1. Competitors are obliged to carry the MSF partners' logos in the mandatory sticker areas.
6.2. Official MSF Sticker Board of MSF Series Sponsors must be located in the area below the front windows behind the front wheel.
6.3. Official MSF Tire Partner sticker must be placed on the wheel arches, on all 4 arches.
6.4. Official MSF Title Sponsor sticker must be placed on the front & rear registration plate area.
6.5. Official MSF Category Partner sticker must be placed at the top of the front windscreen.
6.6. Competition numbers are to be placed in 2 locations:
• Door Numbers: Must be placed on each front Door.
6.7. Competitors & team own sponsors may be located at all other locations such as:
• Front Bonnet.
• Roof.
• Rear Door/fender.
• Rear Bootlid or Tailgate.
• Front & Rear bumpers.
6.8. A rejection fee of RM 1,000.00, for every deleted Partner /Sponsor sticker, is required of any Competitor that does not apply any MSF Partner /Sponsor stickers.
SPORTING REGULATIONS – PUBLISHED 15 Jan 2019
(The regulations are subject to change, which will be published via Additional Supplementary Regulations – ASR)
1. CATEGORIES
• Super 1600 – vehicles with naturally-aspirated engines up to 1600cc with a maximum of 15-inch wheels permitted; does not include rotary engines
• Street – vehicles that comply to Street Limited specifications
• Pro Comp – vehicles build for competition and are equipped with a welded-in safety cage
2. ENTRIES
• Entries open 1 month prior to event date and close at 5pm Wednesday the week before the event. Any Entries received after this day is considered Late Entry and will incur Late Charges of additional RM 100.00.
• All categories early-bird RM250.00 per entry up to 1 week before the event, after which entry fee is RM 350.00 per entry.
• Payment must be made by online upon registration. The decision of the organisers on all matters of payment is final.
• Competitors are responsible for sending correct and complete entries with the correct entry fees prior to the entry closing dates.
• Acceptances of entry are at the sole discretion of the organisers. The Organiser reserves the right to refuse an entry. If less than 6 entries are registered for any category, the organiser reserves the right to cancel or amalgamated the said category.
• It is a condition of entry that competitors have no right to any claims against the Organiser and Promoter and its Officials, and Sponsors. And any one carrying out their duties.
• The entry fee may be refunded under the following conditions: –
o Refusal of entry.
o Entry fee will not be refunded for participant who has excluded from the race due to any type infringement.
3. DRIVER'S BRIEFING
• It is compulsory for all participating drivers to attend the Driver's Briefing for the event. Failing to do so will merit an exclusion from the event.
4. EVENT PROGRAMME
8:00 Registration opens
9:00 Driver's briefing
9:30 Practice
12:00 Score Run 1
13:00 Lunch Break
14:00 Score Run 2
15:00 Tsuiso Touge Top-8
5. METHOD OF COMPETITION
Drivers are given 2 rounds of scored runs. The best / highest score of both runs will be used to determine the Driver's scoring and position.
SCORING
A. List of components:
a) Rear Wall Entry (The Flipper)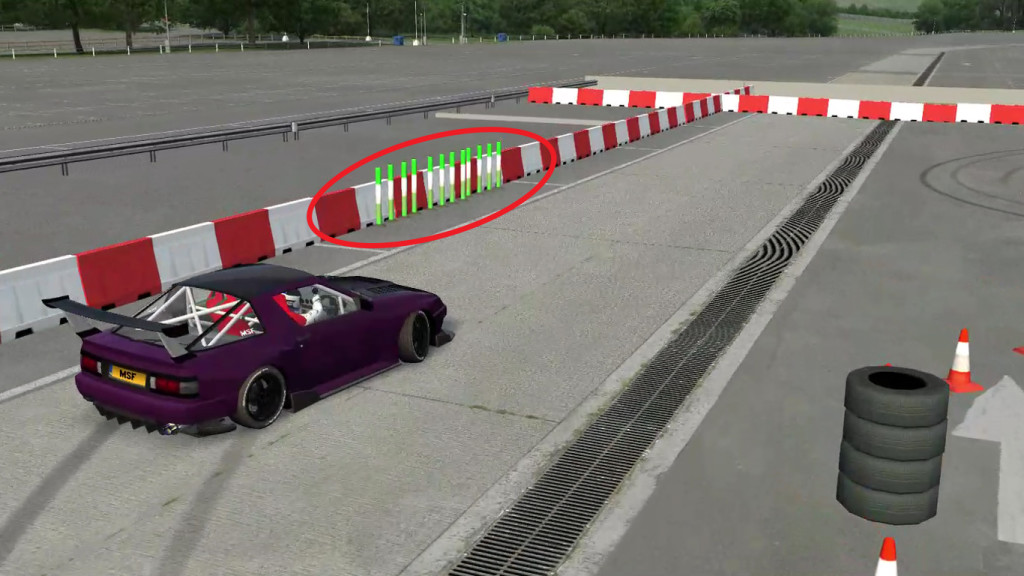 Drifters aim for the rear of the car to hit the plastic green poles.
b) Front Clipping Point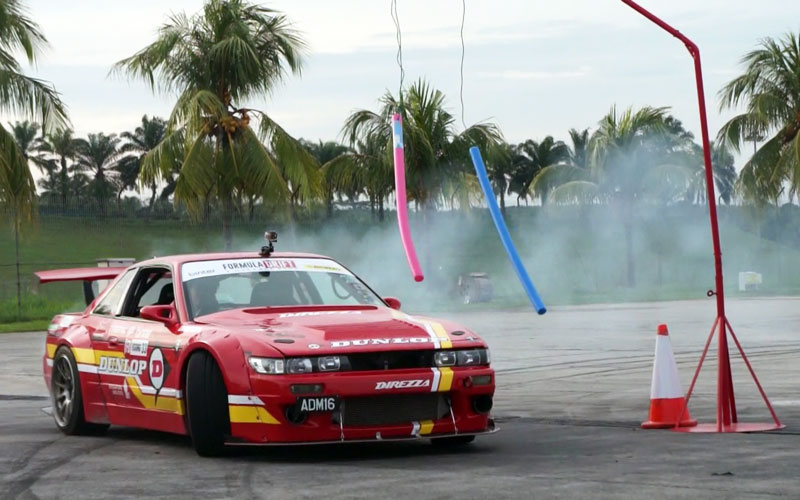 c) Rear Clipping Point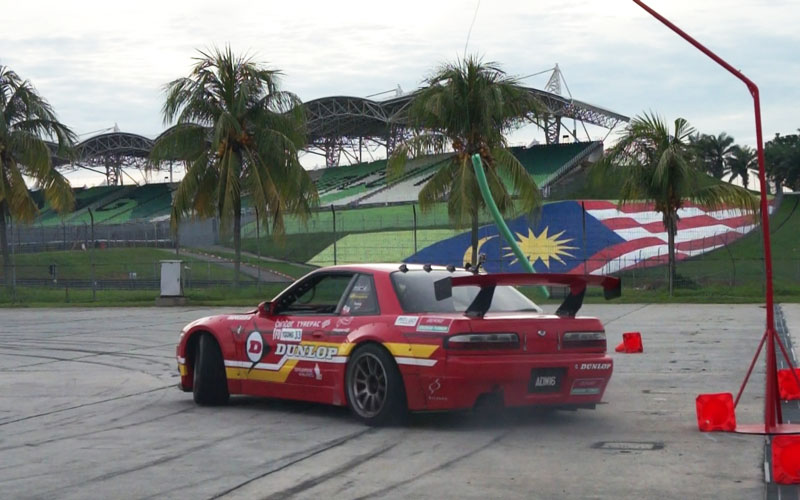 d) The Walkway
e) The Donut Islands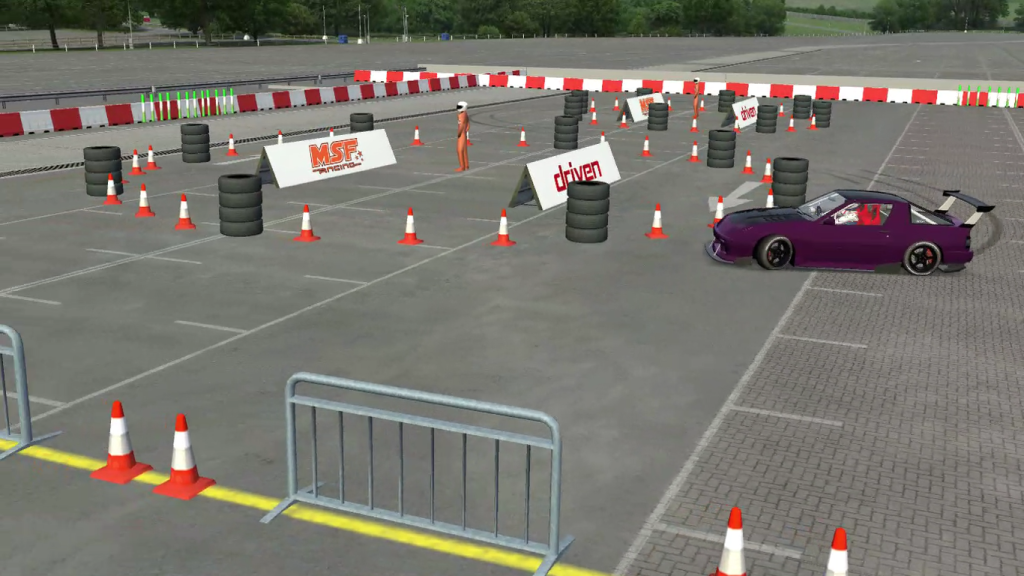 f) The Donut Box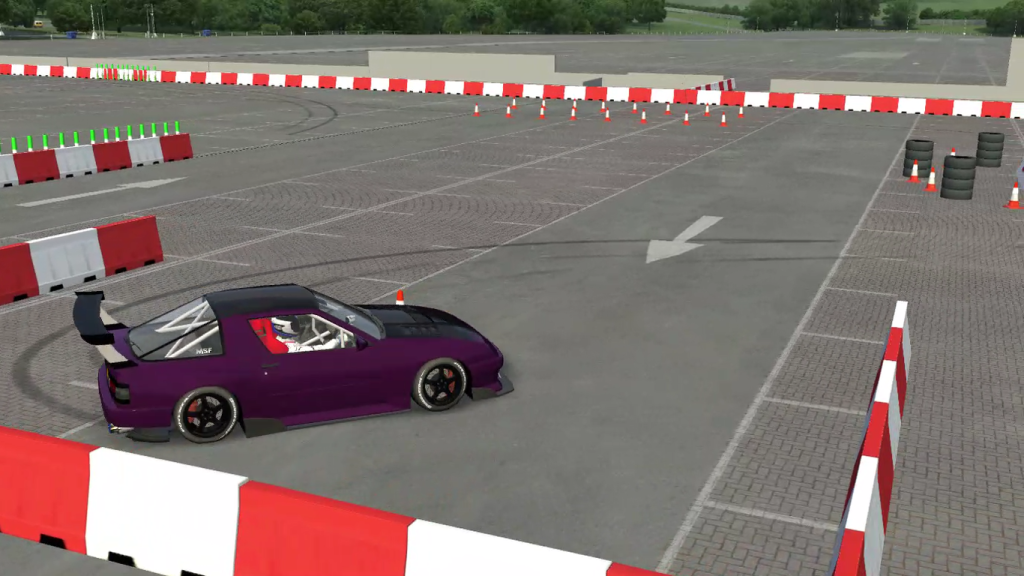 g) The Tightrope (TBA)
h) San-Patsu (TBA)
B. Points Scoring:
Each driver will start with 10,000 points
Penalty for knocking a cone is 1000 points; as long as cone is standing and in touch with the box, no Penalty. Penalties awarded if cones drops, or is pushed outside of the box
Rear Wall Entry
1st cone: 8,000 points
2nd cone: 4,000 points
3rd cone: 2,000 points
4th cone: 1,000 points
5th cone: 500 points
Front Clipping Point
2m: 1,000 points
1.5m: 2,000 points
1m: 4,000 points
Rear Clipping Point – 4,000 points
The Walkway – 5,000 bonus points for transitioning drift in The Walkway; if no transition no points
The Donut Box – as long as cone is standing and in touch with the box, no Penalty (Penalty for dropping the cone or pushed outside of the box).
C. Time
A baseline time will be set, and 1000 points will be awarded for every second below the baseline time.
Defining "Loss of Drifting"
For every time a drifter experienced Understeer, they will be deducted 5,000 point for the first time. The point deduction will be doubled up if it happens for the second time (-10,000, then -20,000) for a maximum of -20,000 points.
A SPIN or COMPLETE STOP is an automatic -20,000 point deduction.
Understeer: wheels are pointing in the same direction as per direction of travel
Neutral slide: steering is straight but the car is still travelling at an angle to the direction of travel, regardless of counter-steer/zero-counter. A neutral slide is acceptable.
6. DRIVER'S ATTIRE & SAFETY
• Long pants are compulsory for every participants
• Shoes must be of a closed toe type (no Crocs, sandals, slippers, or anything of the kind)
• Gloves, Balaclava & Racing suits are recommended
• Helmets must be a minimum SIRIM requirement
• Seatbelt must be minimum 3-points
7. ORGANISERS AND PROMOTERS RIGHTS
• The organisers and/or promoters may abandon, cancel or postpone the event due to unforeseen circumstances.
• The organisers and/or promoters may cancel any category, which has less than 5 cars or amalgamate them with another category at the discretion of the organisers.
• The organisers and/or promoters may exclude any vehicle which not complies with the scrutineer standard.
• The organisers and/or promoters have the right to stop the event or any driver for any reason with the Stewards Consent.
• The organisers and/or promoters are indemnified from any participants having any contacts/collision with another car(s) and/or damage to the circuit. These will have to be settled privately between parties involved.
• Damages to circuit facilities or equipment as result of contacts/collision will be borne by the parties involved.
Copyright 2019 Matrix Motorsports Promotion Sdn Bhd 508407-T
Creators, Owners, Official Promoters
MSF Drift Gonzo Series