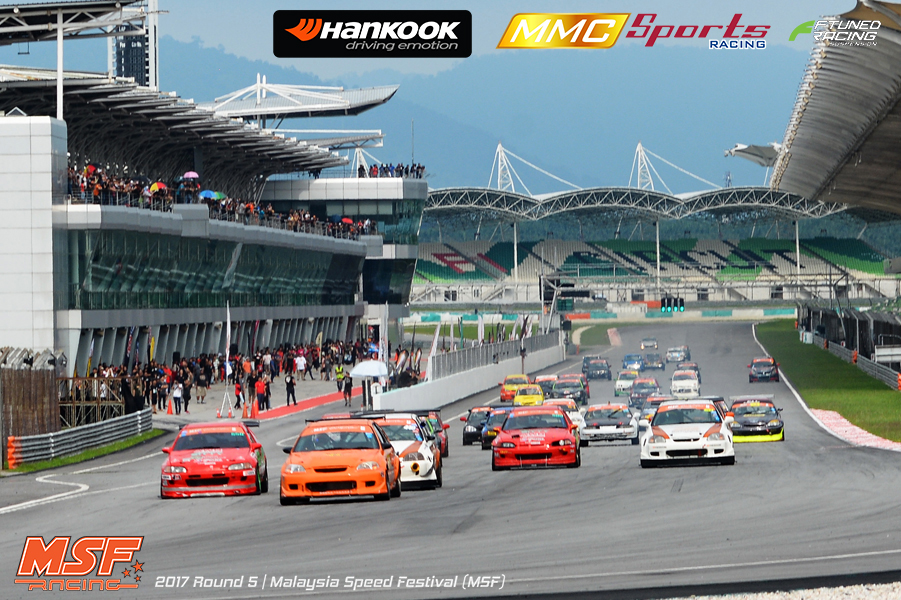 After a long break the 2017 season of the Malaysia Speed Festival (MSF) resumed for Round 5 which would be one of the most anticipated rounds with the results having an adverse effects on the main title contenders. For most of the championship leaders it was redemption time as some failed to score any points during the previous Round 4 Enduro. And their slump seems to be continuing as can be seen from the results of Round 5, which would see the title fight go down to the final round scheduled on the 2 and 3 December.
Race Cars Open
Azlan and Mark's Victorious Run Extends Championship Battle To The Wire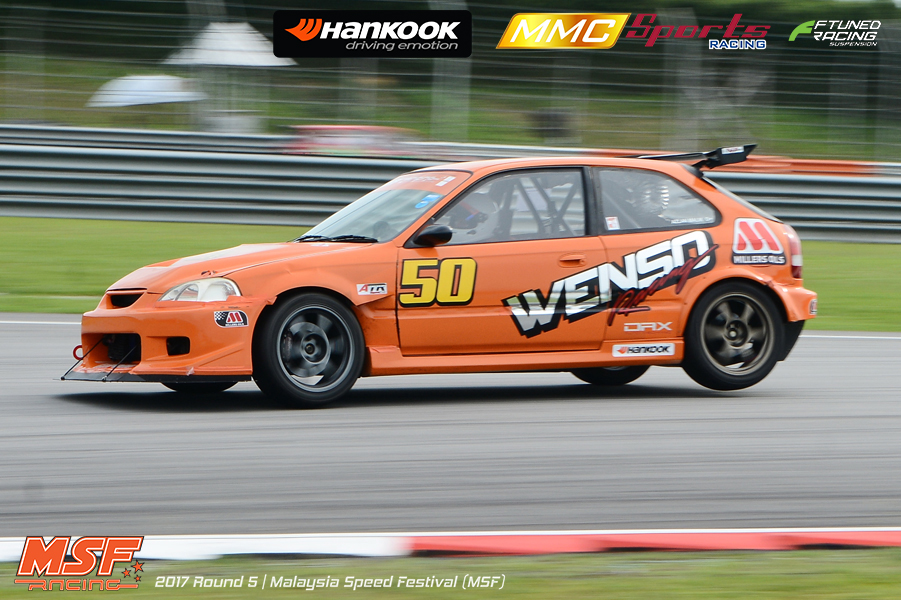 Round 5 race on Sunday for the Race Car Open category provided pure racing. With the first 3 opening rounds run-away winner Keifli Othman from team Mayhem-Fast Autoworks unable to make the start for both races, it was left to his rivals to make up for lost points and taking advantage of this situation.
Main rivals Akid Azlee from SITTY-DNT Racing Team along with teammate Mark Darwin, Smartroleum-Evotec Shazull Hisham and Shamir Aizan driving for team Smartroleum-Prodrag were in determined mood and looks set to capitalise on this but they didn't expect 2016 Race Car 1800 champion Azlan Malik to interrupt their progress. Azlan, driving for Wenso Racing Team did just that when he won the first race which was to be one of the closest race finishes down to the line, finishing just ahead of Shamir Aizan by a mere 400th of a second.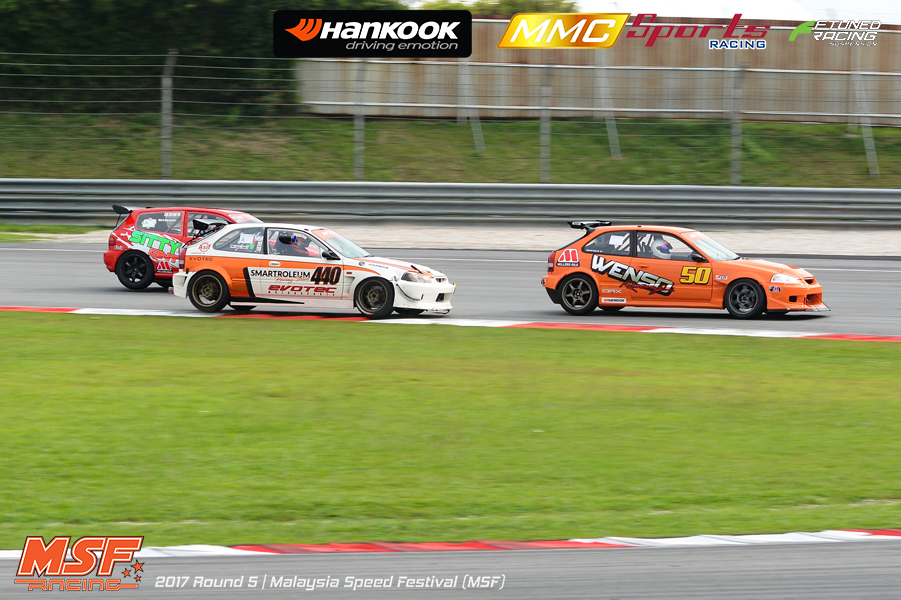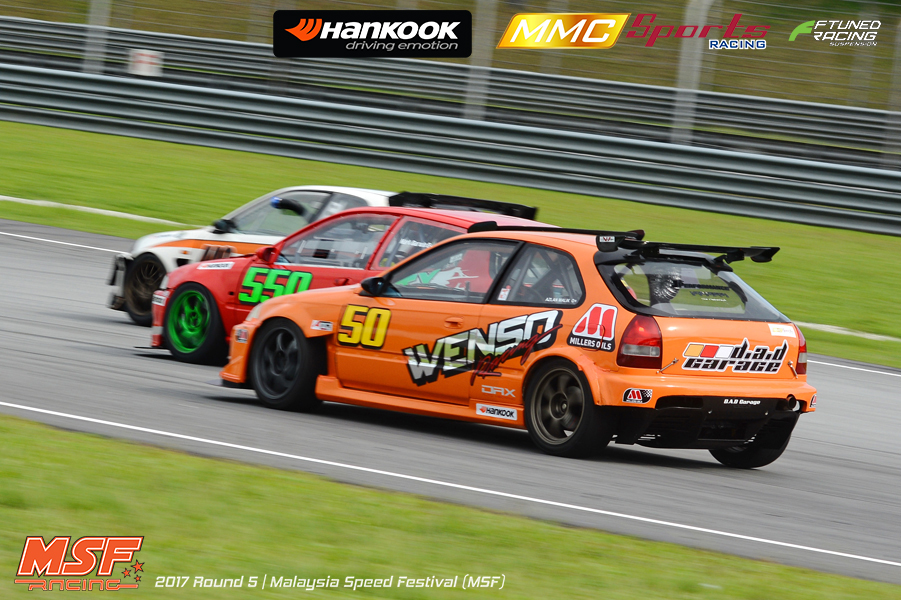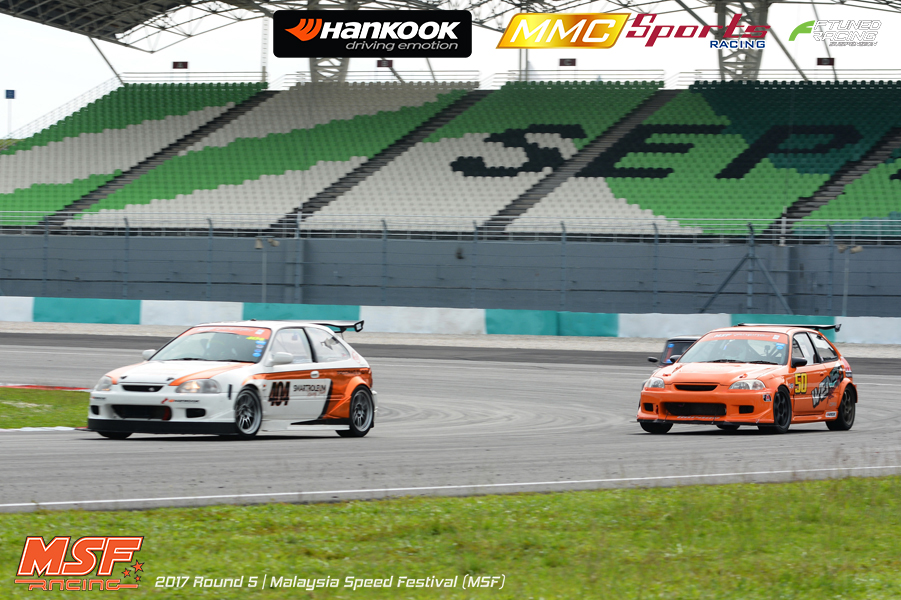 In the first race Azlan who had made the switch to enter the bigger category this season made a stunning start from the second row and grab first position going into turn 1. It was a very tight but he just managed to hold on to that position followed closely by Shazull, Mark, Akid and Shamir. The leading group were to remained close for the first couple of laps with the first three swapping positions until Shazull, Mark and Akid seems to slowly lose their pace. From here on it was Shamir who took over to hunt down Azlan who was controlling the pace pretty well at the front.
The lead duo provided some intense racing and in the closing stages, Shamir was in attacking mode and made several attempts and even passes on Azlan but the latter seemed to have a better car under braking and was able to retake the lead back again. This went on right to the last lap and even at the last turn. Coming out of turn 15 and on to the pit straight approaching the chequered flag Azlan just managed to hold on to his lead position to finished just ahead of Shamir in one of the closest race finishes in the MSF.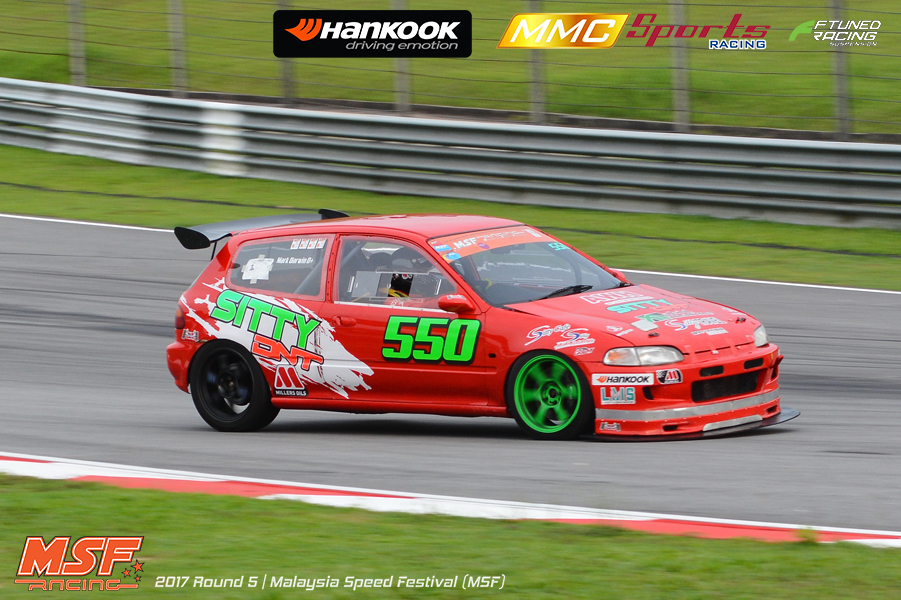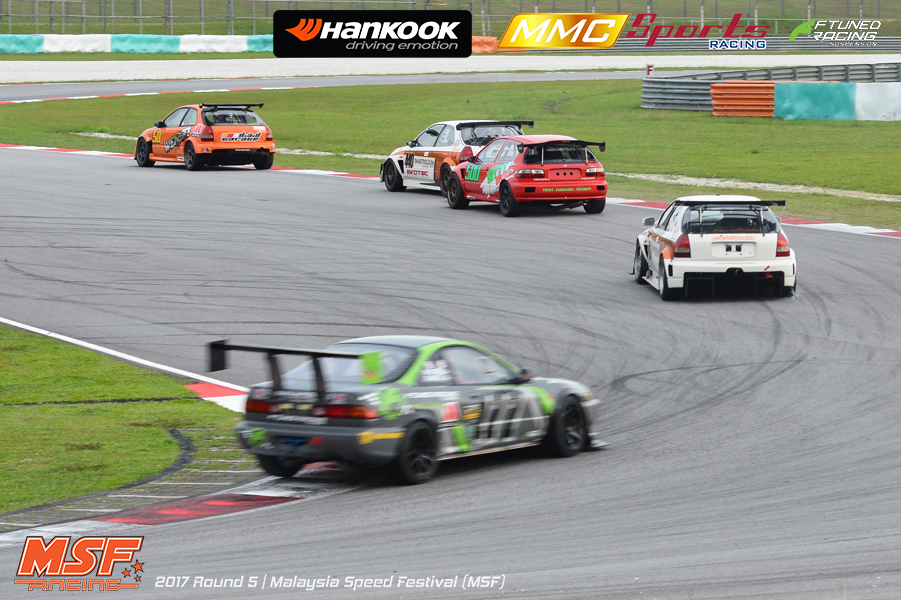 Race 2 displayed another close battles with all Race 1 main protagonists. Azlan once again played the disruptor role and made another great start. But Mark Darwin was having none of this and this time around he made sure that the top spot was going to be his. In the race Mark quickly opened up a sizable lead to avoid mixing with the fight that was going on behind him between Shazull, Azlan, Shamir and Akid. Marks's determined drive and staying out of trouble gave him the much needed win and he crossed the line with a massive gap of 7 seconds ahead of Shazull who was followed behind by Azlan who made another podium finish.
The day's results has definitely thrown the category's championship title battle wide open and any one of the top four contenders would have a shot at the title. Keifli's misfortunes began in Round 4 and now in Round 5 where on both occasions, minor issues with his car halted his championship progress. "Obviously this is a setback and I hope nothing of this nature happens again in the final round. No disrespect to others but my main concern is Akid Azlee, as long as he doesn't amassed big points than there's still hope for me," says Keifli.
Race Cars 1800
Summer Delights for Team Summer Motorsports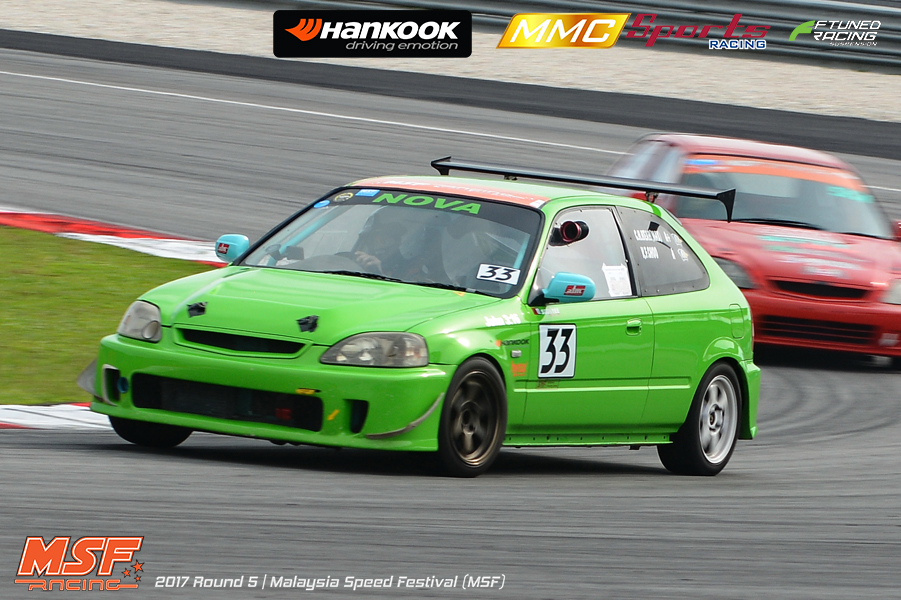 Team Summer Motorsports has won both races in the Race Cars 1800 category stopping the dominance of Winston Tan and Phillip Tang from team JDM Racing in the MSF championship.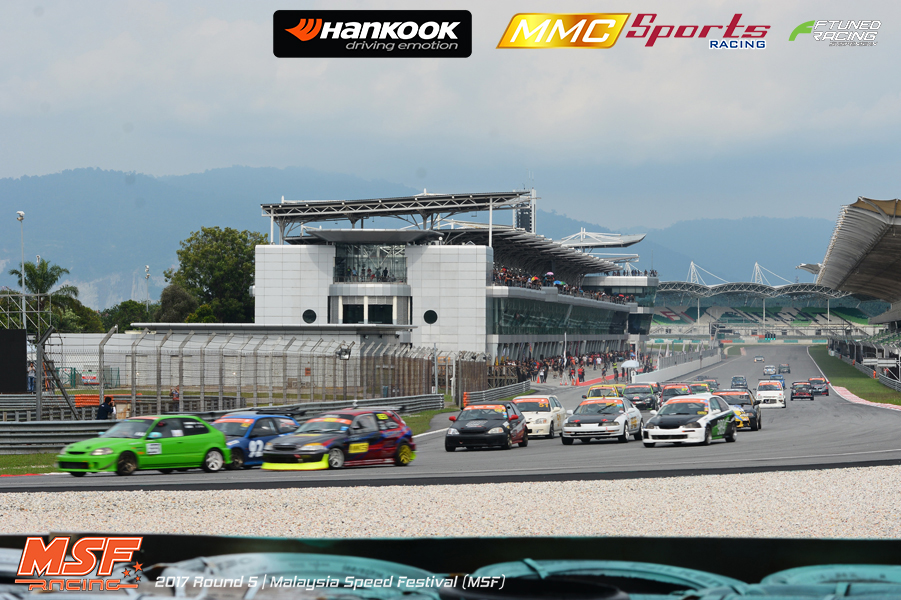 The Summer Motorsports drivers Tan Say Hin and Choo Kah Fook were a class act and was controlling the pace once the lights went off in both race heats. In both races team Summer Motorsports were never under pressure from their their main oppositions and could respond swiftly if needed where at one point they did a fast lap of 2.35:382 minutes to open up more gaps. They were followed home by Kesavamoorthy and Adam Azlee from team SITTY-DNT and MMC Sport Racing Team Angle D5's Ser Meng Hui in both races.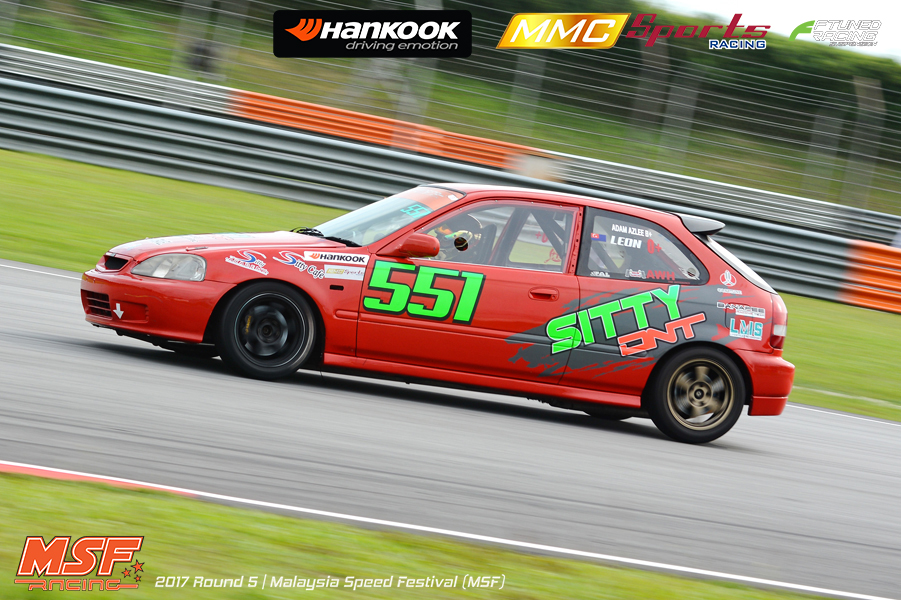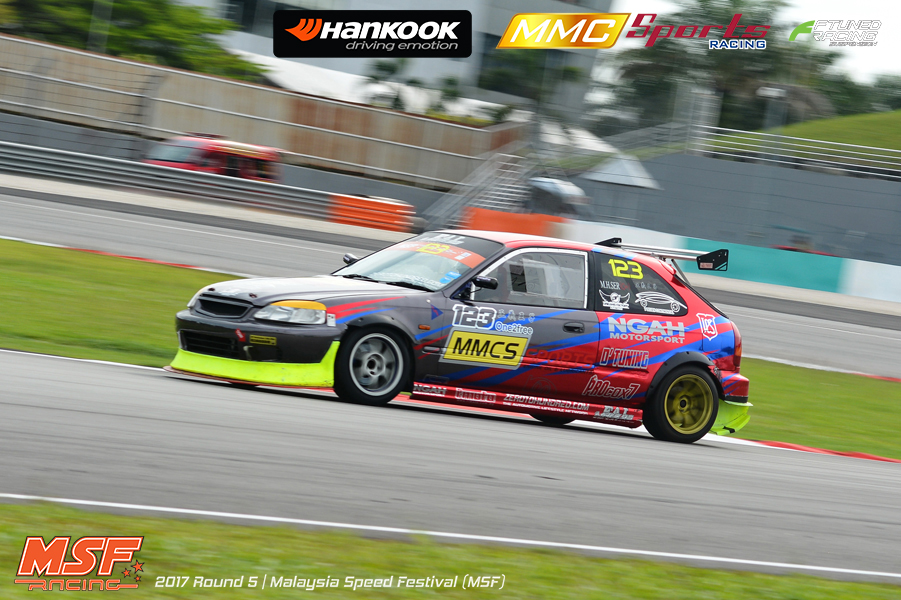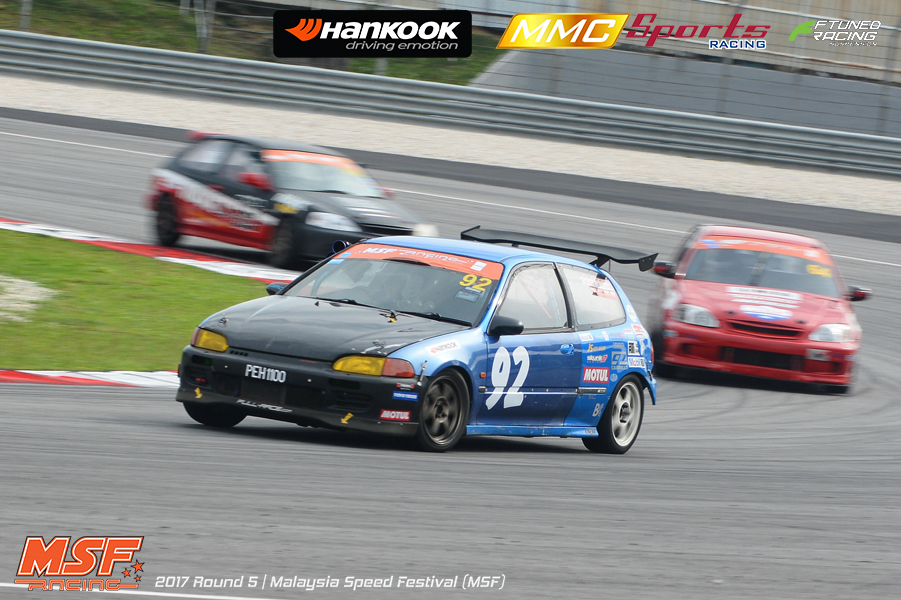 For team JDM Racing this must have been a disastrous outing for them and perhaps caught them by surprise with the turn of speed from their rivals. Although they have amassed a sizable points lead in the championship, they are still not in a safe zone. Expect them to return to their previous form once the series return for the final round.
Race Cars 1600
New Winners As Points Leader Failed To Start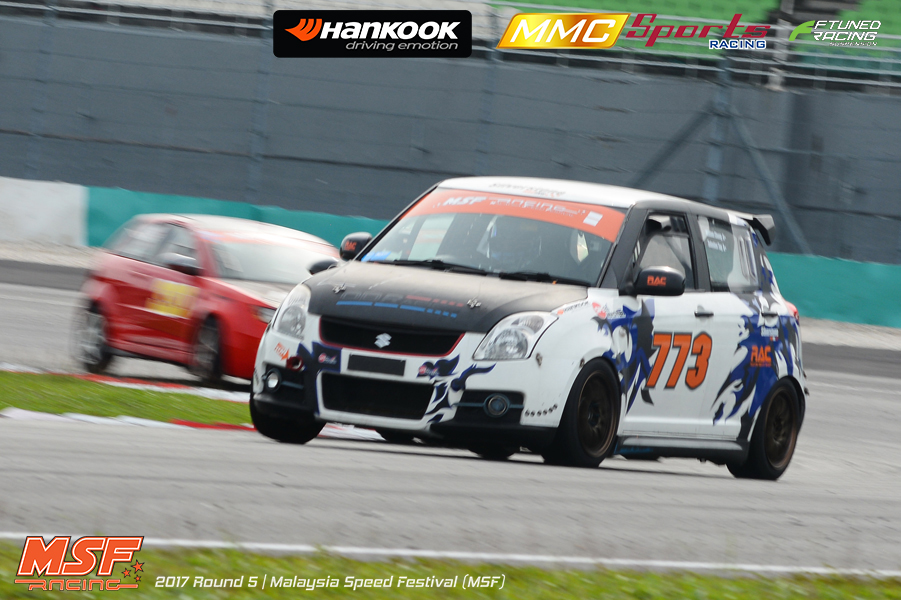 In another case of a disastrous outcome, championship leader team Dream Chaser suffered a rare DNS (did-not-start) case after their car developed a brake issue, and this has affected their points lead after Sunday's race. Also not making the start and absent from Round 5 is Desmond Yee from N1 Racing which gives other title hopefuls the opportunity to collect more points to stay in contention.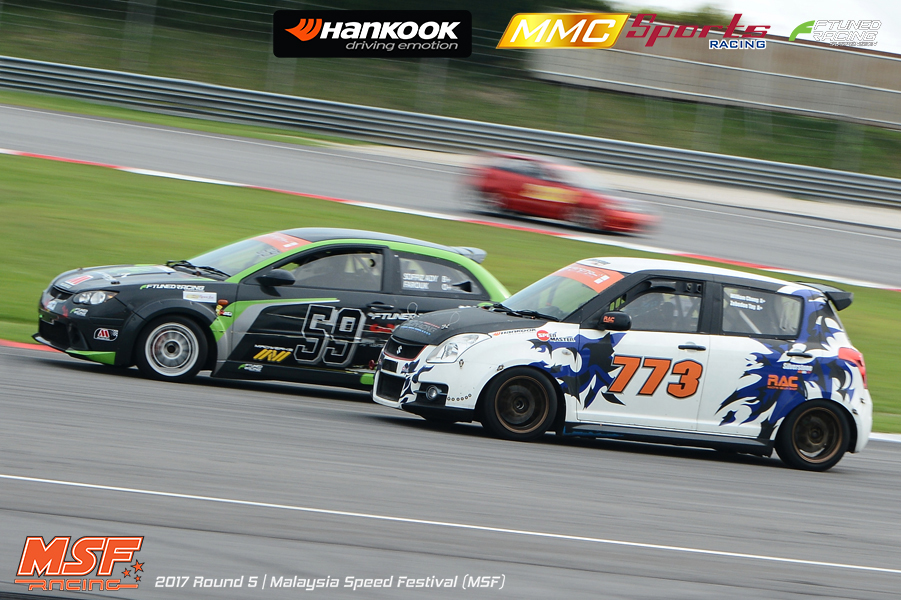 Even without the two powerhouse teams, the race was equally intense and made for some interesting revelations. The race was close and it put team F Tuned Racing's Soffiz Hardy and Wan Ahmad Farouk and DNT's Mohd Fazree and Mohd Rashidi in the spotlight. But in the end they were upstaged by Riyoz Racing's duo of Zabedee and William Chong who finished ahead of them in Race 1.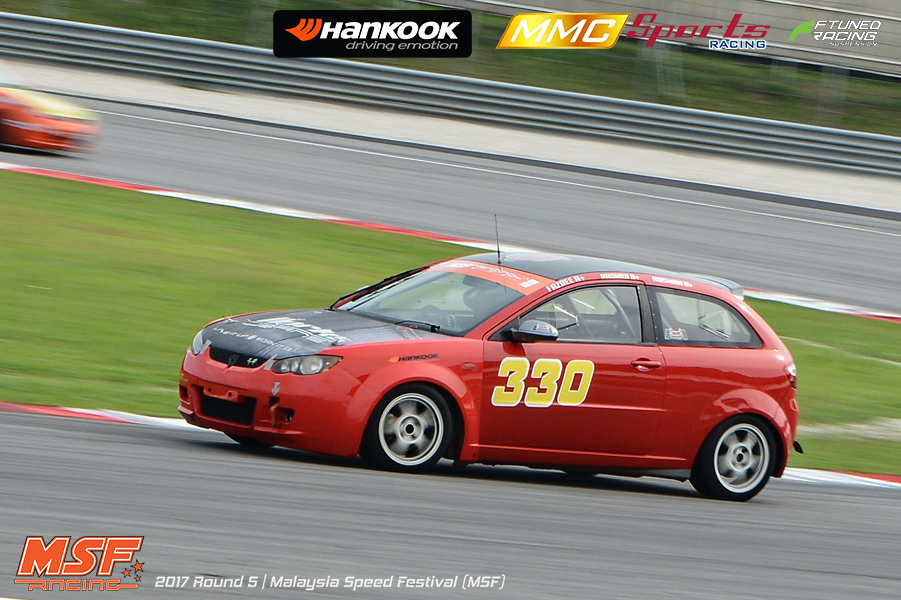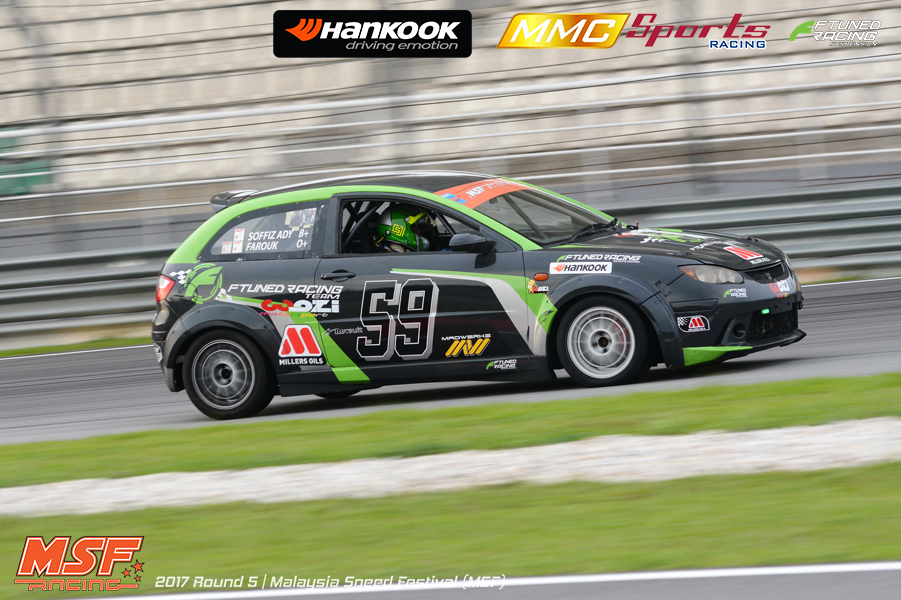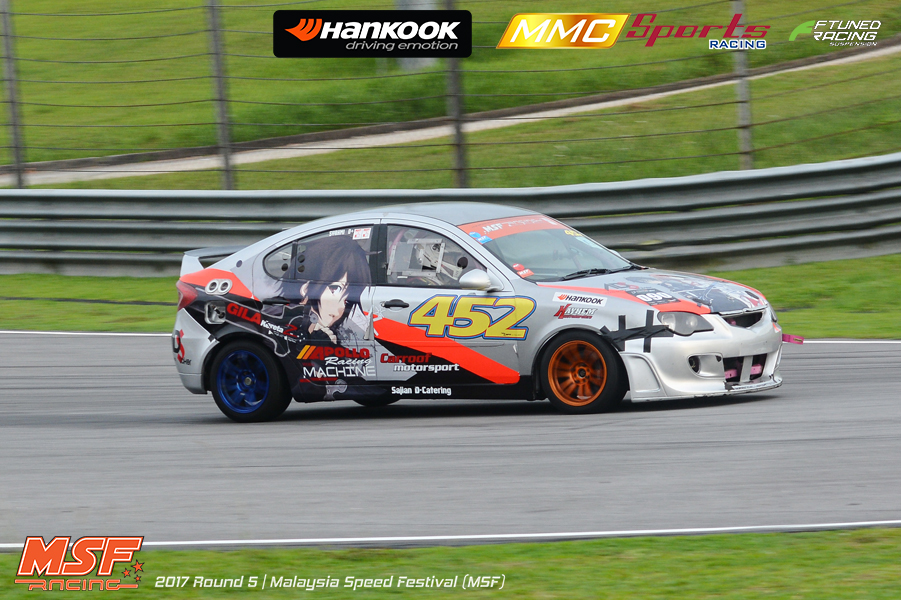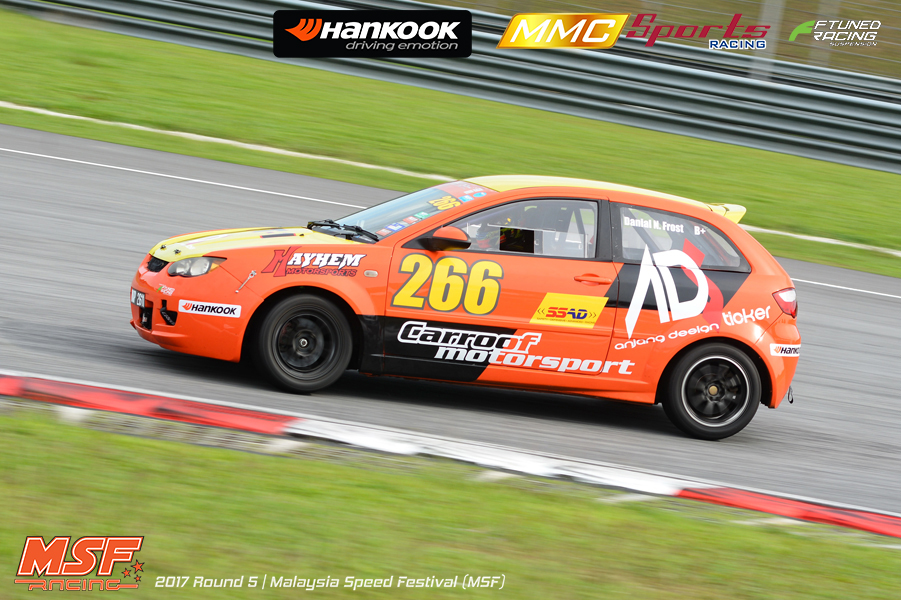 In Race 2 the results were reversed with team DNT taking the win followed by F Tuned Racing and team Riyoz Racing. But this time around they literally had to work hard for it as at the start, young stalwart Mirza Syahmi of Mayhem Racing who started from behind made an impressive getaway and managed to muscle his way into the lead. He managed to control the lead during the opening laps and looks to be on course for his first win in the series until his car began to lose power. From here on the top three finishers began to pass Syahmi with him managing to hold on to fourth place finishing ahead of teammate and debutant, 16-year old F4 driver Danial Frost.
Saga Cup Expert
Keifli Dominates Saga Cup As Jay Choong Edges Closer To Title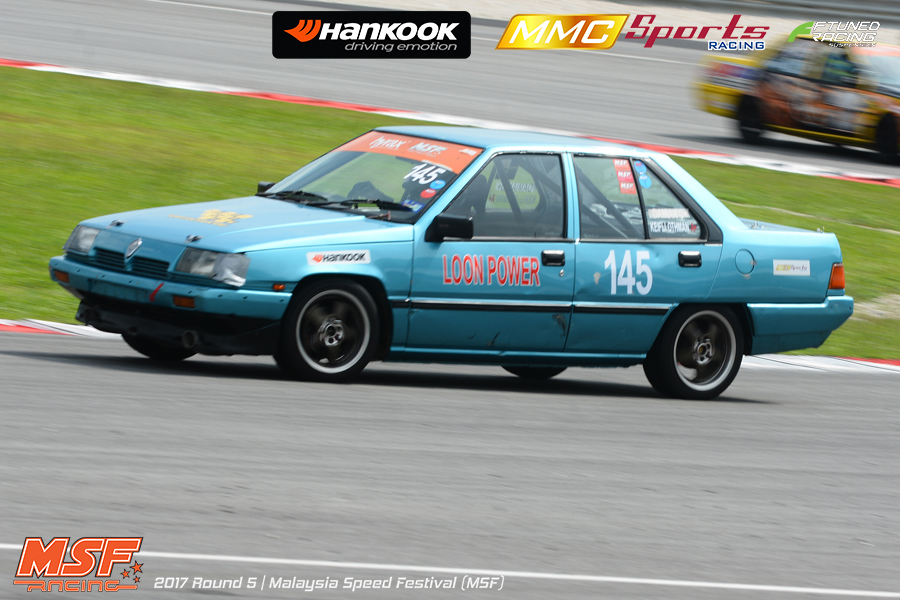 Round 5 of the Saga Cup expert category added another new entrant in the form of multiple race winner Keifli Othman. Being sidelined from his main race which is the Race Car Open due to a broken car, Keifli was not about to let that distraction interfere with his race in the Saga Cup when he won both races convincingly.
Driving the Loon Power prepared Proton Saga, Keifli started the race from pole and was almost immediately challenged hard by title contender Boy Wong of ST Wangan Racing. The pair would remained close to one another and provided some classic door-to-door action. Keifli would come out on top followed by Boy Wong who seemed a little conservative later in the closing stages coming home 5.175 seconds behind. Behind them albeit with an 18 seconds gap was team SMRT's Jay Choong who drove a controlled race and stayed out of trouble to add some valuable points to his tally.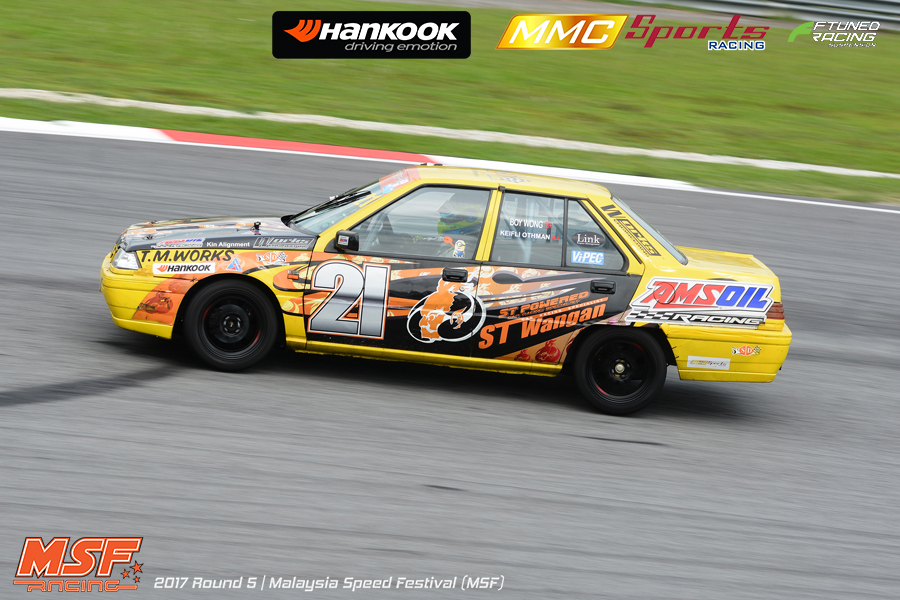 The second race proved to be the turning point for some and as for Boy Wong, had altogether ended his title hopes. Boy Wong has had a pair of non-finishers and this was his opportunity to reel in the points which he had lost. Although he had finished second in the first race there was still hope that he could salvage enough points to bring the title fight right to the end, but as the race unfold, this was not to be.
In the second race Keifli and Boy Wong resumed their fight once again, but as for the latter it only lasted until turn 3. Once the lights went off Boy Wong managed to sneak slightly ahead of Keifli by a mere margin and the pair would be in this position right through to turn 3. And it was at this point that the pair made contact on the fast right turn which spun Boy Wong's car hard into the barriers. The damaged to his car was extensive but Boy Wong made it out of the car unscathed thanks to the race compliant safety cage.
That contact did not affect Keifli's pace although he was worried about Boy Wong's condition as he powered on to win the second, en-route to posting another fast time of 2:49 minutes. Crossing the line in second place was JNA Racing's Alif Hamdan who would now present third place man Jay Choong a strong challenge for category's title.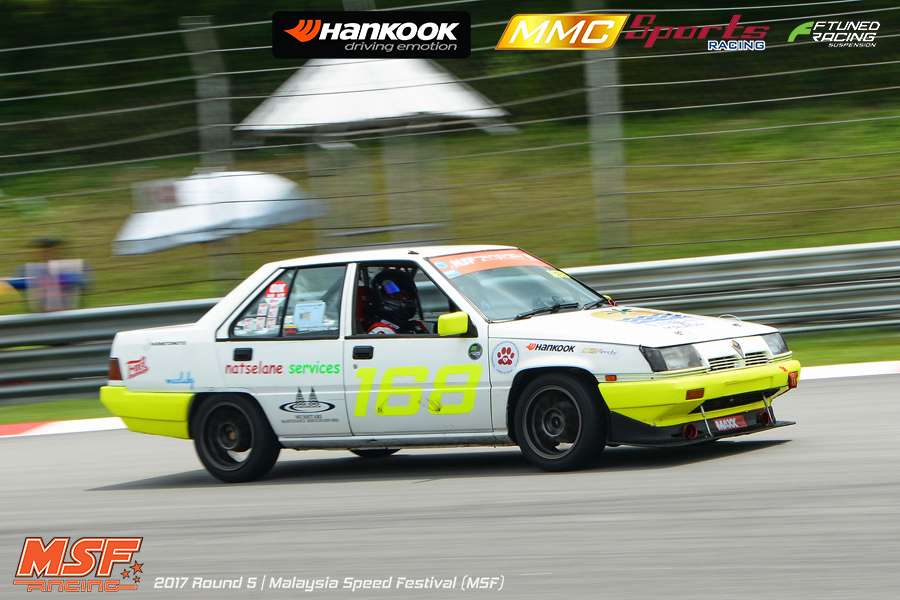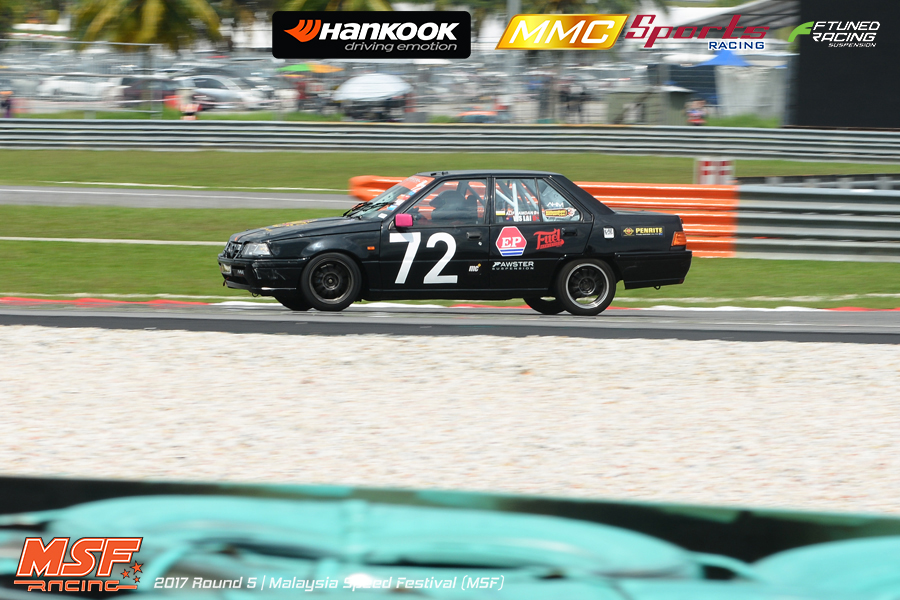 Double race winner Keifli was delighted with his win but was also equally concerned about Boy Wong. "The car was good for both races and I was surprised with the pace that it had, hats off to Ah Loon for giving me the opportunity to drive this car! As for that incident with Boy Wong, I just had no where to go and contact was inevitable and I feel bad for what had happened to him. I'm glad that's he's OK and I've apologised to him right after the race and it's all good," said Keifli.
Amazingly Boy Wong wasn't disheartened by the outcome but relief that he came out unscathed. "I guess that's how Keifli wishes "Happy Birthday" to me," enthused Boy Wong who celebrated his birthday on race day. "For sure that incident has ended my championship run plus I've also had 2 non-scoring rounds which affectively dashed all hopes, so we need to analyze some of the things and come back stronger in the future. As for today's incident I'm grateful to the team for giving me a robust car, if not things would have gone differently for me," said Boy Wong.
All is not lost for championship leader Jay Choong even though he finished third in both races and has maintained his lead in the points table. "I guess consistency in finishing the race is key right now, and if I can get a higher finishing order, even better. With Boy Wong out of contention for the title, I just have to be on the look out for Alif Hamdan who's also been very consistent in scoring points in almost every round. So we'll see what happens next in the finale," said Jay Choong.