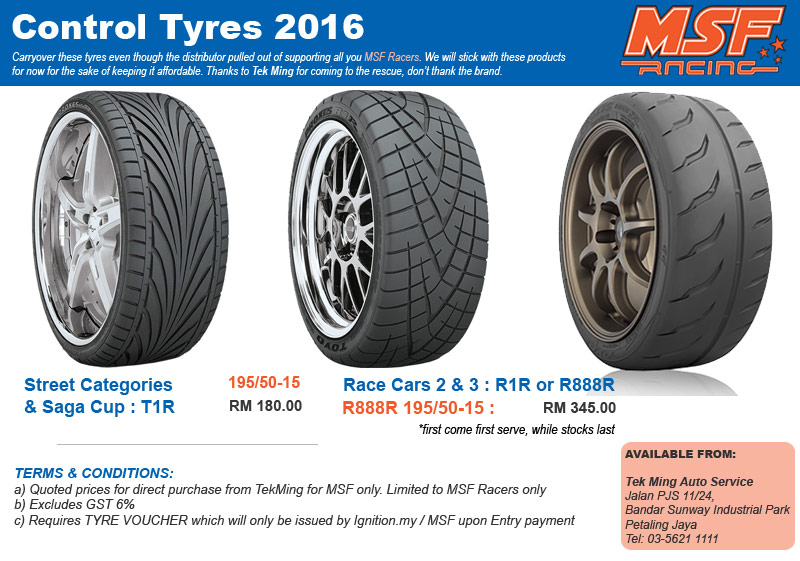 MSF Racing has been shafted by the main brand that was chosen to be our partner Control Tyre for 2016 as they have decided to pull out from supporting MSF Racing 2016 right after Round 1, and we have had to make changes to control the situation. Yes, it's crazy and unheard of, but there you go. It happens.
The main aim is still to provide an affordable, durable, and good performing tyre for the MSF Racing Street categories. We have had offers from other tyre companies who would gladly fill the void left behind by the other company, but we have stuck to our decision mainly so that you, the MSF Racers, won't have to come out with any additional money and be forced to purchase new tyres. That would happen if we changed the control tyre at this point, so we have decided not to, and maintain consistency throughout the rest of the year.
Many great thanks to Tek Ming Auto Service who have very kindly been able to provide the control Toyo T1R tyres for the same price: RM 180.00 per piece (excluding GST). And whereas the brand was previously unable to supply the R888R tyre, now Tek Ming is able to do so. Hence for Race Cars Class 2 and Class 3, an additional Control Tyre has been added.
We must say that we, and I believe all the MSF Racers, are very thankful to them for coming to the rescue. So the tagline here is "Thank TekMing, don't thank the brand".
Street Categories Control Tyre
T1R 195/50-15, available for RM 180.00 (excl GST) from TekMing Auto Service.
Race Categories Control Tyre
R888R 195/50-15, available for RM 345.00 (excl GST) from TekMing Auto Service.
Terms and Conditions
a) Quoted prices for direct purchase from TekMing for MSF only. Limited to MSF Racers only
b) Excludes GST 6%
c) Requires TYRE VOUCHER which will only be issued by Ignition.my / MSF upon Entry payment
Please take special note that the TYRE VOUCHER is required if you want to purchase the tyres from Tek Ming at the special MSF Racers price.
Tek Ming Auto Service Sdn Bhd
Jalan PJS 11/24,
Bandar Sunway Industrial Park
Petaling Jaya
Tel: 03-5621 1111