GENERAL REGULATIONS – UPDATED 17 Apr 2020
(The regulations may be subject to change, so please refer to the latest based on the Date Published detailed above)
MSF CYBERTURISMO SERIES 2020
Welcome to MSF CyberTurismo Series 2020!
MSF CyberTurismo will run not just as a single race but as a Series. We aim to run up to 3 complete series for a Championship, with a special prize at the end of the Championship:
• Driver Training for the top 12 Finalists in MSF CyberTurismo Open category!
• Followed by track day selection!
• and a Real Racing drive with the MSF-TOC racing Proton Saga Cup car in MSF Saga Cup Finale 2020!!!
(subject to terms & conditions – driving license, own safety apparel, etc)
But let's start with MSF CyberTurismo Series 0.
1. GENERAL INFORMATION
MSF CyberTurismo Series 0 will commence in April 2020:
• 3 Rounds, then B Final + A Final, then Main Final
• 1 round = 1 day; Finals also = 1 day
Prizes – MSF podium, MSF trophies and Champion cap [just like real MSF events!]
Race Officials
Race Director – Adian Yein
Race Control – Adam Luqman
Race Timing – Mazran Zulkifly + TBC
CRO x 2 (Competitor Relations Official)
– Reza : race protests and queries
– Dila : entries and results queries
2. ENTRIES – SERIES 0
Categories
There will be 2 categories:
i. MSF SuperTurismo Racers – strictly for Real World racers from National level events, includes MSF SuperTurismo racers, SNF racers, MCS racers, S1K racers, etc, who have previously at any point in time raced competitively in a Malaysian National racing series [edited 13/4/2020]
ii. MSF CyberTurismo Open – open category for online drivers other than MSF SuperTurismo racers
Participation Fee: RM 10 per entry.
Maximum Entries:
i. MSF ST Racers – 36 entries
ii. MSF CT Open – 60 entries [edited 13/4/2020]
Registration will be open from 12 April 2020, and close at 1600 hrs on Tuesday 14 Apr 2020.
[ONLINE REGISTRATION FORM HERE]
Please arrange bank-in to our bank account once you register, details as follows:
Account Name: Matrix Motorsports Promotion Sdn Bhd
Bank: Maybank
Account: 562768413065
Once paid, please email the payment transaction receipt to us (with your name and HP) at general@msfracing.com
Or you may contact our secretariat
MSF ST Racers: Dila 017 323 7030
MSF CT Open: Mohd Reza 018 388 4037
Entries accepted on a first come first serve basis.
Acceptances of entry are at the sole discretion of the organisers. The organisers reserve the right to refuse an entry.
It is a condition of entry that competitors have no right to any claims against the MSF, it's Officials, Kelab Sukan Bermotor MSF, and Matrix Motorsports Promotion Sdn Bhd.
3. THE VIRTUAL RACE
Base game: GT Sport on PS4
More prolific and accessible than the more serious Simulator games like i-Racing, Race Room, etc
Can be played with joypad, steering wheel not required. Easy of accessibility.
Race Event
Total car per race heat: 12
Category: N200 cars only
If the race is stopped or there is any major network or system crash, any race that has run at least 75% will be deemed complete, and results will be based on the last complete lap.
All Official Results will be based on host console results; please refer to live stream.
Finale Race Event
Final races will all be 50% longer than the Rounds races.
4. DATES – Series 0
12/4 Saturday
• Announcement & Regulations
• Registration open
14/4 Tuesday
• Registration closes 1600hrs
15/4 Wednesday – Round 1
• Round 1 racing heats – start 2130hrs
17/4 Friday & 18/4 Saturday – Round 2
• Round 2 racing heats – start 2215hrs
21/4 Tuesday & 22/4 Wednesday  – Round 3
• Round 3 racing heats – start 2215hrs
24/4 Friday & 25/4 Saturday – Finale
• Finale races – start 2230hrs
5. SERIES RACE INFORMATION
Categories
There will be 2 categories:
• MSF ST Racers
• MSF CT Open
Prizes: 1st to 5th
BONUS TROPHY for Best Livery for each category at the end of the Series!
General Regulations
Total car per race heat: 12
Category: N200 cars only
Technical Regulations
Permitted vehicles [based on Real World]:
i) Cars that are 4 seaters / 2+2 only
ii) Engine capacity
– NA below 2500cc
– Forced induction up to 2000cc
iii) lock cars from Rnd 2 onwards
[Takes effect Round 2.]
EXAMPLES of permitted / not permitted vehicles:
• PERMITTED 2+2 coupe examples: RX7 FC, GT86, 180SX, Audi TTS
• NOT PERMITTED
– 2 seaters: GT86 GRMN [rear bench removed], GReddy Fugu Z, Roadster Touring Car, S2000, S-FR Racing Concept, Clio Renault Sport V6, MR2 GT-S '97, NSX, Mazda RX-7 Spirit R Type A (FD) '02 [original FD is 2+2 but Spirit R Type A is a 2 seater], Alpine A110.
– Above 2500cc: BMW M3 E46, Toyota Crown
In-game set up
• Starting grid order to be announced by round, standing start – Bonus 10 points per Round for Fastest Qualifying of each Race
• No driving aids enabled – no ABS, stability control, traction control, etc
• Only Racing tyres enabled – Soft, Medium, Hard
• Tyre wear and fuel usage set at "4x"
• BOP enabled
• No tuning checkbox enabled – suspension settings etc locked out
• Light damage setting
Circuits
We will race at circuits from list below. Circuit will be announced 24 hrs before each Round.
i. Tsukuba – 5 laps
ii. Suzuka East Course – 5 laps
iii. Autopolis Short – 4 laps
iv. Brands Hatch Indy – 5 laps
v. Brands Hatch full – 3 laps
vi. Kyoto Miyabi – 5 laps
6. DECALS
All participating cars MUST create own MSF Livery based off their Real Racing Cars or something similar.
The following decals are compulsory:
MSF logo, Hankook logo, EXN Lubricants logo, TOC logo.
HOW TO:
Go to the DISCOVER Tab, open Decals and search for msfracing, EXN, TOC decals and ADD TO COLLECTION.
Publish your car livery:
ALL PARTICIPANTS must publish their livery on their GT Sport profile for pre-scrutineering and confirmation by the Organisers.
7. FORMAT & METHOD OF RUNNING
Each round will feature a series of Racing Heats, with the participants mixed up for each Round as per diagrams below:
The Finale will be between the top points scorers in the Series after 3 rounds, who will be invited back for the Final Racing Heats, based on the details listed in the diagrams.
For the Final Race, the top finishers from each A, B, or C final race will be called in to participate.
If there are any participants that are not able to participate in any of the Final Racing Heats or the Final, the place will be forfeit with no replacement.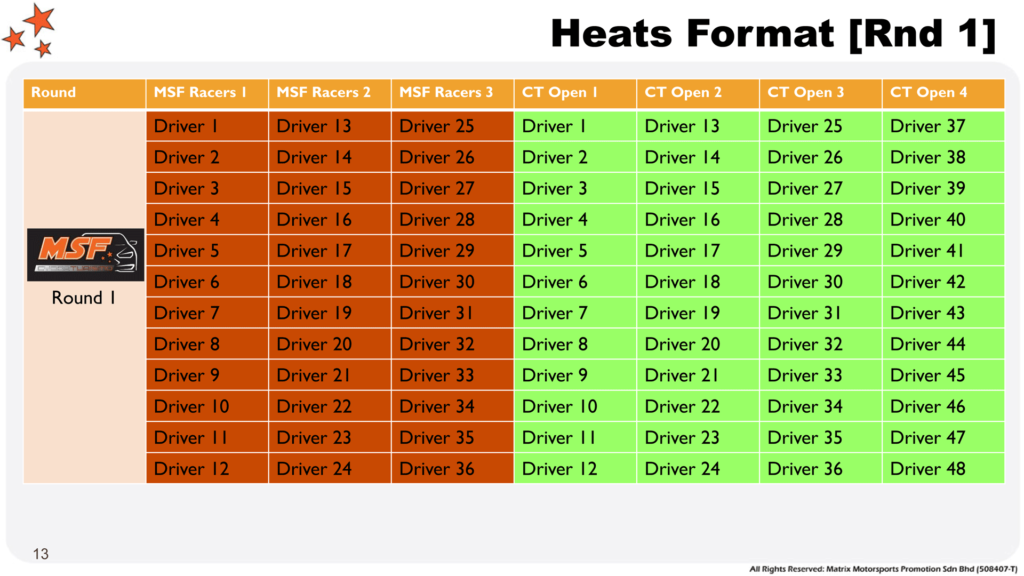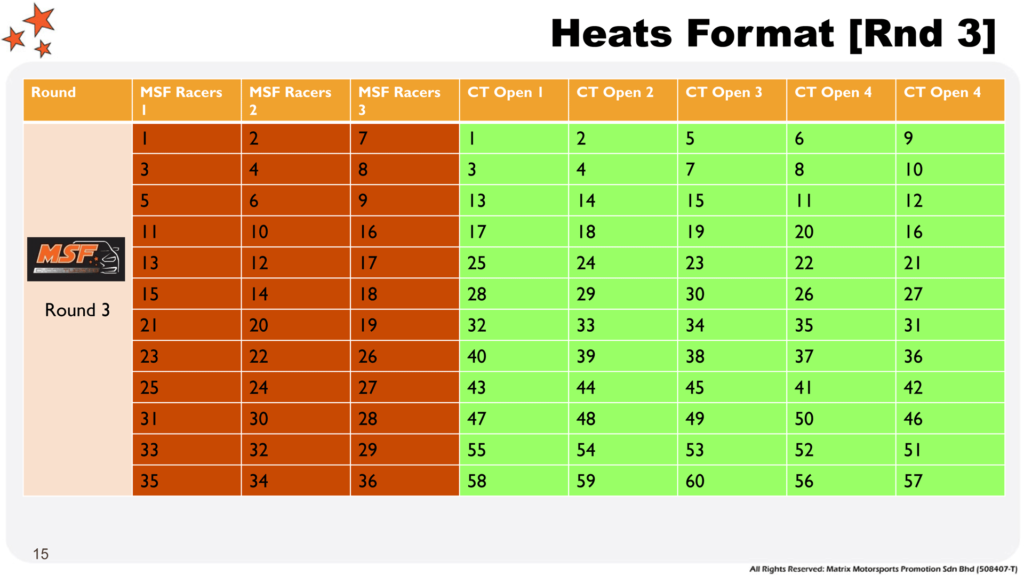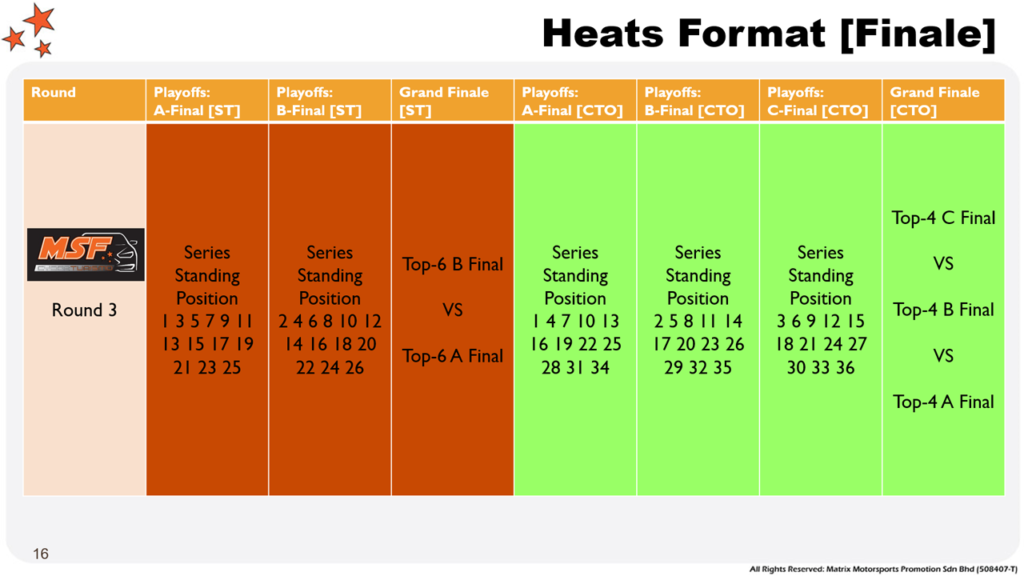 8. DRIVER'S BRIEFING
• Please watch the Driver's Briefing Video which we will prepare for the event.
With this, there should be no excuse for understanding the Method Of Running and Driving Discipline required.
9. MANAGING THE RACE LOBBY
Lobby will be managed by the Race Officials:
Race Director – Adian Yein
COC – Adam Luqman
DSO x 2 – Mazran Zulkifly + TBC
Per Round, only 1 lobby will set up. Players will be informed of Race Lobby info by Messaging. A Race Schedule for Grouping will be published in the afternoon prior to the race. Please ensure that you join the correct lobby at the correct time: cross check the other racers names in the lobby again the published race entry list.
Any player that is not set to be in the lobby will be kicked out.
Race Officials will check that all the cars comply to the regulations. Any car that does not comply will be summarily removed.
Players may Practice at this point in time while each Race lobby is being populated
From there once all ready, Race Director will initiate Qualifying of 5 minutes.
Each race will be saved, with results screen shot for records.
AFTER EACH RACE IS COMPLETE, THE PARTICIPANTS ARE GIVEN 1 MINUTE TO SAVE THEN REMOVE THEMSELVES FROM THE LOBBY, IN ORDER FOR THE NEXT WAVE OF DRIVERS TO POPULATE AND PREPARE TO RACE!
10. GENERAL EVENT PROGRAMME 
21:20
Lobby opens for Heat 1
21:30
Live Broadcast starts
Confirmation of Heat 1 entries. Qualifying commences
21:42
Heat 1 race over
Participants exit Lobby
Next Heat participants enter Lobby
21:45
Confirmation of Heat 2 entries. Qualifying commences
22:00
Confirmation of Heat 3 entries. Qualifying commences
22:15
Confirmation of Heat 4 entries. Qualifying commences
22:30
Confirmation of Heat 5 entries. Qualifying commences
22:45
Confirmation of Heat 6 entries. Qualifying commences
23:00
Confirmation of Heat 7 entries. Qualifying commences
23:30
Broadcast Ends
11. DRIVING DISCIPLINE
We will implement DSO [Driving Standards Observers] who, together with the Race Director and COC, will monitor driver's discipline during the race.
The following from MSF SuperTurismo 2020 regulations will be implemented for MSF CyberTurismo Series:
a > Article 36 – DRIVING STANDARDS [click on link to download]
b > Appendix A – DRIVING STANDARDS [click on link to download]
Any drivers found to be in breach of DRIVING STANDARDS as defined in the regulations will face immediate DQ and kicked out from the series immediately.
Drivers are to respect: Racing room; and not to drive carelessly or recklessly.
If a driver is deemed to have caused critical damage to another driver's car or cause them to deviate off course, this will be recognised as an incident and will be subject to post-race incident review by the Race Officials.
Race Officials then will decide whether a significant breach has been incurred, and if so Driver will be Disqualified. Depending on the severity of the breach, the Driver may be Banned from the rest of the Series completely.
Players are given a total of 3 warnings across each Series. Once 3 warning limit is reach, the player will be disqualified from their last race results.
Breaches include:
• Dive bombing
• Punting
• Deliberately causing another car to spin out and sustain damage
SANDBAGGING
Any driver that has been deemed to be Sandbagging during qualifying will be Disqualified.
Definition in MSF CyberTurismo:
i. CT Open category – best lap in Race should within 1 second of best Qualifying laptime
ii. SuperTurismo Racers category – best lap in Race should be within 1.5 seconds of best Qualifying time
12. DRIVER'S ATTIRE & SAFETY
• Pants and underwear are compulsory for all participants!
13. OFFICIAL RESULTS
Official Results will be published next day on the MSF Series Facebook page, and the MSF website under RESULTS.
14. SERIES POINTS
Points will be awarded for finishing positions in each race and heat, based on official results. Total points after 3 rounds will be added up to determine position in the Series and to qualify for a place in the Finale. Points will be awarded as follows:
1st : 100pts
2nd : 85pts
3rd : 75pts
4th : 65pts
5th : 55pts
6th : 50pts
7th : 45pts
8th : 40pts
9th : 35pts
10th: 30pts
11th: 25pts
12th: 20pts
FASTEST QUALIFIER for each Race each Round: 10 points
15. ORGANISERS AND PROMOTERS RIGHTS
• The organisers and/or promoters may abandon, cancel or postpone the event due to unforeseen circumstances.
• The organisers and/or promoters may cancel any category, which has less than 8 cars or amalgamate them with another category at the discretion of the organisers.
• The organisers and/or promoters may exclude any vehicle which does not comply with the regulations requirements.
• The organisers and/or promoters have the right to stop the event or any driver for any reason on the grounds of Discipline.
• Damages to participant's facilities or equipment as result of participation in this event will be borne by the participants themselves; no claims permitted against the organisers and/or promoters.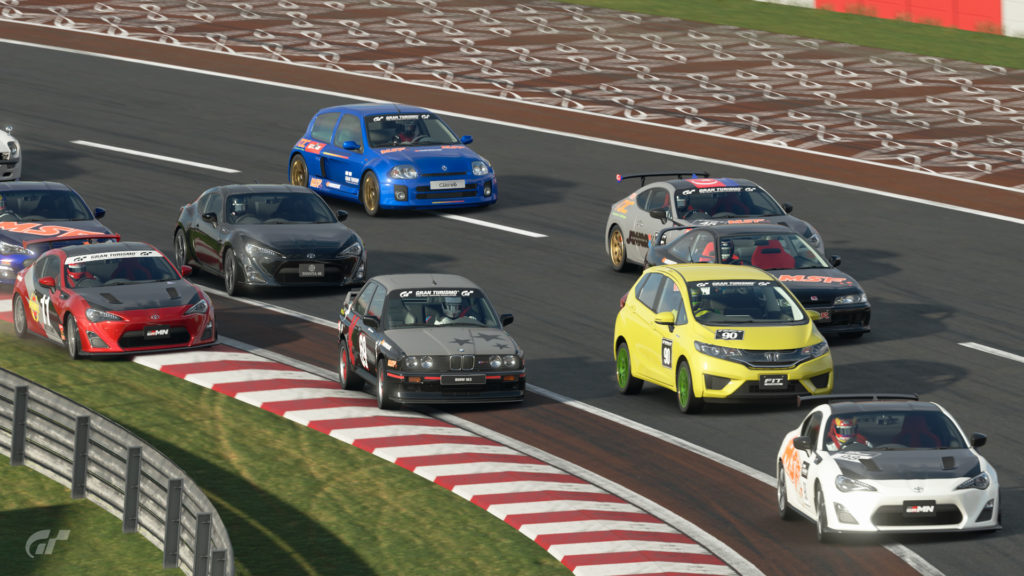 Copyright 2020 Matrix Motorsports Promotion Sdn Bhd 508407-T
Creators, Owners, Official Promoters
MSF CyberTurismo Series